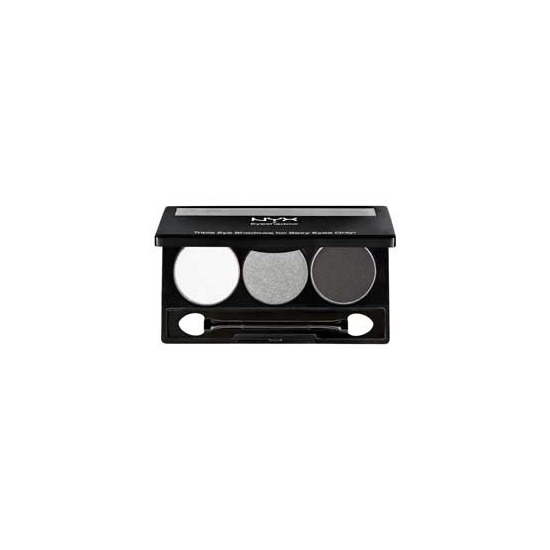 Rollover image to zoom
Reviews
Better!
NYX eyeshadows have always been a favorite of mine - I purchased a 3 Color pallet many years ago and hated the texture and consistency so I stuck with my single pan eyeshadow. I ran out of my Matte black and went to the store only to find that it wasn't there. I picked up the 01 - White/Gray/Black, tested it and fell in love. I don't know what they changed, but this eyeshadow is SO perfect. They're extremely pigmented it's scary, I definitely have to be careful with how much I put on the brush because of how pigmented these are. These are matte, so the white is versatile enough to use a highlighting power. It's almost everything I've ever wanted. The only downside is the cheesy, old logo I despise - "Triple Shadows for Sexy Babe's Eyes Only" It's a little embarrassing, to be honest. But that's just packaging so i can't complain. :D Other than that, LOVE! PS - the only way these will last long is with a PRIMER. Definitely get a primer. :)

Pigmentation at its best
PROS: The eyeshadow trio is amazing. I usually don't do a smokey eye, but when I do, this is my favorite to use. It is easy to find and pretty cheap. You can buy this product at pretty much any drugstore for about $7. The pigmentationn in this set is awesome, and can be intensified by applying it with a wet brush. It also has the perfect amount of glitter in it.
CONS: I can NEVER get this stupid thing open. I have to pry it open with a push pen or something small enough to fit into the crack of the container. I almost don't want to buy another one just because it's such a hassle to get it open.
---