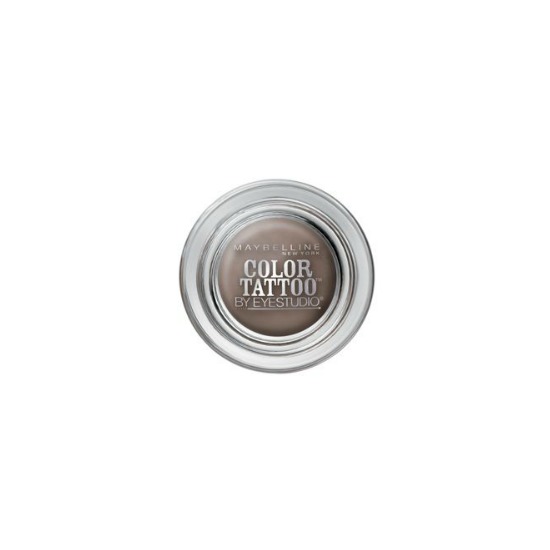 Rollover image to zoom
Reviews

Daytime smokey eye!
These are a great product if you want to try a cream shadow but have problems with creasing. I personally still back mine up with a primer because everything creases on me hahaha. But I find that my UDPP plus one of these will stay put forever:) this color is a great base for a daytime smokey eye or for any darker look. It gives depth without being as harsh as using a black base.

Not suited for oily eye lids!
I bought this hoping for it to be a nice eyeshadow base for darker eyeshadow looks but possibly wear it alone as well. I tried it alone and with eyeshadow on top but it creases after about 5 minutes! I've even tried putting my tried and true eyeshadow primer underneath but it still creases... I had seen so many great reviews... not impressed.

Awesome pigment it's unbelievable for a drugstore item. This is everything you want in a cream shadow- high pigment, long lasting, sets to a skin finish, no creasing! This is really the only cream shadow I'll ever try because I doubt anything is better than this. My fav is Tough As Taupe, one swipe all over the lid, some liner/mascara and theres a quick beautiful eye look!

I have at least 5 of the Color Tattoos, but Tough as Taupe is my favorite! I've heard you can use them as a base and a primer for eye shadow, but I always use it after priming my eyes. I love to use this under colors I don't really care for and am trying to use up, and it give the shadow a much more beautiful look! Will repurchase forever!

Worth The Hype
I only own one of these but I already have plans to buy two other colours, they could also be a great gel eyeliner, which I haven't tried yet but I want to, I feel like you need to after get the product on your fingers (which I find best with cream eyeshadows) you need to warm it between two fingers and then you can get an even amount of colour on your lids, they are kind of hard, they are the same as a gel eyeliner in the pot but once warmed up in your fingers as explained above the cream eyeshadow side comes into play, if I don't warm it up between my fingers the spot where I first put it is a dark unblendable spot on my eyelid and the rest it a subtle wash of colour but I love these and they last well, a primer doesn't make any difference on lasting power as these are kind of like bases anyway.
---