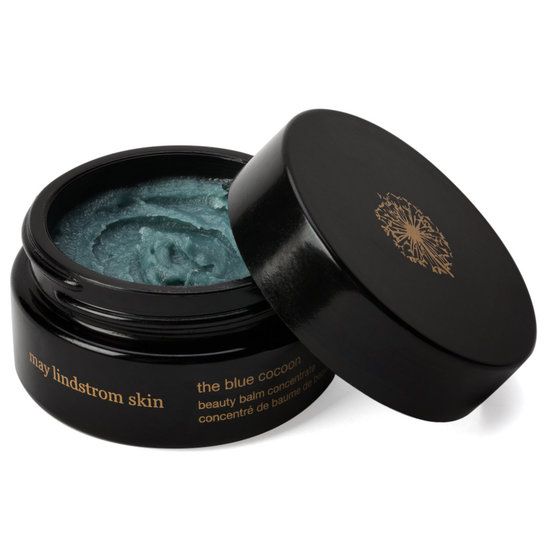 Rollover image to zoom
Reviews

Good for dry and sensitive skin
Sometimes I have "bad skin" days, when it gets irritated and dry with flakes. It's hard especially at winter time. Sometimes I need some soothing after using the AHA's, enzymes and scrubs. Half an year ago I got this blue helper. It's pricey, and I was hesitating, but after first using I got no regrets. It's soothing, calming, nourishing my skin so well. When I use it in the evening this sensation, accompanied with light scent, make me feel in the SPA and soothe me to sleep :)

Best skin healing balm EVER. My profile picture is from 4 weeks ago at 64 years old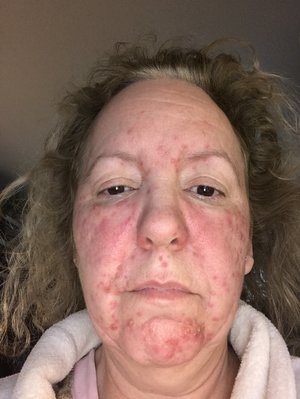 I had a most horrific breakout of rosacea in early 2016 from severe stress due to a divorce. My dermatologist told me I was the worst case she had ever seen. She then put me on a regimen of 3 10% sulfur products. Three weeks later I saw her and she saw my face was completely burned and my eyes were swollen shut & said "stop the sulfur" and go get a facial. I was on this site and read about this Blue Cocoon, the Honey Mud and Youth Dew. These products helped my 61 year old skin come to full healing and my doctor said "You should be the teacher as I've learned from you on this healing. I showed her the products. I can only be thankful for this website and your products... most especially May Lindstrom. I used the masque one time but it caused the breakouts again to a lesser degree. The 3 products are pricey, but extremely necessary. Love them!

I really wanted to love this!
I love May Lindstrom's message and really relate to her sensitive skin struggles. Unfortunately after using for a couple of days I started to get a rash on my face. I believe the essential oils in the product do not agree with my skin. I also experienced irritation from the other leave on products from her line. I will say that if you do not have sensitivities to essential oils, this product is intensely moisturizing and smells devine. I am a faithful user of The Problem Solver and The Clean Dirt but this was not for me.

There is no denying that this product has opened me up to organic and wild harvested all over again. Health and beauty are quiet literally my job; for years I have been stuck researching, trying and testing mostly clinical products with names hardly intelligible. As silly as it sounds, I found my skin transform in only a few days of use. I would highly recommend giving it a try.

My skin is very reactive. If i touch my skin it will turn red, if I am angry or frustrated my chest blooms into red blotchiness. It took me five years to finally decide to purchase Blue Cocoon (due to price), and I will never not have it. It has a gourmand fragrance; very sweet, slightly floral. Strangely, the fragrance does not bother my skin. It has a thick texture that upon being warmed (your body heat) it melts into a beautiful blue oil. My ritual is to apply it on bare skin or after serums as part of my nightly routine. As an oil can feel hot on my skin, I saturate my face with a pure water face mist (Evian, or La Roche-Posay). As the water evaporates it carries the heat from my skin with it, leaving me with the Blue Cocoon, and calm, pampered skin. If it is ever discontinued I'll be so upset. I've been using it nightly for two weeks, and have not experienced a break out.

You'll have to rip the Blue Cocoon out of my cold, dead, hydrated hands.
The gold standard in hydration. Costs a fortune, but this jar is going to last a year. I use it every where. Face, under eye, feet, hands, lips. Anywhere my skin needs TLC, I apply Blue Cocoon.
Smells amazing, like all of May's products. Feels great on. It's oilier than Youth Dew (strangely enough) so i would not use it under makeup. But for winter nights or post-cold or when you just need some effective luxury, this is it.
Finally, as I mentioned above, I use it, sparingly, under my eyes at night. I've yet to find an eye cream that doesn't make my under eye dryness worse. This is my holy grail solution to firming up my delicate under eye skin and making those little cross-hatch lines recede.

Calm after the storm
This product immediately calms down my irritation when a break out occurs or is coming. It prevents me from picking or disrupting the skin. Its smells amazing, emulsified easily and applies beautifully to the skin. Its has also help diminish scars. For me its healing in a jar. So thankful for this line.

Underwhelming :'(
Like others, I did my due diligence before buying this product, sucked in by glowing reviews and testimonials. It's not a bad product, but I don't feel that it's something I need in my routine - if you're 24 and have oily, sensitive skin prone to redness, this might not do what you're hoping it will. My mom, who's fairly minimal with her skincare, enjoyed masking with this, but she has much drier skin than I.

Serene, blue, goodness.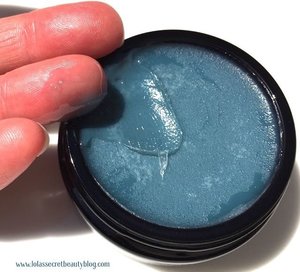 The Blue Cacoon is an all-star product. It's good for cuts, scrapes, burns and chapped skin. Also makes an ideal under eye treatment. Even the scent, which to me smells like mint chocolate, has aromatherapy benefits due to the blue tansy. Admittedly at first, I thought it smelled nice enough, but then kept finding myself picking up the jar and taking off the cap to sniff it. Now, I totally get why people love this for the scent alone. It's addictive!
My Blue Cacoon routine: After cleansing with The Clean Dirt, The Pendulum Potion, or the Mahalo Unveil, I will take 1 squirt of The Youth Dew, less than half a pea size of the Blue Cacoon and combine the 2 with my finger. (Seriously, HALF a pea size is plenty for face & neck! "A little goes a long way" is a saying doubly true for this product!) I wet my skin thoroughly and massage that combo into my skin from forehead to neck. I also use it on my body in places that need extra attention with great results.
Final thoughts: My skin thrives with this combo in moderation. The only issue I have with the Blue Cacoon is that using more than half a pea size is too much, is occlusive to my skin and can cause a breakout. When I use the appropriate amount I don't have that problem. At this rate this jar will last over a year!

Hives and pimples
I used this at night only before bed because I don't think it's the right product for wearing under makeup. Anyways, I really wanted to love this with all the great reviews. But my face wouldn't let me. It broke me out with white heads and hives. It made my face feel sore and stingy. It felt almost like that feeling from a bad sunburn. It also made my eyes swell when I woke in the morning they were puffy and swollen and red from an allergic reaction. I do have mildly sensitive skin. I also couldn't help but notice but it made my pores look huge! I have always had small refine pores because I baby my skin. But this made my pores look huge as if they were suffocating for oxygen. I only used it 3 days and followed all the instructions. This will be my very first return to beautylish. I feel this product may be over hyped like as if maybe some of the "magic" is purely just like a placebo pill effect. I just hope I can fix my face after the damage this caused me. Depressing! The only thing I liked about it was the smell and color. I will stick to my argan oil and my Shiva Rose Glow Face Balm (which is about 100 dollars cheaper and light years better) Which my skin stays beautiful with.
---