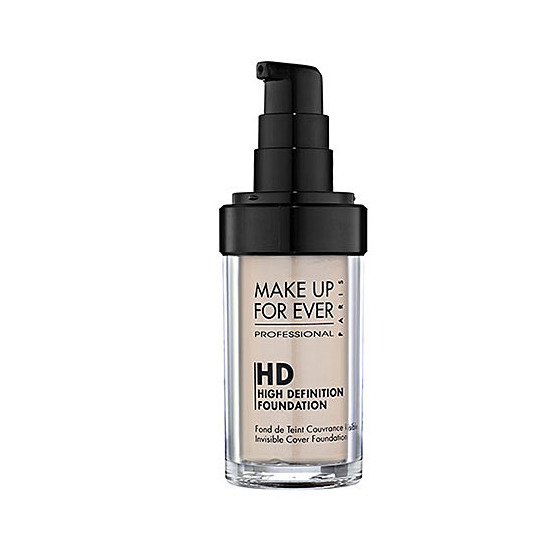 Rollover image to zoom
Reviews

Even coverage
This is basically my HG daily (or nightly) foundation. I love it. It covers really well, but you can still see a bit of my freckles, which I like because otherwise makeup tends to look too mask-like. It also covers my blemishes really well and makes my skin look BOMB.

Simply cannot live without this product. My skin is very fair, sensitive, and thin around the eyes, so I had pretty much settled into the idea that I'd never find a liquid foundation that would work for me. But then I found MUFE.
I'm in love. It matches my skin tone perfectly, goes on even, stays all day, and wears will in hot humid weather, through sweat, and harsh elements. I've have ZERO issues with creasing since since switching to MUFE. The price is higher than I'd ever paid before for foundation, but it's worth it.
Ladies, if you've got sensitive skin, you cannot AFFORD to settle for so-so foundation. Give MUFE a try!

This is an amazing Foundation, I have heard so many positive things about this foundation, although it isnt for everyone, I like HD foundations, full coverage ones too, I got this at IMATS toronto this year , and it was a good price $31 (no tax) which beats the normal price, It seemed to be hard to colour match and the reps at IMATS werent really helpful, I asked a few of them for there opinion on color matching but I got a different shade from each, so I tested a few on my hand and went with the best matching one, I think i did pretty good for not having any professional help from them. I have nothing against them, I understand they were busy, just wish they were a bit more helpful.

Brilliant!
Best foundation I've ever had! It gives good coverage for redness and acne, and doesn't look cakey. I have combination skin, it doesn't make my skin break out like all the other foundations did, and it's super light as well. It matches my skin flawlessly, definitely worth the price.

Favorite Foundation
I have normal-to-combination skin. I use this foundation everyday, it's my HG. I got a sample of this along with the Kat Von D Lock It and the Urban Decay Naked foundation, and I ended up buying the full size of the MUFE. I have since purchased another bottle. That's a big deal for me, and says a lot about a foundation, because I'm a foundation junkie and always looking for new ones to try. I'm pretty sure I've never repurchased a foundation before, I tend to pick out new ones instead - but regardless of the $42 price tag, I have bought a second bottle of this.

Great Overall Foundation
I've tried a whole array of foundations from Chanel to L'Oreal and I'd have to say that the MUFE HD is my favorite. It provides the perfect amount of coverage, while still allowing you to go either sheerer or thicker in the application. It blends well and has a lovely texture and consistency. I can tell that this is going be my go-to foundation for a very long time.

There's no better foundation
I don't know if I could ever find a foundation that competes with Makeup Forever's....it's not too thick, not too thin and has a creamy consistency with flawless coverage. I find that mixing it with moisturizer (I use Clinique's dramatically different lotion) works well...it gives your skin a dewy look but unlike a tinted moisturizer it still has effective coverage.
---