Reviews

Pretty spring orange
If you are looking for a vibrant orange this would definitely be a good pick. Although in the tube it looks a lot lighter it is NOT. When actually applied the color is definitely bright. So if you are not use to vibrant colors this might not be a color for you. But over all I love it. And great for spring/summer looks!

Most Daring & Hottest Coral Out!!!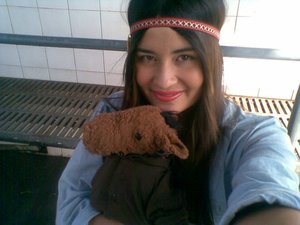 I love Macs Vegas Volt, it was one of my first Mac Lipsticks and i was so intrigued by the bright and daring colours Mac has to offer so Vegas Volt was a must and now it is one of my favourites so bright and so suitable for day or night.
This photo was taken last summer. (November in Australia)

Best Summer Bright Lip
During the summer I have 2 go-to's.. a beautiful nude lip (a la chapstick) and everyone once in a while a pop of colour is in order... for this I turn to Vegas Volt. I am not a very tanned person... I'd say I have a fair to medium skin tone... and the underlying tone in my skin leans more to the yellow side... therefore pinks are a NO GO.... I thought i'd never enjoy a bright lip without looking like a clown until along came Vegas Volt. I've had guys (who hate lipstick) tell me that it's a gorgeous shade and doesn't look contrived or too attention seeking, it's just fun! Love the colour and love the application. And don't worry girls you don't need a liner with this one.

Bright, beautiful coral and one of my favorite lipsticks! Even though it is bright, you can blot and it tones it down so it can be wearable during the day. It has an amplified creme finish but it still does last for quite a long time. I will definitely repurchase :)

fantastic!
I was looking for something for summer that would be orange but not quite so bright as Morange, so I picked up Vegas Volt. Every time I wear it I got compliments on it! It's a fantastic coral shade with just enough pink to make it a wearable shade. The pigmentation is bright and vivid, the texture is very smooth and it is just all around a fantastic shade to have in your collection, especially for summer!
---