Reviews

Calling Angelina Jolie....
This is my go to for a nude lip look. I call it my "Angelina" lip, because when pairing it with other products, I get a really full, glamourous lip effect. To get that effect, I use Oak lip pencil, a sheer layer of Nars' Striptease lipgloss just enough to even out the lip pencil and add a little moisture, then a generous application of Myth, finished with a coat of Wildly Lush lipglass. Best used for a night look. For a more approachable daytime/office look, I would omit the lipglass and apply Myth a little more sparingly.

Love MAC Lipsticks!
I don't buy MAC that much because it is SO expsenive here in Japan, but I bought a NUDE lipstick the color is called Myth.
It smells good, its very pigmented, and it lasts a bit longer then my drugstore lipsticks, and it doesnt make my lips look so cracky !
CONS: a bit drying

Good but not worth the money!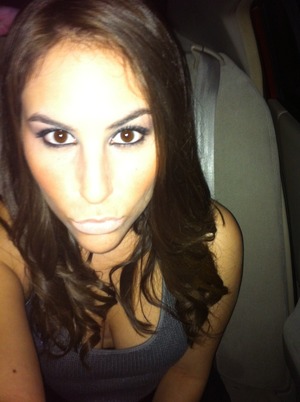 honestly. I have only purchased one mac lipstick and i dont find them to be worth the money!
I purchased the lipstick in MYTH, which is a nude matte lip stick. The color is great but it is extremely dry, so a lip gloss on top and chap stick underneath is a must!
Drugstores have great lipsticks like revlons nude attitude (dupe), which are half the cost and the same great value!
I attache a pic of the lip stick with a clear gloss on top! it is a nude lipstick so you get that "washed out" kind of look!

I LOVE this lipstick; one of my all time favorites! This lipstick is very smooth, highly pigmented and is great to use on its own or as a great lipstick to tone down any color. I definitely recommend this to anyone!
_______________________________________ http://www.youtube.com/bootcampbeautytips

My opinion on Mac lipstick.
This review will be very short because I have nothing to say other than amazing. Very smooth. pigmented. amazing. c'mon, this is what made Mac famous right? I will say that this particular shade May wash out some skin tones, so be cautious when purchasing.

one of the best nudes
I have searched and searched for a goo nude lipstick and myth is kne of the best. it applies lile silk ln my lips. I do recommend it to everyone. I think it works kn certain skin tones such as mine. If you feel this is.not your color simply contact a.Mac store through live chat of just head in to one and they will give you the perfect Nude. xoxo

Anastasia D.
Oct 31, 2013
love it!
one of my favorite matte shades. Love wearing it with mac lip liner couple shades darker. perfect look for any time of the season. The cons of it is that it mekes my lips super dry snd they crack. strongly recommend using a lip gloss over it, just to keep it moisturized.
---