Reviews

You have to get this color, it is a true jet black. I've tried liquid liners and pencils from MAC, but when I discovered this formula, I never went back. Well I only use pencils in my waterline but I always wear Blacktrack on my top lash line. I get complimented on it left and right! It does take a bit of practice but if you want the best results, consider buying the MAC 110 brush to help you get the precision you want. Good luck :)))

I bought one of these years ago and at first I was a bit shaky when applying since I was used to using pencil versus a brush, but after a few tries I had no problem with applying it, even if I was pressed for time. After I ran out, I was getting a bit cheap with my liner thinking that it was not needed, but come to think of it, some things are meant to be splurged on and this is by far one of the products that is needed. Next trip to the MAC store I'm getting this!! It's long overdue!

One of my top 10 favourite products!
If you are really new at applying liner with a brush, you might find it quite difficult at first and need a bit of practice to get it, but this is irrespective of the product itself - in fact in my opinion it is one of the easiest creme or gel liners to use, and definitely a step easier than liquid liner.
Why I like it:
It has a super silky texture and applies with great precision, like a liquid liner but easier. Once you put it on, its on! Blacktrack lasts all day without shifting or smudging, especially if you set it with a black shadow. Basically, after applying your liner, use a brush to press a black shadow over the top, thus setting the liner and giving it extra staying power. It can also be used on your waterline, and has actual staying power unlike the majority of other liners or pencils. Once again, if you set it with powder, it will last even longer. Because it has such great staying power, it is really good even for people with super oily eyelids. You can use an angle brush or a liner brush to apply it. You can make the line as thick or thin as you want to get your desired shape/style. You only need the tiniest bit of it to get an opaque line, meaning the pot lasts a really long time. It is super smooth to apply - it dosnt drag like a pencil or bleed or run like a liquid liner. I can be used for more than just lining - for example, before it sets, you can blend it out with a fluffy brush to create a great base for a dark smoky eye. It is easy to remove with an oil based eye makeup remover. It comes in a sturdy little glass pot with a screw on lid, so there is little chance of it accidentally opening and drying out, and doesn't shatter if you drop it. Fluidline comes in a few other colours as well!!
What I don't like:
Unlike a pencil or liquid liner that you would apply straight from the bottle, you need to wash the brush you use to apply it after every use. I doesn't come off with just water, so you cant cheat and just try to wash it off in the shower. If you take too long to apply it and the liner dries off on the brush, you will need to give the brush a quick clean before starting again. You need to give it a sec to dry after applying before opening your eyes or it may transfer to another part of your eyelid. If you set it with eyeshadow straight away however, this wont happen. After it had been on for 6 - 8 hours, you might need to refresh it with a new coat to keep it looking sharp and polished.

Obsessed
I love Fluidline. I get 100 compliments every time I wear it. People always ask how do I get the line so perfect with liner, and i always recommend fluidline. Again, it is definitely a product of trial and error. I have been obsessed with lining my eyes since the sixth grade, so I have become a bit of an expert (and even so; i mess up sometimes). Practice, Practice, Practice. Using an angle brush (MAC 266) I have practiced making lines on my hands a bunch of times. This product will stay on your eyes forever. So, prepare to scrub!

The best eyeliner I have ever used!
I apply this with a fine liner brush by RealTechniques and it goes on so smoothly and creamy! It's a really easy gel liner to use and it is so pigmented. I got it in the colour 'Blacktrack' and this colour is truly black. Its so pigmented, a little goes a long way. After about 5 seconds it dries so you can't rub it off, it stays put all day until you put makeup remover on it!

HOLY GRAIL eyeliner!
I'm not sure I'll ever use another eyeliner! I bought the 219 eyeliner brush to go with this and the color is so black and smooth! It stays on all day, waterproof, creamy, sharp. This is the best eyeliner! It's like a tattoo until you use makeup remover! Absolutely the best. Makes for perfect wings.

Winged Cat eye has never been so easy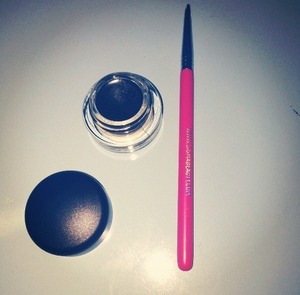 I recently purchased this gel eye liner, and I have to say that I am in love!! It is so creamy and smooth! It is super easy for my to do a winged cat eye, The eye liner is bendable , super black and it lasted me all day. I would definitely repurchase and maybe in other colors too. I would probably get Dipdown, which is good for nice neutral look
To apply I use Sigma E05 brush, If your eyeliner smudges I recommend to set the eye liner with a black eye shadow especially if you have oily lids.
---