Blue Blood Eyeshadow Palette & Mini Blue Blood Bundle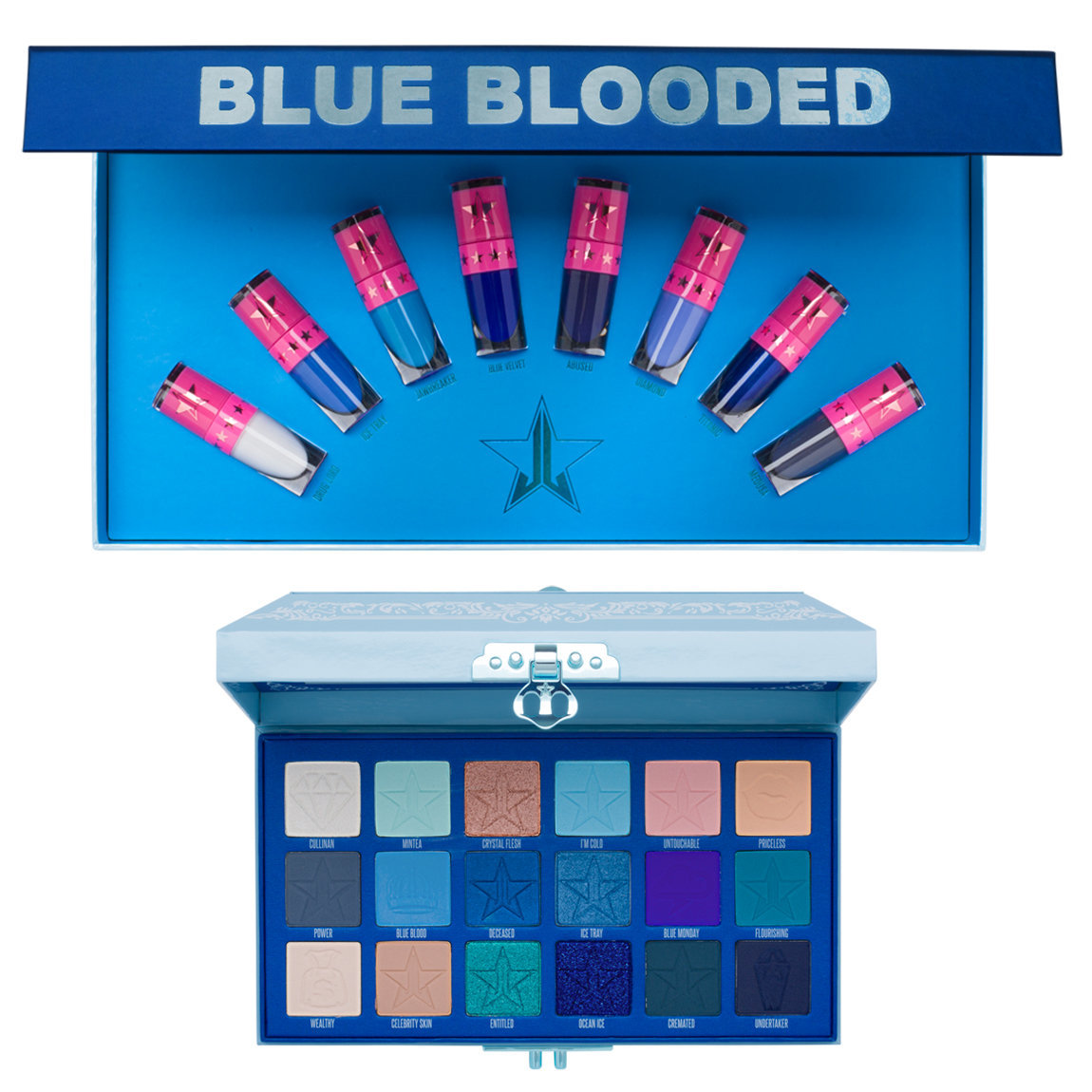 Product Description

About Jeffree Star Blue Blood Eyeshadow Palette & Mini Blue Blood Bundle

Jeffree's newest launch, the Blue Blood Collection, is bigger, frostier, and bluer than anything he's ever dropped. This bold bundle includes the Blue Blood Eyeshadow Palette and the Mini Blue Blood Bundle for ultra-pigmented eye and lip looks with major staying power.

What's Included

Blue Blood Eyeshadow Palette
Mini Blue Blood Bundle

Why It's Special

The Blue Blood Eyeshadow Palette is Jeffree's 6th eyeshadow palette, complete with 18 pans of frosty color and incredible payoff
Mini Blue Blood Bundle features velvety, transfer-proof liquid lipstick that sets quickly and stays comfortable on lips without feeling dry or tight

How to Use

Create subtle to bright eye and lip looks with a diverse selection of deeply pigmented colors that transition from day to night.

Other Details

---

Note: Sets/bundles are sold as-is and products cannot be substituted, customized, and/or returned individually.

In This Set

Ingredients

Shipping & Returns

Free Shipping

Beautylish offers free shipping to the U.S. on all orders $35 and up. For all other orders, we offer $5 flat rate shipping.

Fast Delivery

We ship using FedEx Express (2 business days from order shipment date) and FedEx Ground (3-5 business days from order shipment date).

Satisfaction Guaranteed

If you are less than completely satisfied with your purchase, you may return your order within 60 days (from the delivery date) for a full refund. We'll cover the cost of return shipping within the U.S..

World-Class Customer Care

Beautylish's team of makeup artists and beauty experts are here to help. If you need assistance in anything from color matching to your perfect skin care regimen, we're here to help.

Phone: 1-877-992-5474

Email: service@beautylish.com

Reviews

Defective product

I was a sent a palette that was poorly constructed. I don't think it's fair to send someone a palette they they are not happy with then not offer to replace it. Clearly I want the palette or I wouldn't have ordered it. Then you been getting calls all day for same issue? Wow! Even though it's not your product you are selling it on your site so it's a reflection of you when your customer service does not try to provide great customer service. It makes me not want to buy anything else on your site nor from Jeffree Star

Beautiful, best JSC quality wise

I just want to say that I've been ordering from beautylish for almost a year now and if you receive a broken item they will send you a shipping label and you can return it and get another for free, and you can also get refunded if you don't want to exchange. I saw a comment saying that they're not helping or doing anything and they won't return it and that's just not true. Beautylish has amazing customer service and they know how to treat their customers. So I wanted to make that known on my review so someone doesn't think badly of them from that one review that was not telling the truth.

I have 4 JSC palettes now and this one is the best when it comes to the quality of the shades. Even better than blood sugar which some shades were really drying and patchy in blood sugar. Anyways, there is one shade called Undertaker that is a bit dry and patchy but it still blended really well. Ocean Ice is super weird for me, like it's super chunky with a jelly like feel to it even though it's dry. When blended out it sort of looks like a dark blue with some sparkle to it. Not super metallic looking like I hoped it would. But it's still beautiful just not what I expected.

The shades Blue Monday and Flourishing are not what I saw in videos and pictures. It could be that the lighting in those were making them look different or there were filters. They are still pretty colors just Blue Monday is purple not electric blue and Flourishing reminds me of a medical doctor or nurse scrubs teal. I hope that made sense. It's just more of a green than a blue and I don't really like it and I don't think either flow with the color scheme. But it did blend really well and it looks prettier blended.

One other thing I noticed is that the shades crystal flesh, ice tray, and entitled are nonot sitting evenly in the palette. Like its just the pan isnt glued very evenly. One side is up higher than the other. So it looks like it's going to pop out of the palette. Which might be why some people are getting broken ones. I don't think it was a shipping thing, just that they were not glued right on some palettes, I've seen broken ones come from the morphe store as well. But that's just my guess from looking at my palette that is not broken. Overall would 10/10 purchase again I love it. I just wanted to share some things I don't really mind that some people might want to consider.

Onto the Blue Blooded liquid lipstick bundle. All the colors are beautiful and are very pigmented. The only one that I had to use more than one swipe or dip was Ice Tray, it's a beautiful color though just kind of light. These ones didn't seem to dry down as fast as the others I have from this brand. Which was weird for me, they didn't transfer but still felt not all the way dry, except Jawbreaker, drug lord, and blue velvet those ones were more drying.

All in all I'm glad I bought the set together because I probably would have missed out on the palette. I always have awesome service with beautylish and they came within 3 days of ordering and it was free shipping. Also got a free Becca sample.

Really the best I've gotten from Jeffree Star Cosmetics so far in quality wise. The unit carton is a super soft cardboard that's beautiful blue but kind of flimsy unlike the cartons for thirsty or bloodsugar. The unit itself is very sturdy it's a nice weight not super heavy and not super light. The outside is super smooth with the words and filigree carved in. The clasp does feel a bit cheap but I'm guessing it's because its a blue plastic not metal like blood sugar was. The mirror is amazing as well. I didn't have trouble opening mine, it opened rather easily. It smells like feux leather on the inside and eyeshadow lol

Really great product and worth the money id say. I cant attach a photo because my camera is broke but when it's fixed I will so I can show the pan offset I noticed.

SATISFIED

I see a lot of people have issues with broken shades and pans or damaged containers . I think that may be an issue with how the shipment company is handling your package because Mine came in perfect condition no damage fall out or scratches anywhere. Beautylish uses two companies for quick shipping any mishandling or damage likely happened during shipping or delivery .

Awestruck!

Although I had issues getting this properly delivered to me (no fault of Beautylish), I have fully enjoyed use of these products so far and cannot wait to create more looks. Attached below is my first look using the palette and one of the mini velour liquid lipsticks from the collection!

WHO KNEW I LOVED BEING BLUE?!

LOVE Blue Blood Pallet & Lipstick Shades💙 Having so much fun with my blue blood eyeshadows & lip colours!! Quality is second to none & Beautylish service is BOMB💣 !!!! Thanks All xo

Amazing

Ok so I thought I was going to be struggling to use this palette. I am 40+ and a neutral lover - but the packaging just looked amazing. So I gave it a shot - first, I was surprised at how versatile the palette actually is. Not JUST blue shadow - but also, the included blue shadows are VERY user friendly and look AMAZING.

Crazy fast shipping!

I see that several people have had problems with their palette arriving broken, defective, etc and can say I am so glad mine arrived in pristine condition and packaged beautifully otherwise I probably would have cried haha. It arrived with blinding speed(ordered on the 29th and received on the 2nd), I know people who ordered off Jeffree's site are still waiting on their shipping confirmation. Product arrived in excellent condition (I am totally saving that wrapping paper with Jeffree's tattoos on it, so damn cool) and am glad I ordered from beautylish . Checkout was speedy and pain-free unlike my attempts at Jeffree's site. Loved my bioderma sample. Will definitely come straight here for big releases now on.

In love

I'm absolutely in love with this palette! It's my first J Star palette and I'm obsessed now!! Pigment is fire and blends so well. The only issue I had was one pan was pressed poorly and loose and another had some kind of little small splinter like thing in it I had to dig out. Sad but the rest of the palette IS AMAZING!