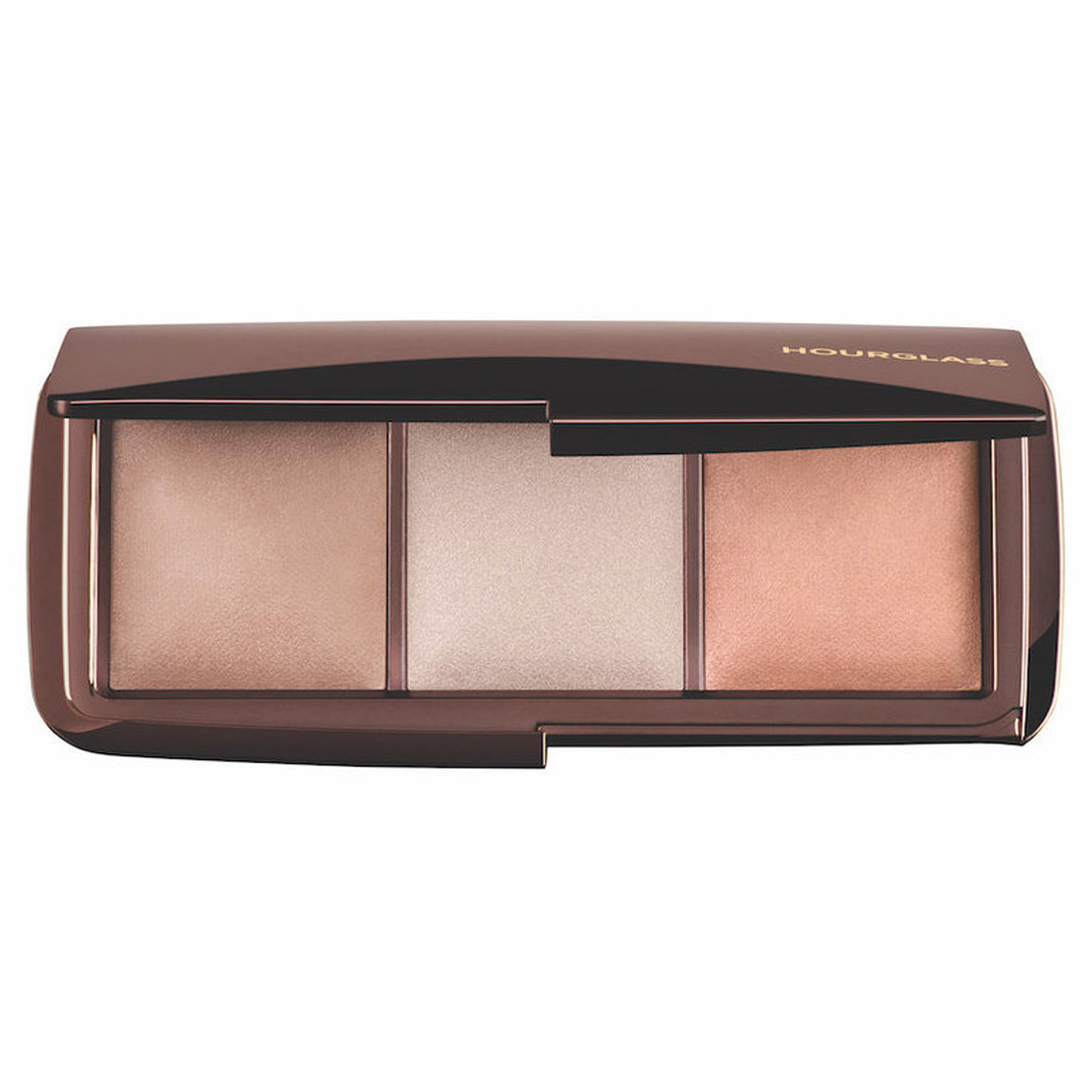 Returning Soon Hourglass
Ambient Lighting Palette
$64
Product Description

About Ambient Lighting Palette

Create your perfect light with three shades of Hourglass's cult-favorite Ambient Lighting Powder in a sleek palette. Each of these high-tech, soft-focus finishing powders recreates a flattering type of light to imbue skin with a natural, dreamy luminosity. Photoluminescent Technology captures, filters, and diffuses surrounding light to instantly soften and refine your complexion.

About the Shades

Dim Light: neutral peach beige blurs imperfections and adds radiance with the perfect balance of warm and cool tones
Incandescent Strobe Light: opalescent pearl powder brightens the complexion with a celestial glow
Radiant Light: sun-kissed golden beige enhances the complexion with believable, subtle warmth and extends a summer glow

Why It's Special

Silky, smooth, and never chalky, Ambient Light Powder mimics the flattering effect of good light—like your own lighting team in your pocket
The state-of-the-art formula sets makeup and adds a multidimensional luminescence to skin for a soft-focus "filter" effect
Color-correcting particles capture and diffuse all types of light—even flash photography—to blur the look of blemishes, pores, and wrinkles

How to Use It

Dust Dim Light all over the face with a powder brush, focusing on the center of the face to soften imperfections. Add Radiant Light as a contour under the cheekbones, on the temples, and along the bridge of the nose. Finish with a light dusting of Incandescent Light on the tops of the cheekbones, under the brow, on the eyelids, along the bridge of the nose, and on the cupid's bow to brighten.

Tip for deeper skin tones: Test the product on your skin and make adjustments by adding Radiant Light for more depth.

Other Details

Size: 3 x .11 oz / 3.3 g
Vegan
Cruelty-free

Ingredients

Shipping & Returns

Free Shipping

Beautylish offers free shipping to the U.S. on all orders $35 and up. For all other orders, we offer $5 flat rate shipping.

Fast Delivery

We ship using FedEx Express (2 business days from order shipment date) and FedEx Ground (3-5 business days from order shipment date).

Satisfaction Guaranteed

If you are less than completely satisfied with your purchase, you may return your order within 60 days (from the delivery date) for a full refund. We'll cover the cost of return shipping within the U.S..

World-Class Customer Care

Beautylish's team of makeup artists and beauty experts are here to help. If you need assistance in anything from color matching to your perfect skin care regimen, we're here to help.

Phone: 1-877-992-5474

Email: service@beautylish.com

Reviews

❤HOURGLASS HAS MY HEART❤

**WORTH THE HYPE** There has been a lot of buzz about this product lately anywhere from beauty gurus to YouTube! AND let me tell you, it's for a GOOD reason!! It flatters the skin by creating the appearance of a natural luminosity. It is this subltleness that takes your skin and improves the overall texture by using high tech soft focus luminous technology through fine milled finishing powder. This palette contains three shades: DIM LIGHT,INCANDESCENT LIGHT, and RADIANT LIGHT. This product is definetly a higher end cosmetic product that retails for aprroximately $58. USD...BUT is worth the price because you have 3 different shades to work with! I want to emphasize that this is not a highlighting/glitter product! It is meant as a luminous finishing powder that I like to apply after foundation to set my makeup application. At first swatch on my hand, the color appeared as a light shimmer BUT when applied to my overall face, created a subtle glow that somehow softly blurred out any rough textured parts of my skin. As the day went on and the product mixed with my natural oils, that is when I noticed most of the "blurring" of prefections not so much immediately after application. I was honestly very impressed and wanted to test this out with other foundations ( because I originally used it with an hourglass veil foundation) and the results were the same: nice luminosity that takes your skin and transforms it to an even better version! Just to give you an idea of my skin tone, I have combination oily, medium tan complexion with yellow undertones, and rather noticeable pores along with moderate acne scars throughout. The #1 reason I love this product is the fact that it lasts throught the day (approx 7 hours without touch ups) and doesn't give a thick powdered appearance to emphasize my pores!! My favorite shade in the palette hands down is the DIM LIGHT, which appears as golden beige on my skin, I apply this all over as my setting powder. I use the RADIANT shade ( golden bronze color) more to warm up my face using it on the jaw line and in the hollows of my cheeks. My least favorite is the incandescent light, which is the lighter shade meant to be used to highlight the high points of the cheek. It is a nice shade but I prefer using my highlighter from the Charlotte Tilbury bronze and glow palette to be honest. Overall, a great product that I am completely satisfied with!! OH and another added bonus is that HOURGLASS IS A CLEAN LINE, meaning they do not use all the harsh chemicals that typically go into cosmetics such as parabens and nanoparticles AND they are CRUELTY FREE!! YAY!! 😊🐾Hope this review was helpful😊❤

BEST MAKEUP ITEM I'VE BOUGHT

I thought this was super expensive, but I've heard so many people love this so I decided to try it. I AM IN LOVE, it allows my face to glow. I went to dinner with my husband and they snapped this picture, my FACE WAS GLOWING and it was because of this product. It's not to shimmery, not to highlighted, but it's a healthy looking glow that lasts all day. I LOVE this stuff. My only regret was not buying it sooner.

The perfect way to light your face

This is my very first Hourglass product and yes the main reason for buying it was due to the high cult status it has achieved across the blog/vlog world of beauty it seemed like a too good to be true and the packaging is beautiful. So of course I got sucked in to buying it, but it does now take prize position on my table.

The cutest of this palette isn't in your face, it's subtle with its burgundy glossy dark plastic casing that is quite thick, to the really tight closed opening that requires both hands to open it as its sat on the side of the palette and is designed to blend into the shape of the case with its jutted out edge. Inside the hinges make it slightly stiff to open but not in a "oh my god its going to break" way but it is in fact the quality of the hinges and the design which is just a luxurious item. You feel 100% pretty and more important just holding it. The large mirror is almost borderless so you get a decent size if you use the mirror which would be handy when travelling as you won't need to take a handheld one with this. The 3 powders are slighty domed but still squared in their seats, which has them raised in the middle and the colours that are delicated swirled with hints of silvers and gold through them just gives it a one of a kind effect as if it was made by hand for you.

Formula of the powders seem slightly chalky to begin with but after the first application it seems to remove the top layer and reveal a delicate cream/powder softness but not crumbly texture that blends effortlessly on your face. These are not overly pigmented and you won't get a highly intense highlight effect but it creates an almost romantic glow and brightness to your face when used in a way to give you a more healthy, younger appearance.

In the palette you get: Dim Light - which is the first on the left, the slightly soft beige powder works for my skin as a bronze blur, to help me get a slight contour effect on my fair skin

Incandescent Light - The middle glowing pearl white that is the most used and is sinking fast!! it brightens and makes my face appear more youthful and even looking.

Radiant Light - the 3rd powder which is a more golden brown shade, to be honest I barely touch this shade as it can look too murky on my skin, but I have found that it works nice if applied lightly as a blush topper

It is just a luxury feel, elegant edition to my makeup collection and although I don't use all 3 of the powders it is totally worth it for the limited edition incandescent light, as it is only available in this palette at that time.

Beautiful but expensive, efficacy questionable!

This palette is so elegant and beautiful, inside and out! And the effect on skin is nice, but I feel that it doesn't REALLY do anything. I'm wondering if we've all been duped by the marketing and the hype of beauty bloggers surrounding this product, and it's just a very subtle highlighting product. I just don't know if it really does anything for my skin or finishing my makeup, but it sure is pretty.

Definitely Worth It!

Overall, I really like this palette, it's literally a one stop shop! You can use this palette for contouring, as a bronzer, blush, highlighter or finishing powder. The colors work for my entire face and have amazing staying power especially when used with a light mist of setting spray. The texture is superfine so less is more. Two of my favorite things are that when I use this product I don't look glittery or oily, I simply have a nice healthy glow. After my first use I took pictures just for fun and wow I looked great lol! I have a deeper skin tone so I use Radiant on top of the other colors and it's perfect! I highly recommend this product for anyone who would like to achieve a natural looking glow without the chrome look of a typical highlighter.

very surprised

I was very excited to try this pallet it was my 1st hourglass purchase, I heard so many great reviews on the single pans when this one came out I had to try it. Of all the 3 shades in this pallet I use dim light the most for the top of my cheek bones up to my hair line I already contour prior to using this so it just adds a nice finish, I also use incandescent light under the eye area and above brows sometimes over another highlighter or alone. The shade I do not use to often is the radiant light it is a bit to shimmery and if I do use it I apply it to the lower part of my face and my nose, it reminds me of just a very sparkly bronzer which when I do bronze I perfer a completely matte formula.

Love!!

I was skeptical about trying this product because I wasn't sure if it would show up on my dark skin but I was wrong!! These powders are so finely milled and it gives you a natural glow! I didn't really notice as I looked in the mirror but when I got into the sunlight, I was blown away! I used all 3shades on my face and I love them. I recommend and I will purchase again. These are not highlighters although you can use it that way to give you a nice light glow so don't expect a blinding highlight.

I'm in love with the Incandescent shade, but I only wish it was not exclusive to this palette. I think overall this palette does a decent job at highlighting, but there are certainly better products for less. Might consider buying again, but only for that one shade.