Pineapple Exfoliating Powder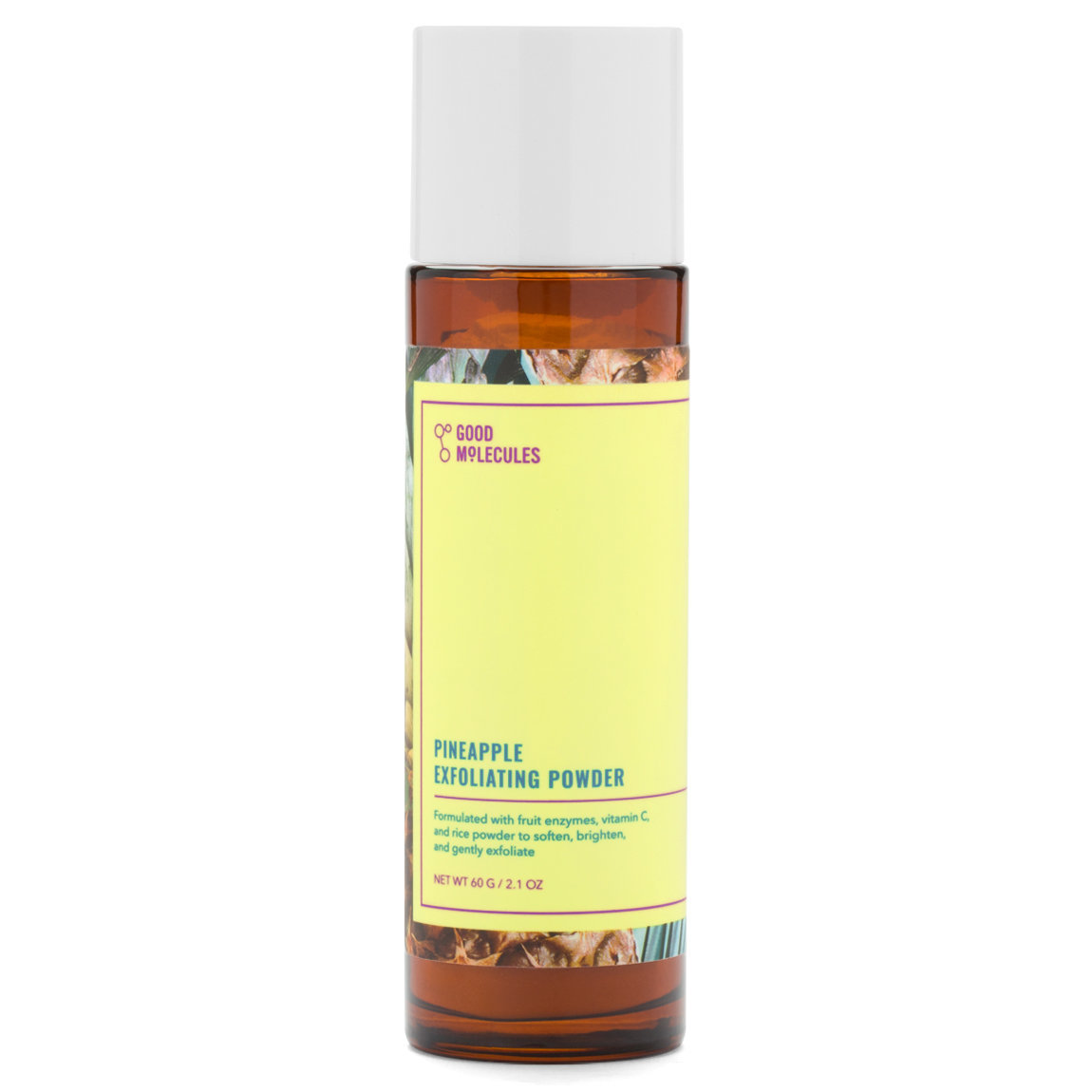 Get the Set

Product Description

About Good Molecules Pineapple Exfoliating Powder

Gently exfoliate away dead skin cells and dullness with this water-activated powder exfoliant from Good Molecules.

With both chemical and physical exfoliating properties, Pineapple Exfoliating Powder mixes with water to create a silky-smooth paste that gently resurfaces, smooths, and brightens without irritation.

Why It's Special

Natural rich starch and silk powder gently buff away buildup to reveal more radiant skin without the irritation of normal scrubs
Calamine powder and allantoin help soothe and calm skin while you exfoliate
Enzyme-rich pineapple, kiwi, and papaya extracts gently loosen dead skin cells while 3-0 ethyl ascorbic acid supports a bright tone
Free of microbeads, nut shell powders, and alpha hydroxy acids for gentle exfoliation

How to Use

Dispense a teaspoon of powder into palms. Mix with a few drops of water to form a soft paste. Use more water for gentler exfoliation. Massage into skin with gentle circular motions. Rinse thoroughly with lukewarm water.

Other Details

Size: 60 g / 2.1 oz.
pH: 5.5
Cruelty-free
Gluten-free
Never tested on animals

Ingredients

Shipping & Returns

Free Shipping

Beautylish offers free shipping to the U.S. on all orders $35 and up. For all other orders, we offer $5 flat rate shipping.

Fast Delivery

We ship using FedEx Express (2 business days from order shipment date) and FedEx Ground (3-5 business days from order shipment date).

Satisfaction Guaranteed

If you are less than completely satisfied with your purchase, you may return your order within 60 days (from the delivery date) for a full refund. We'll cover the cost of return shipping within the U.S..

World-Class Customer Care

Beautylish's team of makeup artists and beauty experts are here to help. If you need assistance in anything from color matching to your perfect skin care regimen, we're here to help.

Phone: 1-877-992-5474

Email: service@beautylish.com

Reviews

Wow. Try it. Just try it.

I have to agree with the previous poster because she said everything I came here to say but I am so immediately in love with this product that I have to voice my support too. My only word of caution - It's a little weird at first until you get the ratio of water to product down. If you don't use enough water it balls up into a chunky sort of paste that you have to keep adding water to until it softens and allows you to massage it in. But once you get that down, *chef's kiss* it's magic. It not super harsh or aggressive (as with any physical exfoliant, don't rub too hard and let the product do its job) and it didn't leave my skin feeling tight. Just soft, smooth, and bright. And a little goes a long way so the incredibly reasonable $16 price tag is well worth it. Follow up with a hardcore serum or rich nighttime moisturizer and see your favorite products work even better on a smooth, refreshed skin surface. And there's also no fragrance, certainly nothing fruity or sour like pineapples, for anyone worried about that.

Now, for those who are like me and like the luxury goodies, I'll say this doesn't knock May Lindstrom's The Clean Dirt out of OG status for me because nothing can beat the skin-stimulating power of her products, and with the Clean Dirt I actually feel the dead skin sloughing off to where I can see it on my fingers. However I also prefer to leave the CD on as a mask in the shower to really sink in and wake my skin up and sometimes I just don't have the time for that. But the Pineapple Powder will serve an extremely effective in-between treatments maintenance product for those nights when I can see dullness or feel that dry skin starting to build and I don't have time for a shower. I can do this over the sink in a few minutes and wake up to smoother, brighter skin without the luxury price tag and ensure my Clean Dirt lasts even longer. Win/win!

I am hooked and now I'm wishing I got two, but I'll grab the duo when the time comes to restock. If you're on the fence, buy it. One time is all you'll need to see it's worth every penny.

Great for the Price!

I have been using Tatcha's Rice Enzyme powder for years and I love how it makes my skin feel. However, it has gone up significantly in price since I started using it so I began to look around for a less expensive alternative and decided to try this.

In a lot of ways, it is very similar to the rice enzyme powder in that it is used in the same way, it exfoliates the skin and my skin is left glowing after using it. My only real issue with it is that it is harsher on my skin than the other. The granules seem to be a bit bigger and they do not glide across the skin as easily. It rather seems like it is tugging at my skin sometimes. Also, the Tatcha is gentle enough to use twice a day, every day if you wish, whereas this one is only to be used four times a week, max. This isn't enough to deter me from using the Pineapple Powder but if you have very sensitive skin, I would probably consider a different exfoliating agent. Overall, I really do like this powder.

Love at first use!!

All it took was using Good Molecules Pineapple Exfoliating Powder one time to get me completely hooked on it! After using it my skin was left super soft, clear in appearance, and absolutely glowing! I love how easy it was to use, and the fact that it not only exfoliated my skin but also cleansed it was like icing on the proverbial skincare cake. As soon as I start getting low I'll most definitely be placing an order for more. Now I find myself wondering how Good Molecules will top this. All I can say is that they have their work cut out for them.

Great cleanser and light exfoliator!

This is a great cleanser! I use it as a second cleanse after removing my makeup and/or SPF with an oil based cleanser. This cleanser is easy to use, gives me an enjoyable cleanse, and really cleanses my pores. I just massage it in lightly for about 45 seconds, and it gives great slip. It rinses clean, and my pores feel like they can breathe. I enjoy other powder enzyme cleansers, as well. This one has a fantastic price point, and it contains no harsh grains that irritate or damage your skin. It's a total winner. Plus, it's not a liquid, so it's completely TSA friendly and perfect for travel.

Amazing results

This product is amazing. Gentle enough for everyday use even twice a day! The granules are a bit larger than the tatcha but both these and the tatcha melt into a nice foam on the face. Both create same results. Soft, radiant, glowy skin with less texture. Brightens and does not strip the skin. Highly recommend

Feels So Good, Feels So Soft!

Even though I've built a skincare routine I like around Good Molecules products, I was on the fence about the new Pineapple Exfoliating Powder but decided to try it anyway. I wasn't really a fan of the Overnight Exfoliating Serum and dropped it from my routine a long time ago - I loved that it was a serum, but I didn't much care for the scent and it didn't seem to do much for me. So onto the new Pineapple thingy!

The first time I used the Pineapple powder, I wasn't too sure about it. I used it at the sink and found it a little messy and not very convenient to use that way, and decided next time I'd try it while in the shower.

The next time when I used it in the shower - perfect! I agree with the poster who says it takes a little getting your method down with how much water to add to it, but once you do, it feels great while using it on your face and once you're done and out of the shower - my face just feels wonderful and super soft! I definitely am getting the same sort of softness I get with a bit pricier brand I've used occasionally and love the way the Pineapple powder makes my face feel! If there's a scent at all it's super light, I can't really discern much of any scent at all - that's a bonus as far as I'm concerned.

I don't usually shower every single day - usually 3-4 times a week - so this will work into my shower routine well 3-4x weekly, and I do believe it will probably 100% replace the (also somewhat pricier) other exfoliating facial scrub I've been using regularly in the shower up to now. After the first time I used it I was pretty on the fence and not sure if I would buy it again down the line, but after a week or so of use I'm all in! Definitely will continue to use the Pineapple Exfoliating Powder and buy it again. A++!

Stephanie L.

Apr 04, 2020

Good Product!

I LOVE how this product works. You can really tell a difference in how vibrant you skin is. I've been going without foundation because this product makes me SO vibrant and seems to even out my complexion. Bonus points for Good Molecules because it exfoliates AND washes your face! The only reason I didn't give it 5 stars is because the smell is a little different (it reminds me a lot of infant formula...); I was expecting a pineapple scent, so I was a little thrown off. If the product smelled better, I'd probably rate it 5 stars!

Good molecules is killing it with their amazing products! Everything I've tried has worked great with my skin and this is no exception. I usually go for chemical exfoliation but this is great because it uses fruit enzyme extract. It is also very gentle which is a plus for me. The price is unbelievable for the product quality you get. So highly recommend if you are looking for a physical exfoliator.

Odd but good

I've never used a powder in skincare, so I was pretty excited to try it. As usual, Good Molecules doesn't disappoint. It mixes well with a bit of water and goes on very well. The exfoliation is soft and gentle. It rinses well and leaves your skin feeling hydrated. I haven't used it long enough to tell you long term, but short term it works great.