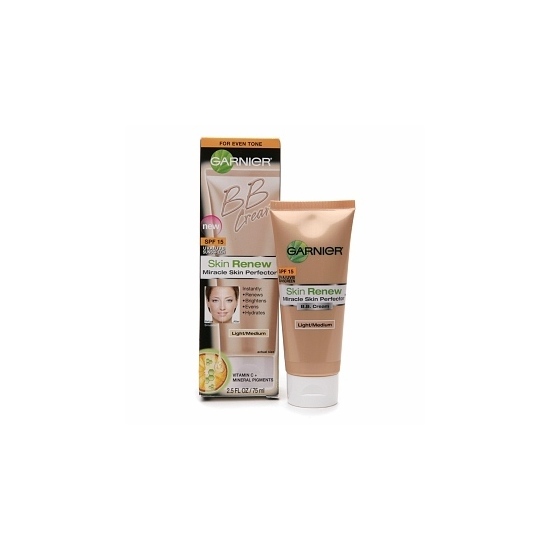 Rollover image to zoom
Reviews

This is my HG for day I want to wear less makeup. It blends out beautifully. It evens out my skintone and looks gorgeous one the skin! I've used both the normal and oily skin one but prefer to use the oily skin one in summer as it dries to a nice natural matte finish! Definitely will be repurchasing.

Awesome!!
I absolutely love this stuff!! Really evens out my skin tone and redness.Makes my skin soft and flawless. Was really surprised with the coverage it has.all I do is apply this all over my face, use a little bit if concealer under eyes and and powder my t-zone and I'm set! Definitely found one of my HG products!

BEST BB CREAM
I ABSOLUTELY LOVE THIS PRODUCT. I have combination/dry skin, with an oily t-zone and this made my skin feel silky smooth and made it look matte and flawless! I always wear it to school in the morning, and at the end of the day when I come home, my makeup is still in place! I would say this is the best drugstore bb cream out there. I would definitely continue using it.

Great on my combo/dry skin
Now granted I'm new to the world of BB creams but I've been having some serious trouble with foundations on dry areas of my skin (especially between the eyes and nose area). I smooth this product on my skin and it looks great! It's a tad too dark for my skin (light/medium shade) if I use a heavy hand but I learned a little goes a long way for my skin. It gives me a dewy finish, so oily skins might want to tread carefully. I think I saw an "oily skin" formulation at the store so that might work. I just set with translucent powder and I'm all set. It smoothed out my complexion and offered more coverage than I was expecting for a BB, though I would still call it light coverage. I'm seriously thinking of switching from my foundation to this!

Smells like roses and moisturizing
I've been using this BB cream for well over six months and have been using it instead of foundation. I Love It!!! I don't know what the other ladies are talk about. This product has stopped me from breaking out and I have noticed a change in my skin, smoother and more even tone. I really love it. I just dust it over with NYX loose powder in California Tan and I'm good to go.

the only thing i dont like is the lack of shades, but other than that this product is absolutely fantaastic! i apply it with a sponge and when i first used it i thought the coverage was phenomenal for a drugstore bb cream! i love the kind of fruity smell too it. It gives a nice natura\l look dewy finish and covers up all of my acne scars and discolorations! although if i apply with my hands i find that the coverage isnt as great as a sponge. but over all a great product for dry skin! oily skin users i would recommend a matte powder to set the product.

Pretty Good
I've never tried a BB Cream before this because I was really skeptic on how well it would work. I bought this a few days ago and I like it! It doesn't give full coverage of course but its great for an everyday/rush out of the house use! I went a shade darker with the light/med and its a little tan looking but I prefer that anyway. It does brighten so I love that.
---