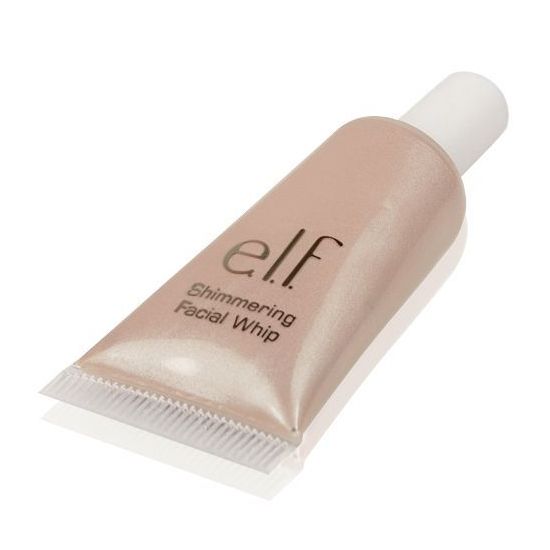 Rollover image to zoom
Reviews

Okay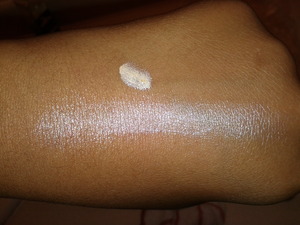 It's a nice highlighter that I use and it only cost $1 but there are a few problems. First it doesn't blend it that easily so I have to apply it on my hand, blend, then apply to my face which is okay but a huge problem that I really have is that sometimes it can really turn into liquid drops and that's so frustrating. I left mines on my makeup vanity the day i bought it and a day later it was liquid then turned into the regular product. Now I don't use this anymore on the my face as a highlighter I mix it in with my body moisturizer to give me a bright glow on my skin which I like better.

Decent amount of shimmer
I purchased this since I don't have any kind of highlighter in my make up collection. A little goes a long way with this stuff, so be careful. The consistency is perfect; it's not too thick and not too runny. The only downside is the smell of it. I'm not too sure if you all notice it when you put it on, but it does not have an attractive scent at all. But for the shimmer payoff it gives, I'm alright with dealing with the "plastic" smell.
It's definitely better than the all over face stick, which I found oily and excessively shimmery. This went on creamy and then dried - unlike the all over face stick which got color/glitter all over me when I tried rubbing it in.
I love the fact that it was subtle enough, but people still noticed that there was a glow to my cheek. I used the lilac petal.

Elizabeth C.
Jan 03, 2013
Wasn't sure about it at first
I normally stick to highlighting powders and powder products in general because I normal to dry skin and I am just more comfortable with powder products. But I gave this a go and I really like it! It is easy to apply, has great color and is build able, although you really don't need very much at all. I find it does go on better over the foundation before you powder, but still works great over powder. I find it is easy to apply with your fingers (before powdering) and a small fluffy brush (after powdering) it keeps its shine and shimmer for quite awhile and doesn't wear off easily. As with all e.l.f. products I have used thus far, excellent quality for the low price.

Use this everyday!
I think this product is amazing for the amount of money it costs, I picked mine up at Target. Before applying I shake the bottle and even though it is liquidy I just spot a few dabs on my cheekbones and blend it out with my fingers. I think it gives an awesome shimmery finish and I have repurchased this time and time again.

Love these!
I have two which I use them in my videos sometimes www.youtube.com/user/TheOfficialLMC and I really like them. Deff worth the dollar! I honestly think they really do add a little shimmer to your cheek bone. I also like to apply it above my brow - but only a little bit so it doesnt look too oily. Just the right touch for a nice natural look :)

Amazing Overall Product
So the highlighter is amazing when you first buy it. It has the perfect amount of shimmer for an everyday or even a dramatic makeup look. I've also noticed that I don't even need a powder highlighter on top to set it, unless I want to be really glowy ;) The problem is, after a while of using this product, it turns into white liquid drops that don't do anything on the skin. You have to squeeze a bunch of the white liquid out to finally get to the product. That is very frustrating but remember, it doesn't happen until you've had it for a while and this only costs $1! I think it's an amazing product overall, it just gets a little annoying when it turns into the drops. But again, it's ONE DOLLAR!

Natural sheen
I love, love, love this stuff for the price! It goes on really natural and gives you a born this way glow if applied correctly. The color is pinkish, and dries clear.. i put some of this stuff all over my face after i come out of the shower and my boyfriend always comments on how radiant i look :D plus, it smells delicious and lasts a long time! For a dollar? Definitely worth trying!

Sojourner W.
Nov 15, 2011
Pretty Good!
I love this highlight! I normally don't highlight my cheeks using anything but bronzer, however I changed when I bought thi! I absolutely love the fact that you don't have to use a whole lot of product in order to get a nice highlight. The price tag of $1 isn't bad either! I even tried mixing this with my tinted mositurizer and foundation...and it toatlly worked! I had such a beautiful glow! I used this especially for Homecoming this past September too; it looked so freakin' pretty in pictures! The pigmentation is pretty good, though it does/can turn out sheer. I don't wear this as a highlight every day because it doesn't look that natural on my skin tone, however when I want more of a shimmery highlight, I use this! I honestly and truly recommend this to anyone looking for a nice, pearly, shimmery highlight! Go get it!!!
PROS:
- Price - Pigment - Long-lasting - Shimmery color
CONS
- Availabilty - Not natural for darker skin tones like mine
xoxo Sojo
http://www.thesojochronicles.blogspot.com
---