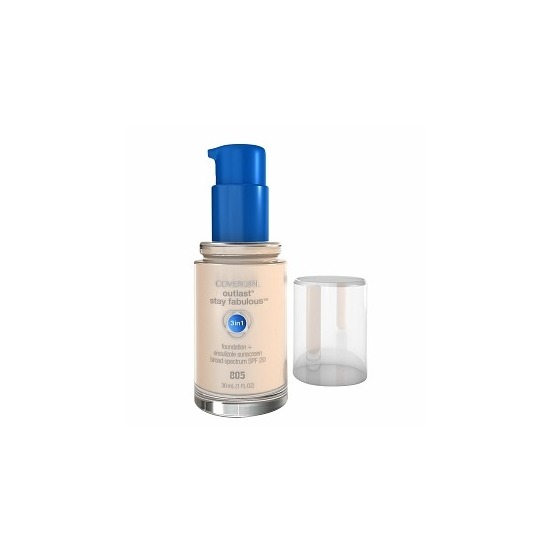 Rollover image to zoom
Reviews

It's great!!!!!!(just not in my shade)
I love this so much I just don't really like this shade just because like one minute its way to light and one minute it's way to dark and I use the same amount everytime and the same setting powder so I don't understand but it has great coverage and overall I give it five stars

Best Drugstore Foundation!
This is a full coverage foundation that lasts all day- I still use a primer and concealer because no foundation can cover EVERYTHING... However I have tried the Revlon Colorstay and think that they are very comparable but I think the Covergirl has a better shade range for the fairer skinned ladies. The lightest shade in the Colorstay is too pink for me (I have a neutral undertone) and anything else is too dark. The Covergirl has a pump and the Ivory shade matches perfectly- not too yellow or pink.

Perfect color & coverage
This foundation is amazing considering the price- the quality is great! I'm very fair (NC 15) and this color matches me great it's not too pink or yellow but very neutral. I apply it with a Sigma F80 and it gives a full coverage natural looking finish.

I recently purchased this item, and i love the coverage so far! i've been using many different foundations lately from Revlon, Sephora, and other places, but i think this foundation is a keeper. i do recommend setting the foundation with powder though! you can take the drugstore route or use excellent powders from other places like Sephora!

This foundation is a life saver! Finding foundations for my skin type and shade is very difficult. This foundation is medium to full coverage and it stays on all day long. It covers up what i need to cover up and does not cause any breakouts whatsoever. In my opinion it is MUCH better than the Revlon Colorstay and some higher-end foundations. The only foundation I even bother to look at anymore.

I really like this foundation. I applied this with a beauty blender and it gave a very nice finish. It also has very good coverage which I love. The only thing that I don't like is that the lightest shade still isn't light enough for me. So anyone very pale like myself should keep that in mind. Other than the colour, I really do like this foundation and would suggest it to anyone that fits in the shade range :)
---