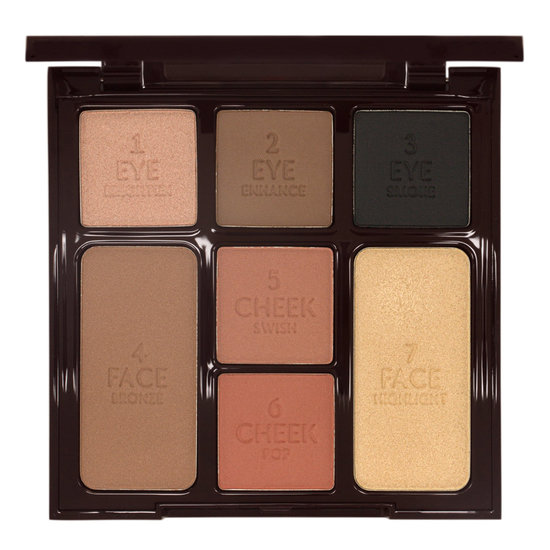 Rollover image to zoom
Reviews

Just perfect
My favourite palette by far. Black is the most universal colour for makeup. To add to the lash line for the blackest lashes. Tight Line for the upper waterline. And used to smoke up any eye look for a smokey eye. While fallen angel contains a 'near' black this palette does offer a more beautiful matte black. I like to think of this platte as the Tom Ford 'cocoa mirage' mixed with 'tom ford titanium smoke'. The bar of gold is so much nicer pressed. The pink pops out of the gold making it GORGEOUS :)

Far from the swatches on the website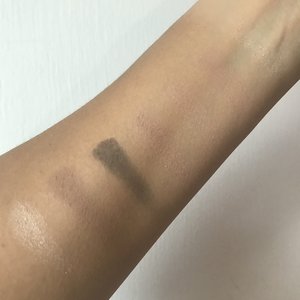 Just received my palette, and I was very underwhelmed. The swatches shown on the website for this palette are far from what they performed in person the black eyeshadow is almost like a dark grey to me. And the highlighter is not even near compared to the swatch photo . I attached a photo with swatches , and take note, that after 3-4 swipes, this is all I can get from the highlighter :-(
Don't get me wrong, I am a fan of Charlotte Tilbury, from skin care to their makeup line. And never had I been disappointed in their products in the past. Will process return.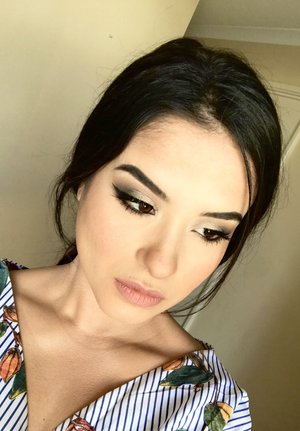 Loved it. This palette would work better on a fair skin. Mine is tan olive, the blush doesn't show up on my cheeks, but everything else did. The highlighter was a bit tricky to use as I swatch it with my finger first causing the surface to become hard, like a hard wax on the top, not allowing my brush to get any pigment, I had to scratch the surface to 'reset' the highlighter. Very shuttle on my skin. Like I said, the palette would work better on a fair skin but I still enjoy the quality and pigments from the eyeshadow, the bronzer is divine!.

I must say that this Charlotte Tilbury palette makes all the rest pale in comparison.
I have become a makeup addict in the past few years, watching beauty gurus on Youtube and collecting lots of palettes and products. I must say that this Charlotte Tilbury palette makes all the rest pale in comparison. The eye shadows are the perfect basics, but what especially blows me away are the bronzer, blushes and highlighter. I'm very cautious about this kind of product, not wanting anything too glittery or greasy looking, but oh my gosh these items are perfection on me. I put them on and I feel like I look so much better even at my age (62). This needs to be a permanent palette, not limited addition. What shall I do when it's gone?

Never Disappointed
I really love this palette! I am never disappointed in Charlotte Tilbury palettes. I was on the fence about purchasing another one as I have most of hers. However, It was reviewed by The Beauty Professor, and I was sold! Im glad i did as the gold highlight is beautiful as well as the eyeshadows. Equally the bronzer which is now a back up and I always need as its my favorite for my pale skin. Its just the perfect addition.

Perfect for day or night!
I really enjoy all the Instant Looks in a Palette that Charlotte Tilbury has come out with over the last year. But this one is perfect for anytime, day or night! I think this might be my favorite one yet. The eyes shadows have nice pigmentation and are really beautiful and easy to work with on the eyes. The bronzer and highlight are very pretty. More on the subtle side. And I love the blush. A perfect everyday blush for day or night. The colors really come together and make it an effortless look for a quick make-up day. Excellent for traveling, as well. So far I am loving the Smokey Eye palette. I don't usually wear black as shadow often, but I put it in the outer corner, and it looked great! Buy it while Beautylish still has this gem!

Love, Love, Love
Finally an all in one pallet I can feel confident throwing into my bag and having everything I need. I can't count the pallets I have that are missing "one thing"... a blush, a matte, a bronzer etc. The colors in this pallet are muted and pretty. I personally don't want a pallet that "swatches well" only to look like a clown when I put it on my face. This pallet even has a mirror I like using to put on my makeup. Good job Charlotte.

Fantastic!
I initially wanted this palette to get the bar of gold. Turns out, that's not my favorite part of the palette. I'm blown away by the eye shadows, both the colors and the color payoff. The shadows are also easy to apply with a wonderful Wayne Goss brush. The pressed bar of gold is terrific and I'm so glad to have it. The bronzer is also a good color. I'm not crazy about the two blushes, but I don't really care about them anyway. One of the greatest benefits is my eyes aren't sensitive to the shadows, which is MAJOR because I usually react to everything. This is also my first interaction with CT eyeshadows. I have many lipsticks - which I love - as well as powder and blush, but haven't tried the eye shadows until now. I will definitely be getting more. This is probably the first palette I've gotten - and I have a bunch of them - that I've been so taken with, and it's now my go-to every morning. I have to use my other palettes but I'm really in love with this one. And many thanks to Nils for placing my order for me as I wasn't able to get on the website at the time the palette was offered. LOVE BEAUTYLISH!!!

Good CT palette for mature WOC- NC42
This is the one that can really take you from day to night. The eye shades are satin and friendly to mature eyelids. The blush and bronzer shades are on the lighter side and not as pigmented as the other palettes and compacts. The highlighter is subtle and wearable.

Not for my skin ton.
really disappoint about this product, the black shadow in this pallet is not pigment enough, when I try to bland it, it's totally fade and become a grey color. The high light is hard to see on my skin, no matter how much I put it on. I will return it, It's probably better on the fair skin.
---