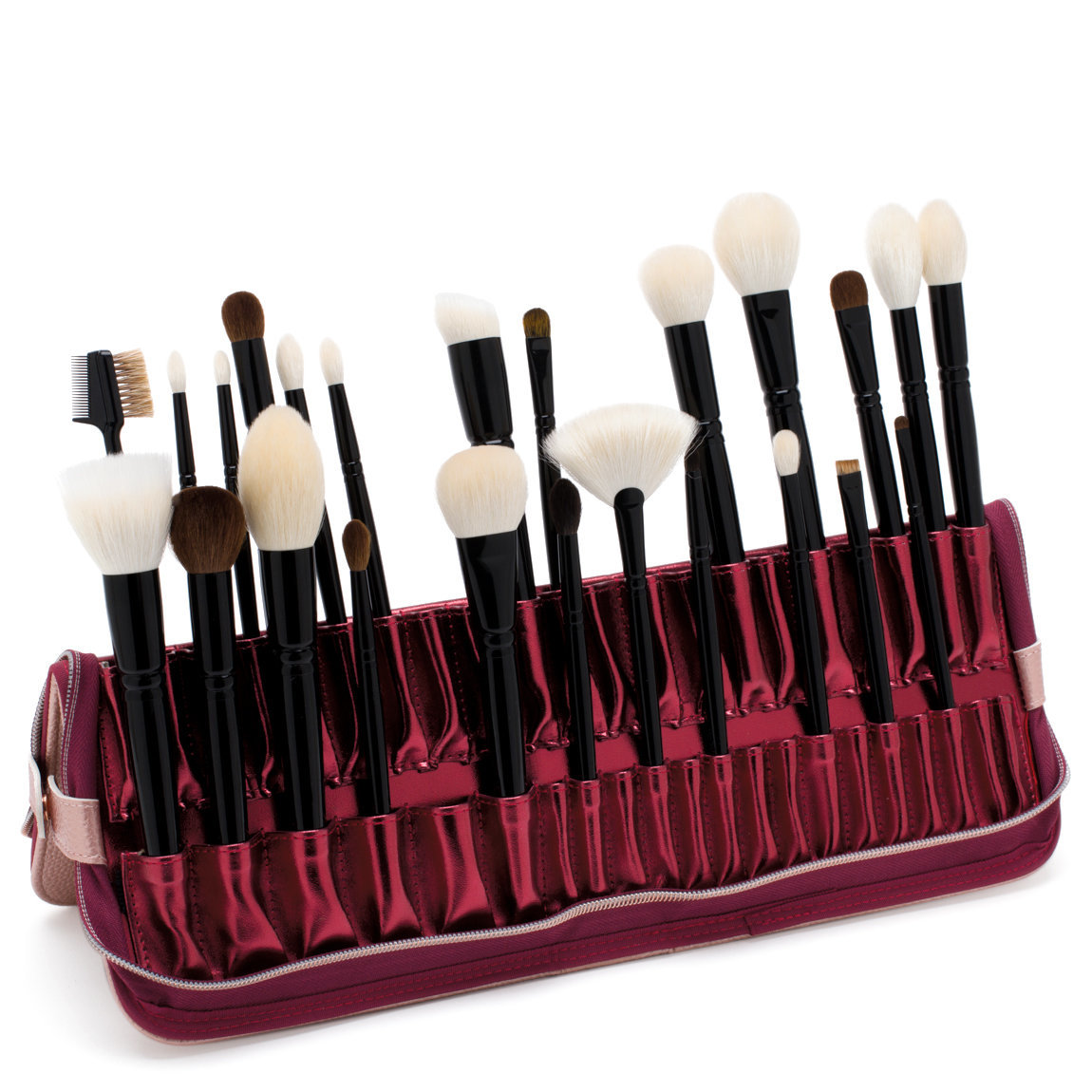 Product Description

About Artist Easel Pro

Give your makeup brushes the luxe treatment with Brush Works' brush organizer and travel carrier. The Artist Easel Pro holds up to 75 brushes—perfect for makeup artists' kits—in a sleek leatherette zip case that converts into an upright easel that stands on its own. Designed to look like a party clutch, it takes the fuss and hassle out of organizing, protecting, and traveling with your tools.

Why It's Special

Protect your brushes from dirt and damage with the structured zip case, made from durable and vegan-friendly leatherette
Flip open the case and snap the straps together to convert the Artist Easel Pro into an easel for fast, easy makeup application
Three different sizes of pockets accommodate up to 75 brushes, from tiny eyeliner brushes to big, fluffy kabukis

How to Use

To convert into an easel, unzip the full zipper, flip the case open, and secure the snap-closure straps to hold it in place.

Other Details

Size: 11" x 6.75" x 1.5"
Cruelty-free
Tassel included
The brushes pictured are not included.

Ingredients

Shipping & Returns

Free Shipping

Beautylish offers free shipping to the U.S. on all orders $35 and up. For all other orders, we offer $5 flat rate shipping.

Fast Delivery

We ship using FedEx Express (2 business days from order shipment date) and FedEx Ground (3-5 business days from order shipment date).

World-Class Customer Care

Beautylish's team of makeup artists and beauty experts are here to help. If you need assistance in anything from color matching to your perfect skin care regimen, we're here to help.

Phone: 1-877-992-5474

Email: service@beautylish.com

Reviews

The Best Brush Organizer Ever

I have been using and loving the Brush Works Artist Easel Pro for months now and it has saved my life while on set more times than I can count.

This is the perfect tool for pro artists and consumers alike. Whether you're on a magazine shoot or at your vanity this is literally the best way to organize and transport your brushes. Also it is really easy to clean!

If you're in the market for a new solution to manage and organize your brushes look no further! This is it!!! Absolutely love it!

Changed My Life!!!

I am not usually one to review things (obviously since this is my first review here), but this was worthy. All I can say is WOW WOW WOW!!! I have been looking for something to hold my brushes and have used cups, brush rolls...everything and nothing really worked for me until I found this amazing product. Not only is this product so well made but it holds so many brushes (even my Real Techniques brushes which have very large handles). The best part is that it folds into an easel so I can see all of my brushes. When I was using cups I was always digging through them trying to find my brushes which drove me crazy. Brush rolls also were a no go for me because they don't protect your brushes, your brushes fall out and they take up so much room! The Artist Easel Pro is perfect!! It's not too bulky, closed easily with all my brushes inside and even has some padding so it feels like it's protecting my brushes when I travel. I can't say enough good things about this product. Thank you Brush Works for making a product that speaks to all my needs.

HOLY ROSE GOLD!!! This beauty is fantastic :)

As soon as I saw this I knew I had to have it. And boy am I happy I got it! Not only is stunning, but very well made. I was also so surprised to see that it fit some of my biggest handled brushes. I read some of the reviews on here about not being able to fit your brushes. Here a tip @Patty P @Nichols S - if you twist/wiggle your brushes inside the pocket if will feel tight at first but once you get the brush inside it stretches the pocket making it easy to get your brushes in and out of the pockets. It's like a new pair of shoes, you just need to break them in :) Hope this helps.

I love this easel so much, I plan to purchase another for myself and a couple for holiday gifts!

Fancy Eyeshadow Brush Holder

The concept that this will hold 75 brushes is blatantly exaggerated. None of the compartments hold my Chikuhodo Z-1 and I had to stretch the pocket to hold the Z-2. Good luck fitting those cheap bell-shaped Real Techniques brushes in here. I can fit approximately 40 eyeshadow brushes and 6 small face brushes. They come out a bit squished after traveling.

There's better out there. Save your money.

I don't know what to say....

I'm not happy or am I happy with this, I just don't why this was made.I wouldn't use it as a makeup artist, it doesn't fit any of my brushes and when closing it with brushes in it. It squishes all the brushes together, what you don't want. I say just pass on this and you can use a brush roll, which is 100% better than this. And I it works for another people I would like to know how they fit all of their brushes inside without the brushes squished together. Thanks

Poor quality

Oh man...first let me say I never write bad reviews. I don't believe it's good to bash a product as many items work well for some and don't for others- I'm not a picky person and I buy lots off beautylish. This product looked very pretty and I thought it to be useful for travel. The actual material of the book is very very thin. I can understand now that I have it, it has to be thin in order to "bend" into the easel- but wow this is soooo not worth $55. In my humble opinion I think the Sigma brush book to be of much better feel and quality and that is only $25. I have never returned anything to beautylish and I'm thinking for the price I paid for this I just may have to!

Soooo GOOD!

I normally shop at my local beauty retail stores for my kit, but have been so busy. I heard great things about Beautylish so I figured for convenience sake I'd take the plunge and try it out. I am so glad I did, because I came across this amazingly cool product. What a find!! This holds so many brushes and keeps me organized. I've been looking for something to replace my brush roll and this is definitely what my kit has been missing. I will never use anything else.

It didnt fit my powder brush at all @Alex S and @Rachel W how did you fit in the bulky brushes it even it did nit fit some of my small brush. Is this expandable?

Alexandra S.

Dec 11, 2017

Everything I had hoped for

I have been hearing about this easel for a while now but loved the pretty rose gold color and decided to treat myself for my birthday. I'm so pleased with my purchase. It was everything I hoped it would be. I've been using it in my kit and have gotten so many compliments! I love how durable it is and helps me find my brushes so much quicker. For reference I was able to fit 62 brushes in the easel. Highly recommend :)

Pretty and practical

I am not a makeup artist but do have a lot of brushes and needed something to get me organized. Saw this and decided to try it out. It fit all my brushes which was great and is very convenient for travel which I do a lot of. It's very compact and doesn't take up a lot of room on my vanity or in my luggage. Also love the rose gold/burgundy color mix. So pretty!