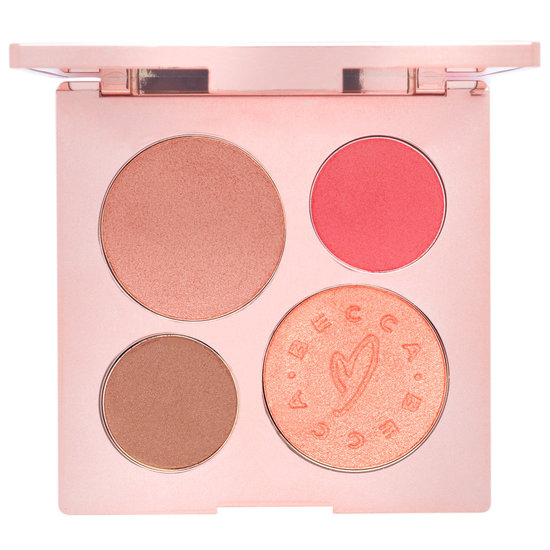 Rollover image to zoom
Reviews

I LOVE IT!!
I have had a few Becca products, mostly the deluxe sample size from Sephora favourite boxes, or point redemptions. I was obsessed with this palette though, after I saw it demo'd on someone. The Rose Gold highligher is HEAVEN, and I am so happy it's in the regular Becca lineup. The other highlighter is good too. Blush is ok, perhaps a bit too much for fall/winter, but a great summer shade, for sure. The bronzer is ok too.

The colors are beautiful and it looks really nice on my skin. I'm an NC20 without a tan. It is summer now so I'm a little tanned even though I bathe in sunscreen. I didn't grab this pallet when it was in stores and I've regretted it ever since. I got lucky while looking for something else on Beautylish and saw they still have it. The highlighters are both more of a rose gold which I prefer. I have yellow undertones so I try to not add more gold on my face than necessary.

LOVE
This is the best palette ever. I recommend this to anyone. I've just hit pan on the hibiscus bloom blush, and I'm currently in search of a dupe from Becca's other blushes that could possibly come close to a match. If anyone has any recommendations please let me know.

Make it work
This product is good, and very pigmented so you have to have a light hand with the blush. But since I am a bit too light for the highlights they tend to come out a bit pink on me. I found a different use for them. I use the darker one as a body highlight or inner corner and brow highlight, and as for the lighter one with the heart I use it as a blush topper. The bronzer I don't have any complains about

Solid palette
I love Chrissy Teigen and even although I'm more fair-light skinned, I wanted to purchase this palette. I have since purchased the Jaclyn Hill BECCA palette and think that's a better palette in terms of both colours and value for money. However, this palette is lovely. The blush I gorgeous and can be subtle or built up depending on how bold you like your blush to be. I use the bronzer as a contour shade and find that works nicely on my skin tone as long as I use a light hand. I'm a little disappointed that they put an existing highlighter shade in this palette (Rose Gold) even if it is a pretty shade. The best product in this palette is definitely beach nectar, which is a gorgeous highlight shade. What I love about BECCA's formula is that it is has a luminous sheen without any glitter and that it can be subtle or built up to a blinding highlight depending on your preferences. Way too many highlighters these days are just glitter bombs that look great in photos and terrible in person.

Beautiful
This is a beautiful palette for anyone with medium to dark skin tone. If you are on the fairer side the highlighters will be too dark. I love the packaging, the pigmentation and finishes of the product. Nothing wrong with putting in a permanent shade, this happens with many palette. I recommend!
---