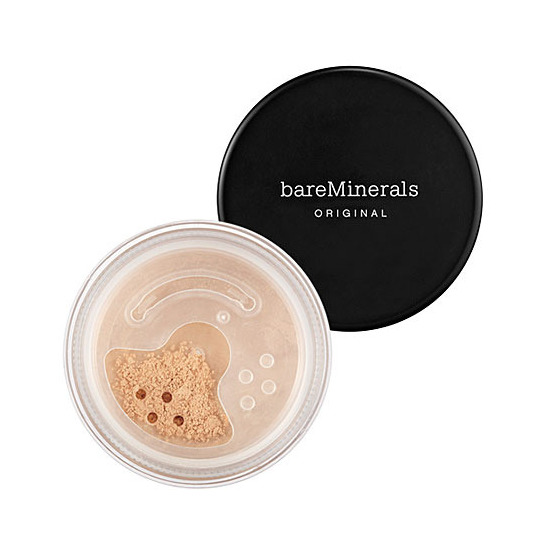 Rollover image to zoom
Reviews

Not a great match with Oily/Combo skin.
I started off with this when I was young and when my skin wasn't as oily as it is now. I loved it! I started to the Matte formula last year and recently got the Original formula for xmas and I must say I prefer the Matte formula. It is a few bucks more but it is worth it if you have oily skin. The Original formula now gives me an unwanted sheen. I plan on finishing out the rest of the Original and buy Matte and stick with it.

This foundation is perfect for my skin. I have sensitive skin and tend to break out very easily. This foundation lets your skin breathe, and looks so natural. This has buildable coverage. You can always add more for more coverage. I also feel it does not need touch ups throughout the day.

Everyday use
I love this product as a foundation. I got this initally in the starters kits which came with Fair and Fairly Light, Mineral Veil, Warm, 3 brushes and also a brush shampoo all for about $80. I didn't like the packaging of those containers because none of them have stoppers so when you store them they get messy because product falls out of them. Also the kit sized containers are smaller than the standard sized one, but those still last a really long time. Instead of using the product the way that they teach you, I actually only apply this where I need coverage. Even though this feels like you are not wearing foundation, I just don't like covering my entire face. I don't have a lot of blemishes normally but I do have some uneven tones on my face (mainly the chin and nose area). This foundation is not the heavy coverage but it does a good job at evening out my face. This does last all day, I find that find you set the foundation with translucent powder then you don't have to worry about oil and shine. This product I highly recommend for people that are looking for some good coverage without using or feeling like they have too much product on your face. The product is a bit pricey, but honestly it will last you SO long! I love how there is SPF in this foundation, normally I don't wear sunscreen on my face because I do no like having too much products on my face. With this product I don't have to worry about that. The kit is a better price, but I don't like the Warmth, one of the full size brushes (it's useless) and also the lighter foundation in the kit is way too light so that is useless too.

the best!!
i remember trying to use this when it was first being advertised (yes i was a little kid, like elementary age i had a lot of makeup for dance competitions) and i just couldn't get this to work! but after i got a little older (like late 15 early 16) i tried it again just for kicks and i don't think there is much chance of me changing anytime soon (almost 20 now).
this makeup is great for all skin types!!!! i know ladies with oily skin that use it with excellent results & people, like me, that have some seriously dry skin that have very great results!!! the people i know with oily skin that normally get acne breakouts on a regular basis don't get as many/any. and i dont get nearly as many dry itchy patches!!!!

I cannot live without this!
It can be pricey, but it makes my makeup routine so easy. It looks natural, and you can choose the amount of coverage you want. I will admit, sometimes if I go to heavy, it can be a bit cakey, but usually I just take a clean brush and buff it in a little more and that goes away.
I also tend to have better results if I use a foundation primer with it, but on those days I forget, it still looks like I'm not wearing makeup at all- just more natural.

Louise-Lesley J.
Feb 21, 2011
So Brilliant!!
I absolutely adore this!
I bought it quite recently because I wanted a no hassle foundation that was quick and looked natural. My skin has been really dry all winter and it has only recently been going back to 'normal' once I am finished cleansing/moisturising it. I have a few dry patches still but this doesn't cake on them like other people say.
My only fault is that the colour is slightly darker than what I normally use, but it looks so natural that people keep asking me if I got a tan!!
It is great on and actually lasts all day - I can see that coming into Summer I will probably need the matte version cause my skin gets oily but I can't complain about this at the minute!
This is also the first foundation that I have tried in some time that has not felt heavy, made me oilier/dryer when I put it on and broke me out - result!

Somakeuphie Y.
Oct 28, 2011
Can't live without it !
Definitively recommend this powder and the whole "get started kit". The powder is light, soft, doesn't give you any caky effect, it covers dark circles even without any concealer, it even out your skin. This mineral powder is what you need, it is a matifier, a fixing powder, a concealer, a illuminator , it is the best !
I also love the fact that those little can have great security closing in order not to spoil anything when you open it! I definitively love that powder !! Check out my full review with the picture of the whole "Get started kit" into my blog : http://somakeuphy.blogspot.com/2011/07/bareminerals-starter-kit-review.html

My usual foundation, but it cakes on dry skin.
I mostly love this foundation. It's a good color, I can get whatever coverage I want without it being cakey, and it looks good with any makeup look. Unfortunately, I have combination skin, so when I get dry patches, this foundation does tend to cake up on them, and make them worse. Overall, I love this and I have been using it for years. I use it on top of BE's Prime Time primer, and it is amazing (when my skin is not dry).

great
I love how natural this feels on my skin, I always forget I'm wearing anything at all. I wasn't really impressed by it when I first bought it, that week my complexion was great so I felt like it didn't make much of a difference but when I came out in red blotches, I was genuinely impressed by how little of the foundation it took to cover it up and make it look totally natural at the same time. I have a fairly oily T-Zone and this does wonders for covering it up, I'm using the original, not the matte and it's seriously excellent.
The coverage is quite light which I personally like, but you can build it up if you want to. It's about the same price as most foundations here, but as a student, I wince at the price sometimes ;)
---