Beauty Product Reviews

Apr 23, 2022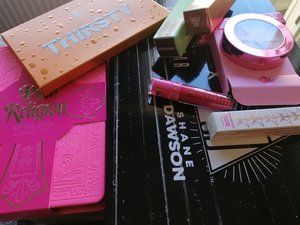 Grateful, but hoped for other items.
So, I was hoping I'd be one of the lucky ones in the reviews that got partly items that they had wished for. Pink religion I'll have to give away, since it's not the prettiest combo with green eyes. But thirsty surprised me with the colors. I now own all pig mirrors, although I skipped the black one on purpose. Love the pink liquid lip, and will use the white for ombre lips and to mix with eyeshadow for a longer lasting eyeliner. Both glosses are a bit dark for me (one of them could even be described as a lot too dark). The highlighter surprised me, looked pretty dark, but actually works with my skin tone.
I'm torn between never ever buying this again, or giving it another shot....