Beauty Product Reviews

Jan 31, 2022
WOW ! Holy Barbie !
I absolutely love this combo. If you like subtle, natural highlighters , this is NOT for you ! This is a holy grail of glitterfantastic highlighters .
As for the palette, don't let those similar shades fool you on the site. They're different, they're hot pinks, cold based based pinks, peach tones, and purples hues ! My kids calls it the Barbie palette, and it sounds about right lol !

Aug 01, 2021
WOW !
I'm super picky with lip glosses . Too red , don't like . Too pink , don't like either , so I have the tendency to skip out on them . I received Beaded Glass on a surprise bag and holy moly !!! It's a transparent gloss loaded with copper and pink glitters . Absolutely beautiful !!!

Jul 15, 2021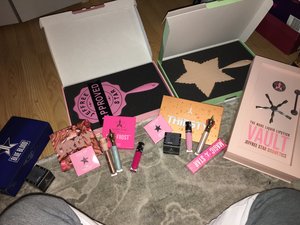 AMAZING !!!!
I got super lucky I think ! I ordered two boxes and got SO MANY PRODUCTS !!
I got :
- Blue Blood palette ( already have it ) - Diet Root Beer lip scrub x 2 - Nude Leaf Soft Touch mirror - Jeffree Approved Star baby pink mirror - Nude liquid lipstick vault (25 mini lipsticks) - " Jeffree, What the F*ck " liquid lipstick (x Shane Dawson ) - " Oh My God " liquid lipstick ( x Shane Dawson -" Beaded Glass " lip gloss - " Sky High" lip gloss - " Diet Freeze " lip gloss - liquid concealer in Yellow - Thirsty palette - Mini Orgy palette - single eyeshadow " Angel of Death" - single eyeshadow " Coma " - Skin Frost highlighter in Princess Cut