Beauty Product Reviews | Page 3

Feb 15, 2018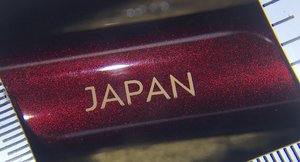 Exceptional! Just get it!
Exceptional quality in every respect, from the perfectionistic bristle arrangement (which keeps its perfect shape after washing!), to the utterly gorgeous glimmering handle that mesmerises the artistic soul.
The squirrel hair is super super soft and doesn't dig in to sensitive maturing eyelids when moving vigorously in the crease. It works beautifully with Viseart mattes (haven't tried shimmers yet) and blends elegantly as it goes.
From reading reviews of other squirrel brushes, I was thinking that squirrel may only allow sheerer payoff, but Sonia has worked true magic here. The superbly tiered bristle ends allow you to pick up a ton of product if you want to, or just delicately roll/lightly tap it into product. This brush permits a level of control I have never experienced before and helped this 45 year old produce the most elegant and professional eye I have ever created in less time than usual and with little effort.
Converted.
I was researching Chikuhodo brushes as my eyes can no longer handle MAC roughness and saw Sonia's blog/passion, then her recently released first line. The price point makes it affordable for me as a long-term investment for my daily schedule. (I'm a mum and uni student.) I have hooded, crepey eyelids and this was a dream to work with.
Sonia's connoisseur-level of attention to perfectionistic detail shows in this wonderful brush. It does what it is designed for in the best way possible. Thank you Sonia for sharing your passion.
I wanted to show a pic of the glorious glimmer... this is taken using a 10x lit magnifier.