Beauty Product Reviews

Mar 16, 2020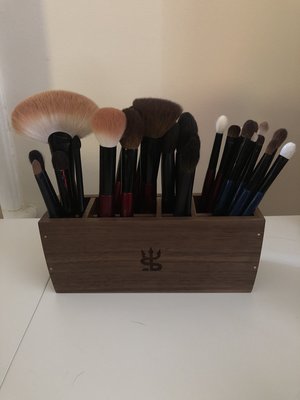 I didn't think I needed this...
But now that I own it, it is so beautiful. Refined and sophisticated, very Japanese.
When I first saw it, I hesitated. I have been using two 'chalices' that I got from a Renaissance festival in the 80's (yeah I'm old lol) to hold my brushes. That sounds too grand, they're more like wine goblets, but they're not really tall enough and the bigger brushes that are top heavy could tip out. So I'd place my brushes in them oh so carefully, and did my best to protect my investments.
I decided I need this because, basically, — I need everything from Sonia G — And I love beautiful things
The price tag is hefty, and I wasn't sure I wanted to shell out that kind of dosh. But I trust Sonia G, and I figured that I could return it if I'm not 100% satisfied. (Thank you Beautylish!)
On to the product! It is so well made. I can't stress enough. The design is perfect The size is perfect The craftmanship is perfection The edges are smooth and join perfectly The wood is gorgeous, perfectly finished. At the base, on the inside, it's lined with a soft fabric that feels a little velvety. The sliders, that make it customizable, slide smoothly. Hopefully I'm making my point that is is crafted per-fect-ly.
I have the following Sonia G brushes: Eye pro set (5 brushes) Eye sky set (5 brushes) Sculpt 1 Face 1 Face 2 Sculpt 2 Sculpt 3 Builder 3 Smudger 2 Designer pro That's 18 Sonia G brushes. Then I put my Surratt beauty brushes in there, and I have approximately 7 of those. My chikuhodo eyeshadow and my blend brush fit to. They ALL fit. Comfortably. What doesn't fit? The Chikuhodo powder brushes with their very chunky handles. But that's ok. This brush holder was designed for Sonia G brushes, and if you look at the picture, you can see that it can hold lots of brushes.
I can't wait for the pro face set and the sky face set to come back into stock, as well as the inochigo. I know they will all fit!
I don't need to use my wine goblets anymore to hold the brushes, and when I bring my makeup kit to the bathroom in the morning to do my makeup, I bring the Sonia G holder and ALL my favorite brushes are there at my fingertips.
So, after all that, I was surprised to learn 2 features that have made me glad I bought it: #1, that even the chubby handled brushes, like the sculpt 1 fit perfectly, and #2 that I'm able to easily carry around all of my Sonia G and Surratt brushes together so I have more choice when I'm doing my makeup.
And if I'm being perfectly honest, my favorite part of doing my makeup, is that I get to use my Japanese brushes.
Many thanks Sonia G for your impeccable standards in the art of Japanese Fude. ❤️💋🌷