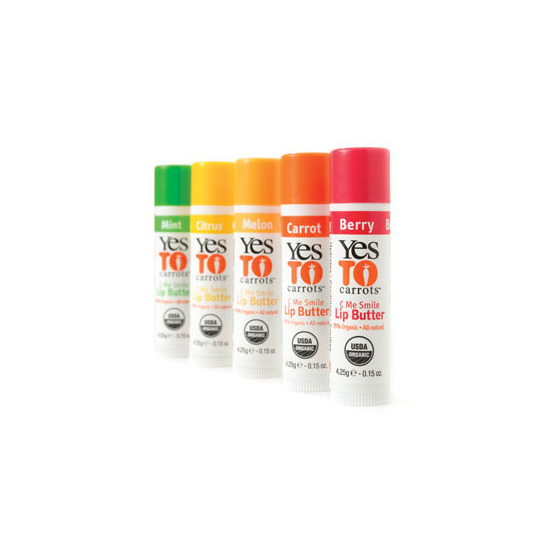 Rollover image to zoom
Reviews

Amazing lip butters at drugstore price!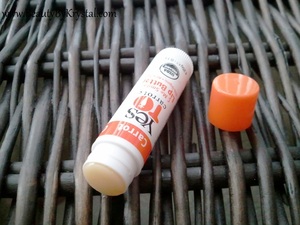 My obsession with lippies has recently spilled over to lip butters and balms. A while back I bought this Yes To Carrots Lip Butter on clearance for $2 at my local Target. I've read a lot of hype over the Yes To products, so I thought at clearance price, why not try it out. Can you guess what I'm going to say next? Or type? I LOVE this stuff! I'm all too predictable :)
I have been keeping this lip butter in the side pocket of my mommy chair, where I do all my blogging and networking. When I'm feeling dry or chapped I smother my lips with this super smooth lip butter. It lasts for hours, even through my constant beverages; coffee, water and the occasional soda. I've never really been addicted to a chap stick, they all work the same to me, but my heart has a soft spot for this one. This is one I can actually see myself finishing off! That means a lot to me and my endless collection of lip products.
All Natural Ingredients, No Animal Testing, Paraben, Petroleum & Phthalate Free
On YesToCarrots.com, you can buy the set of 5 lip butters (5 flavors: carrot, berry, citrus, melon and mint) for $12.99

My FAVORITE Lip Balm!
I LOVE this lip balm! I have it in mint and the cooling sensation it so refreshing. This lip butter is easy to glide across your lips and I love that I can move my lips around! It is not thick at all and is very moisturizing! I love how this is an organic product also! Though the mint scent does not come with SPF, I cannot resist the product! It does everything a lip balm should do! Overall, this is my #1 most recommended lip balm/ butter so far!!!!!
Pros: *Very Hydrating *Cooling Feel *Silky smooth *Not thick and easy to move around Cons: *No SPF

Nancy-Lee C.
Feb 12, 2011
Can't wait to try the other flavours!
I was the lucky recipient of Carrot and Melon from a Beautylish swag bag... I couldn't wait to try these butter sticks. I have heard only good things but i'm picky! I am addicted to lipstick and knew I needed to put them to the test!
The consistency, to me, is more like shea butter than solid-state petroleum. Due to the natural oils, like olive and coconut, they are super moisturizing and at the same time surprisingly long lasting. I find that i rub my lips quite often to feel the product and smooth my lips and this lip butter never feather or runs off, it just stays super comfortable.
I was afraid of 'Carrot' - i didn't want to smell dirt lipstick (LOL) but it was soft and sweet, more like a soft orange. Melon is a very soft scent as well, not overpowering and not really noticeable. The product goes on clear with a lot of shine. I tend to wear them alone, when I put traditional lipstick it's not as opaque as it would be on my bare lips - perhaps the oils do not allow the pigments to stick and fully reflect. My guess anyway.
The vessel is traditional white 'chapstick-style' with a swivel base and a snap cap. The cap locks on tightly, I've never found it separated from the tube. I like it much more than Burts Bee's and will purchase more of them. I highly recommend this Lip Butter.

I definitely appreciate a cruelty-free AND 100% natural, paraben-free product. I have the citrus one (thanks to Beautylish) and have it in my bag for when I'm on the go. The lip butter is moisturizing and hydrating, and I was really surprised at the glossy feel it instantly gave to my lips. However, I don't notice it to be longer-lasting than Burt's Bees (my staple lip balm), and I am not won over by the texture of this particular lip butter. It is rather grainy, and I have to spread it over my lips manually after application to give it a smooth, even finish. The formula could use some work, but Yes to Carrots is definitely heading the right direction.

LOVE LOVE LOVE!
I absolutely love everything about these! Every scent/flavor is amazing, they are natural, and they are cruelty-free [: Definitely recommend the crap out of these! haha...They consistency is perfect too! I absolutely despise too hard and too smushy chapsticks...these are perfect!

My every day (night) lip balm!
I put this on every night before I go to bed, and I wake up and my lips are very moisturized! I have the berry scent and it smells sooo good! I don't need that much moisture throughout the day, so I use a lighter lip balm during the day and save this one for night time! Love it!
---