Brightening Facial Towelettes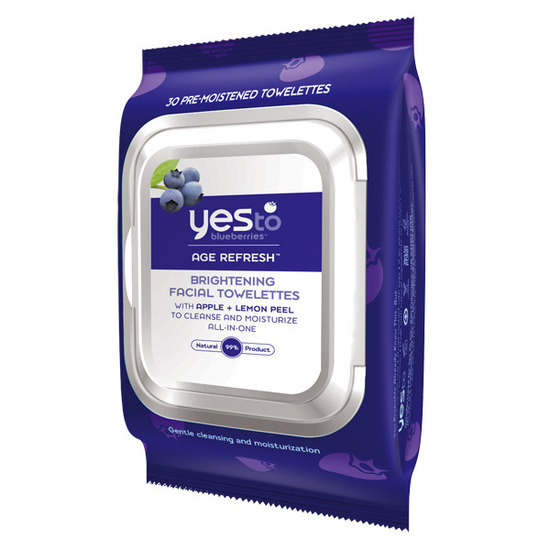 Rollover image to zoom
Reviews

I'm a Believer :)
I started using these a couple months back as an alternative to my Neutrogena ones. These are by far the best facial towelettes I have ever used on my face. They do not leave that weird oily residue feeling that I find most others leave on my face. I actually use this to remove my makeup in the evening and I find that it does an impressive job. I love the smell, nothing too harsh and quite refreshing, and I also love the packaging, a convenient plastic flip open lid that when closed seals in the moisture to avoid accidentally causing your wipes to dry out, its fool proof! I definitely recommend these to anyone looking to try something new that is not only all natural, but absolutely amazing at its job. xox

Nancy-Lee C.
Mar 24, 2011
So impressed, Im ordering the rest of the line
So I currently use the eye cream from the same collection and love it. It only made sense that I would love these too, right? I do. They are amazing.
First off: they are 100% biodegradable therefore they are guilt-free. I use them exclusively at the gym. I take 2 classes back to back and use one between the classes to clean off my face, neck and chest. Since I started to use these wipes I have stopped breaking out. Well, not completely but I started to break out more then usual and then have curbed the extra blemishes.
They unfold to be about the size of a kleenex tissue and have a good weight behind them. They leave my super-sweaty skin clean, moisturized and refreshed. I do not feel tight or artificially moisturized and greasy. Just perfect.
And the smell - I have to mention the aroma is intoxicating. Not sweet, not citrus, just delicious. I hope that the whole line smells like this because I plan on trying the rest of the collection.
I said Yes To Blueberry towelettes and so should you. xoxo

I literally just tried this!
I absolutely love it! It got all of my makeup off and felt so gentle (not to mention it smells great!) And best of all it didn't leave my face looking greasy or super shiny. It left my face brighter and got rid of a lot of my redness! I'll definitely continue to buy this product!

Don't judge a product from its look
It really does brightening your face! Anytime I use the product before I apply my makeup it makes my skin look flawless and beautiful. It really does make your skin glow. I didn't want to leave my other wipes but I'm glad I did because I would be stupid to go back. It takes your makeup off and hydrates your skin in the process. It worth the price and you will love it.

amazing!
these are my FAVORITE! they smell amazing, they feel amazing, they're inexpensive, they're just all around the best! the yes to cucumbers left my face with a burning feeling, and these however are amazing, they didnt leave a burning sensation on my face, they really cleaned off my make up, they didnt leave my face feeling dry or itchy, I love that like 30 come in a pack. I duno that I would use these instead of a moisturizer, but they don't do a bad job if youre in a hurry, I duno if these come in a travel sized pack like the cucumber ones do, but I HOPE they do. even if you're just feeling hot or want to feel refreshed these do a great job of cleansing your skin and leaving you with a good feeling. I highly recommend.

Really awesome!
I really love most of the Yes To products... Their face wipes are probably my favorite products, because they are effective and convenient! Considering how quickly I go through them, they are a little pricey, but well worth it considering the performance as well as the fact that they are about 99% natural. I love the Blueberry kind because they really do brighten up your complexion. They remove makeup really well, but I use them for a lot of other purposes... I have dry skin in the fall/ winter time and I have used this to add a little moisture to my skin when I don't have any lotion... It is also perfect for mornings when you showered the night before, and don't want/ have time to wash your face again in the morning... It gets the excess dirt/ oil off, brightens your skin, and gives you a moisturized glowy feeling! Definitely try these!!

Great for on the go!
My friend was visiting from out of town the other day and let me use hers and they were amazing. I've been using the Neutrogena ones for years, but these ones are so much better. They remove all your makeup, smell amazing, and they don't leave your face feeling greasy.

Clean
I really only use these to remove my eye make-up, but they do a good job. You do have to run these over your face a few times if you're removing more than foundation and blush, though. I have noticed a slight brightening around my eye area since using these, which is a plus. They're also biodegradable and smell good, too =)

MY FAVORITE
i don't even know what to say about them, like seriously ? thee BEST i hear so many bad things about the cucumber one and this one.. how it doesn't work, how it doesn't take off all thee makeup, ect, ect in my opinion.. i rather have this one because they smell awesome the blueberry makes me think of some jello.. <- idk why ? lol and the cucumber one AAHH LUV IT. but i love using them as i'm removing my makeup which isn't a lot but sometimes i do go all out, and they do work. plus leaves my skin feeling so much softer, smells good, my face has brighten up a little. they are very good for your face not like some other ones [NOT] gonna mention any. so much ingredients that shouldn't be on your face. UGH lol what i love about this it doesn't leave your face feeling all greasy like neutrogena, their ok? they get the job done, but my skin is already oily and adding more nasty nasty on my face makes me feel very dirty. idk if its just me but yeah. THIS IS A MUST :) i feel refreshed after using them.
---