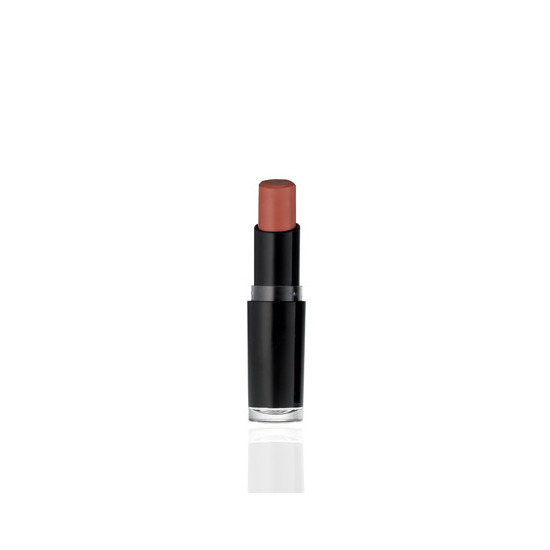 Rollover image to zoom
Reviews

Joanne Mariel C.
Nov 03, 2011
The moment I first applied the lipstick I noticed the moisturizing formula and the highly pigmented color application. It had smoothed and coated my lip ridges/wrinkles evenly. The lipstick is not long-lasting but it did make it through my 4-hour experiment. It stayed on like how I applied it for 2 hours and afterwards it faded a little bit but there was still some color on my lips after 4 hours.
The only con that I have found for this product is its packaging. True, it does look good but the packaging is flimsy and I'm quite afraid I might break the case if I drop it hard or something. Whenever I take out the cover and try to twist the product up I hear rattling sounds. Also, the tube doesn't have it's name written on the bottom but only the shade number. The shade name is written on the plastic film tag that you peel from the cap.
Aside from these complaints it is a great lipstick that is quite a nice bargain for its price. I highly recommend this product. I'm not bashing MAC lippies here but compared to my MAC lipsticks I'm preferring the Wet N Wild lip colors for their richness and smoothness plus their cheap price. :)

Hit or miss, but worth the risk!
I own nine of these so far and will keep updating this review with every tube I purchase. I'm addicted and will probably own them all sometime soon. :] I'm going to go through all the colors I have since I realize how useful that would be.
24 Carrot Gold: Cute pastel orange. A little hard to get totally opaque without lipliner (which is hard to find in this color!) but worth the constant reapplication. Oddly moisturizing.
Bare It All: Medium pinkish nude. Very nice color, very opaque, wears well.
Dollhouse Pink: Super cool color, a highly saturated cool pink. Very matte and lasts forever. The only color in this line that has survived a kiss without transferring. The most true to its "Mega Last" name! :D
Purty Persimmon: My most-worn color. A gorgeous orange-red that wears semi-matte and lasts a long time! The tube itself is a good example of the line's lame packaging. It looks pretty beat up, for example the black is flaking off.
Red Velvet: A little lighter and pinker than a true red. Very pretty and long-lasting.
Smokin' Hot Pink: Beautiful raspberry color. Very matte, very long-lasting. This color is a no-brainer, flattering on everybody, and I think every lipstick-wearer should have a shade like this.
Stoplight Red: Super classic pin-up perfect red. Creamy and shiny and long-lasting. Needs lipliner though.
Sugar Plum Fairy: A dark red-purple. Very pretty and opaque, but doesn't have the staying power most other shades do. This is a problem for me since the tube I purchased has a faulty cap that won't stay on so I don't trust it in a purse. I haven't worn it out of the house yet for this reason. :/
Vamp It Up: Off-black purple. Such a cool color for a drugstore brand! Is not long-lasting and does not go on very opaque. To wear a color like this, I need to know it won't budge so this one isn't worn much.

Smokin Pink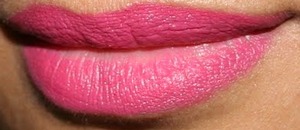 Smokin Pink 905D is a semi-matte hot pink shade. It's opaque and covers my lips with just one layer. I like to wear this shade for a bright pop of color. I suggest wearing it with a neutral eye makeup or heck, it also looks good with dark smoky eyes.

LexeyAmber B.
Apr 11, 2013
MY FAVORITE LIPSTICK! MAC dupe of Saint Germain
Ladies, I have searched high and low for an almost perfect replica of MAC's dupe of Saint Germain and this is the closest AND cheapest to it. At a staggering $1.99, this super cute and flirty matte lipstick if very pigmented, long lasting, and for the price it is totally worth it! Since pink is the hot color for this spring/summer season, I suggest all you ladies run out and snatch this up and make it one of your beach/outing essentials this year!

Best drug store lipstick!!!
♥Check my youtube for a full review!♥ http://youtu.be/oH_88-8EQQA http://www.youtube.com/watch?v=JpwFLuiNPSo
I couldnt get enough of them. They are comparable to MAC matte lipsticks, maybe even better? They cost about $3, last ALL DAY, are matte finish, come in about 20 different colors, and are scent free. Could you ask for more? No.

Worth the purchase!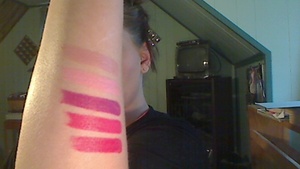 I LOVE these! If you layer them over a lip liner these baby will stay in place for hours! I used 911D for this past halloween and i didn't have to re-apply once the whole night. I really do love these and for the price tag of $3.00 you really can't beat the quality of product. The packaging on the other hand leaves much to be desired. I hope this helps!
Top to Bottom: 902C--similar to MAC's cherish 903C--a nice subtle pink 908C--MAC rebel dupe 910D--a bright red 911D--a bluish red

Best Drugstore Lippies!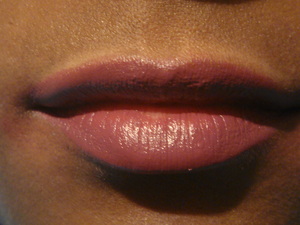 I have quite a few of these lipsticks! I have been in love w/ matte lipsticks lately. I never found them to be drying but I also exfoliate my lips almost every day and I always moisturize my lips prior to putting on ANY lip product. Almost all the colors look great on any complexion!

Sojourner W.
Mar 15, 2012
Get Them NOW!
I bought a couple of these products a while back (in the fall) because I needed some new fall lip colors and I'm so glad I did! I wore Ravin' Raisin a lot because it flatters my skin tone nicely. I have a couple others as well (like 902C which I think is Pink Sugar?) and I lopve them. I felt that at times they can be really drying so definitely moisturize your lips well before using these lipsticks. The color range is pretty well spread out, I think you can find your shade no matter what you choose, however I would love to see a few more nude shades. As far as longevity I think the 4 hour reference in the description box is exact. With the $2.99 (or $1.99 depending on where you buy them) price tag, I really think these are amazing colors to have in your collection. I'm super excited to pick up the new ones for spring!
Bottom Line: Affordable price, must-have product.
Pros: - Price -Availability -Longevity -Color selection - Packaging
Cons: -Doesn't go on super smooth -Can be drying
---