PRO Airbrush FX Face Primer SPF 20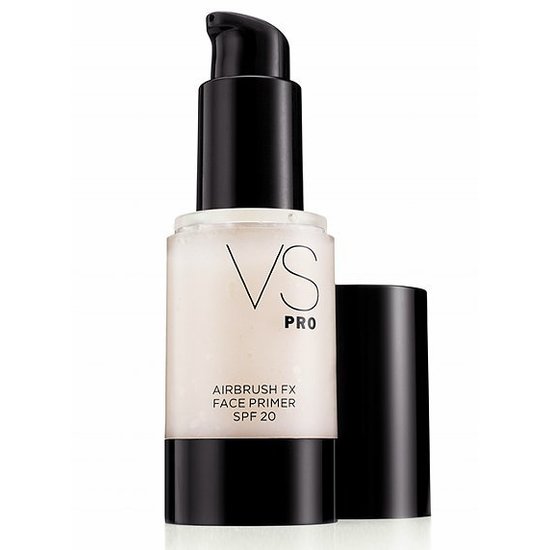 Rollover image to zoom
Reviews

Amazing!
To be quite honest, I was a little hesitant to buying this just because I'm super picky with putting make-up on my skin. I bought the "Airbrush FX Hydrating Primer" since I'm prone to dry skin. One pump is just enough to cover your entire face and my make-up stays on my face for a good portion of the day! I didn't break out at all which is a plus! I really like the consistency and how it kinda feels natural on my face. If anything, I swear it actually hydrated my winter-burned face and improved the texture after only two uses. Love it!

Solveig Svava H.
Jan 15, 2013
MUST MUST MUST HAVE!
I'm the person who doesn't believe in primers but this one is truly magical! It has worked very well for me! My makeup actually sticks on my face the whole day! Even if I hit the gym and take a little beauty-sleep. I highly recommend this. I have the oil free because I have a terrible skin. You don't have to put very much on as with most primers. My skin has only approved since I started using this one so I don't think it can do you any harm since I have read bad reviews about it.

Mary Anne M.
Jul 08, 2012
Best for Dry Skin
This was the first foundation primer I used and it's probably the one I'll consistently come back to after having tried other face primers including from Stila and NYX. The primer has SPF 30 already so you can use any foundation with or without SPF. The texture of this primer is very silky, though too much of it can feel a little greasy on the skin, so a minimal amount is key to feel-good powder foundation makeup that doesn't get heavy on the skin throughout the day. This can be an issue for those with oily skin especially during the summer, but fortunately Victoria's Secret recently came out with an oil-free primer. I have yet to try this, but this definitely sounds like a far better alternative than the original for those with oily and acne-prone skin! The original formula should be great for those with dry skin, though.
I would give this product a 5, but the packaging has a pump that may dispense too much product at once, so I often had to pump a quarter of the way down to get just the minimal amount of product I needed for one application of foundation. A full pump would have resulted in the greasy mess I mentioned.
The price of this primer is a little high compared to primers such as those by NYX. I have tried the HD primer from NYX though, and although it's about $5 cheaper than the primer from VS, I still prefer the more versatile VS formula by leaps and bounds more.

I received a sample of this primer a while ago I believe with a black Friday purchase I made at Victoria's Secret and after all this time I just decided to use the primer. I have to say this is a pretty good primer. It goes on smooth and a little goes a long way. I cannot say that it make my foundation last all day because I usually do not have any issues with my foundation not lasting. So far I have been using this product for a little over a week with my Mac studio fix powder foundation and each time my foundation has gone on nice and smooth with a flawless finish. From time to time I may have a oily T-zone but using this primer I have not experience any excess oiliness. For the most part my makeup looks the same through out the day as I first applied it.

Made my skin break out
I picked up this product because a friend of mine was using it and said good things about it. (She is no longer using this product.) I used it for about a week and noticed that it caused my skin to break out. I also didn't notice much of a difference in how long my makeup stayed on. I wouldn't buy this product again.

Christina P.
Nov 28, 2011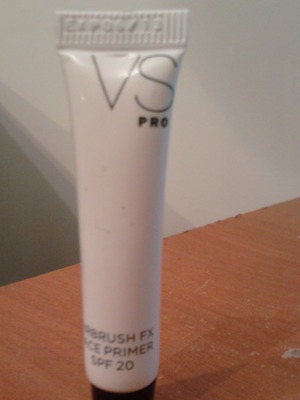 I was given this tester as a free gift with my purchase at Victoria Secret. Today was my first time trying it and it is wonderful. I have oily skin and it helped control my oil. At the end of the day I didnt look like a grease monkey and my makeup looked the same as it did when I put it on this morning. I will be ordering this ASAP

OIL FREE VS PRO PRIMER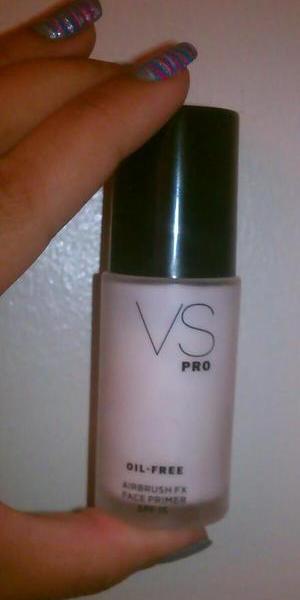 LOVE THIS PRODUCT. I WAS USING LOREALS STUDIO SECRETS PRIMER BEFORE AND IT WAS GOOD BUT NOTHING LIKE THIS. I USE THE OIL FREE ONE BECAUSE MY SKIN TENDS TO GET A TAD OILY ON MY T-ZONE. IT'S A WEIGHTLESS SILICONE-BASED PRIMER THAT CREATES AN EXCEPTIONALLY SMOOTH, VELVETY SURFACE FOR FLAWLESS FOUNDATION APPLICATION. I LOVE IT. I CANT SAY I WONT USE AYTHING ELSE BECAUSE IM OPEN MINDED WHEN IT COMES TO COSMETICS..I CANT KNOCK ANYTHING TILL I TRY IT:)

Must use!!
It's no joke when the workers at VS say that this product has won awards. I had never used primer before, and I'll never use any other kind. It's so amazing and makes my face feel like silk without making me break out. And it cuts the amount of foundation I have to use, saving me money and trips to the drugstore. I cannot go a day without using it. Sometimes, they even give away free samples of this at the store.

Perfect primer.
I tried Smashbox photo finish and it broke me out really bad. I saw this in vickies and decided to give it a whirl. It is wonderful!!! It's very smoothing and my makeup lasted all day. Didn't notice anything about it being oil-free, though.... That is a slight concern. This is an option to those who are doing beauty on a budget.

Great alternative to Smashbox
My best friend who has oily skin did not like this product so she gave it to me. WOW, i used a pea sized amount and smoothed all over my face before i did my foundation. This stuff feels like silk, glides on really smooth, and sets very well. Kept my makeup fresh all day, i will be buying this product again. I wouldnt recommend this product for oily skin though. Reminded me of Smashbox photofinish primer, great alternative.
---