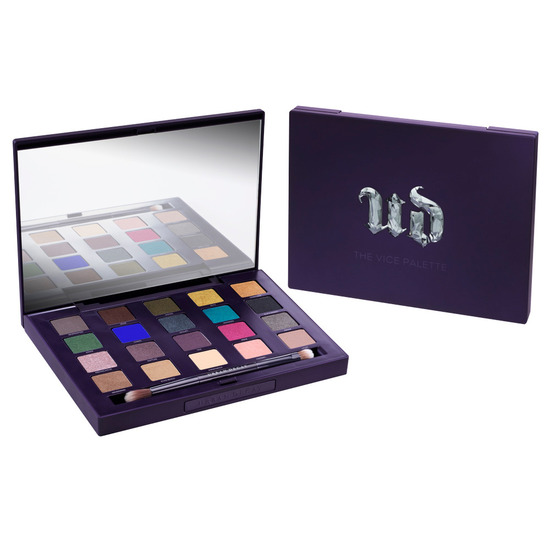 Rollover image to zoom
Reviews

Favourite Palette I've ever owned
This is the best palette I've ever owned. The colours are amazing and well pigmented. There are bright daring colours to play around with yet you can still create a neutral look with other colours. It is my go to everyday palette. This is definitely worth the price and I've never found a palette with similar quality and colours.

Cake face addict L.
Apr 29, 2013
Fabulous palette
I had been looking for this palette for ages online, and everywhere was sold out! Then I found some in a debenhams where there was nobody employed on the urban decay counter and they had a stack of them ( a few months ago ) so I got 2! I love this palette so much!! My fav's are noise and vice!! I use anonymous as my brow highlight and laced is a fabulous transition colour for me anyway!! I use this palette nearly everyday

So lovelyyy!
As soon as I saw this advertised, I knew It needed to be in my collection. However, while these are all 'new' shadows from UD, they are all pretty similar to some of their other, or past shadows. I don't see anything that shouts 'WHOA I'VE NEVER SEEN THAT BEFORE' in this palette. Buttt, my collection is quite extensive. lol. Anyways, I quite enjoy using this palette, but I don't reach for it as much as I thought I would. I'll usually go to do my makeup, pick something up, and go 'oh, I could use my Vice palette for this' I do love the mix of colors and finishes in this. I've never been able to really say this before, but I think I could travel with JUST this palette, and be able to do whatever I wanted and be happy with it. I've noticed a few shades, (Penny Lane, Junkie, Provocateur) apply insanely different than they look in the pan, color wise, which was a surprise to me. However all of them seem to blend okay, which is one of my main concerns. I wish it had come with either one brush, two brushes, or not a brush at all though. Double ended brushes are extremely annoying. While it works just fine, I never reach for it, because I can't keep it in my brush cup! Argh! All in all though, This is a beautiful palette. I love having it in my collection!

I was given this pallet as a gift for the holidays and I am in LOVE with it! As an art major and someone who worked as a makeup artist I must say that it blows other colorful pallets out of the water. I can choose from bright, bold, in your face colors and subtle colors that are to die for. There are also a few matte shades that are perfect for highlighting and for blending. The quality of the shadows are fantastic! Granted there are some that are softer than others (specifically provocateur). There are so many combinations that can be made using this pallet that it is perfect for those who are new to makeup and or those who have been creating eye looks for years. I highly recommend this pallet. The colors work for every skin tone because, like all UD shadows, the shadows are build-able! You can use this pallet to create a subtle look for school/work then touch it up later and add drama for a night out look. It is a perfect pallet.

FAVOURITE URBAN DECAY PALETTE!!
This is by far my favourite urban decay paltte as there is a variety of colours!! As much as i love their naked palettes this has neutral colours and bright colours included! So much easier than taking 4 different palettes with you if your makeup artist! My fave colours from this palette are... Armor, Penny lane, Blitz, Nevermind & Occupy!

Major win with some minor fail.
I am so pleased with the quality and versatility of these shadows! The mix of shadows allows classic looks, colorful looks, dark looks, light looks, everything. I'm sure it'd complement many skin tones as well. The color payoff is so great that I just lightly pat the shadow once for each eye. If I ever use up a shadow, it'd be Anonymous, the pale matte color. If UD ever sells Anonymous as a single, I'll buy it as powder foundation (ahaha!) as it's the most perfect match for my skin color I've found.
The brush is lovely. I wouldn't have bought the palette if it came with an animal hair brush, so the fact it was synthetic was a big deal to me. It's great for application, stiffer and a bit smaller than brushes I already own (Ecotools and Rite Aid Renewal) so it complemented my set well. I'd rather it came as two different brushes and not one double-ended brush. As it is, I can't put it in my brush cup with the others since one end would be destroyed. Keep that in mind before buying.
I'll have to come up with a really good excuse to buy another eyeshadow palette after Vice because this palette comes with every color I use regularly. :3 It's isn't perfect, in fact mine came with two slightly broken shadows (Blitz and Nevermind). I wish the palette's packaging was easier to clean because I could remove the gold shimmer everywhere. I've also found the color Jagged to be unusable. I wish they'd either worked more on that formula or put in a different color, as I've found basically all reviews say the same thing about Jagged: no color payoff, weird shard fallout. Despite that, I highly recommend this palette for anyone who wants to buy one and be done! :]
Edit: Unfortunately, I found out while doing a friend's makeup, Vice does actually appear chalky on dark skin. For instance, Echo Beach should have been a nice highlight on her lids, but it hardly showed up. So now I augment "recommend for anyone" with "darker ladies should swatch first". :/

Bejeweled Beauty Box!
Urban Decay has always been a brand i over look because everybody purchases it and does the same youtube looks on it over, and over, and over again (and that ok!).. I have held out on not purchasing ANY Volume palettes which was hard, and until this palette i was only a Original "Naked" Palette owner. So you can say ive been saving for a good one i guess. Now with that said i Purchased My The Vice Palette at my Local Ulta for $49.00 ( i had a 20% off Platinum member coupon) Normally this is 59.00. so that did push me a little to buy it as well.. Here are my Thoughts.
-Gorgeous Jeweled raised UD on the cover which makes you just want to touch and open it!
-HUGE Mirror inside!! No small itty bitty thing like normal!
- Soft, rubbery coating palette. so it does hide scratches better but glitter and shadows stick to it like glue! Make up remover wipes work just fine to clean it though.
- a cute button you "push" to watch the palette open slowly itself, which is quite clever and give it an "expensive" edge.
-Buildable & Blendable Shades all around. A great Variety for many looks!
-20 GORGEOUS matte to shimmer eyeshadows. Now they do say these are never before seen colors and that is true BUT there are some that are ALMOST just like some original or limited edition colors they previously had. Ive seen other companies do this as well, so it doesn't surprise me, but it still has the BEST variety of colors in one box.
-Now i would agree with others that some of these shades are a bit on the Chalky side, but fall out will always be inevitable and it does feel like im wasting alot of product because of the consistency of these few shades.. BUT the color pay off isn't compromised so i personally DO NOT mind this.
- Comes with a duo eyeshadow and blender brush which is a bonus cause ive always gotten a palette with an eyeliner or primer so i like the change up. Plus the brushes are fabulous, easy to clean, on the softer side as well. -Located Online, Sephora and Ulta for $59.00
-Price wise it does seem like alot of money, but if you think about it.. your getting 20 shadows for 60 instead of 5 MAC eyeshadows. So Its a HUGE Bargain.
-Not really travel or makeup bag friendly but if packed correctly you could take this on vacation with you instead of a bunch of shades or palettes.
Overall i am extremely happy i held out on all the volume palettes to buy this bejeweled baby! It just makes me happy looking at it, plus the complements i get on my eyeshadow lately is a nice confidence boost as well! I personally do recommend this palette and paired with my Naked palette i will have endless Neutral, smokey & Colorful Fun looks. Also i know i could use this on clients and because it has the UD name, it generally puts a smile on anyone's face!
Hope this helps! Happy Makeup Searching <3

Favorite Product of 2012
3/4 of the colors are glitters and shimmers, but they are unique and they are gorgeous. The only shade that really gives you a problem, as long as you use a base under these to help hold the color, is Jagged, but it isn't unbearable. I'm really glad I got this and I feel like no picture online did it justice so if you don't know if you'll really like it I suggest checking it out in a store nearby. The link below has a little more in depth review and swatches on my website.
http://hellobbail.blogspot.com/2012/12/urban-decay-vice-palette-swatches-and.html
---