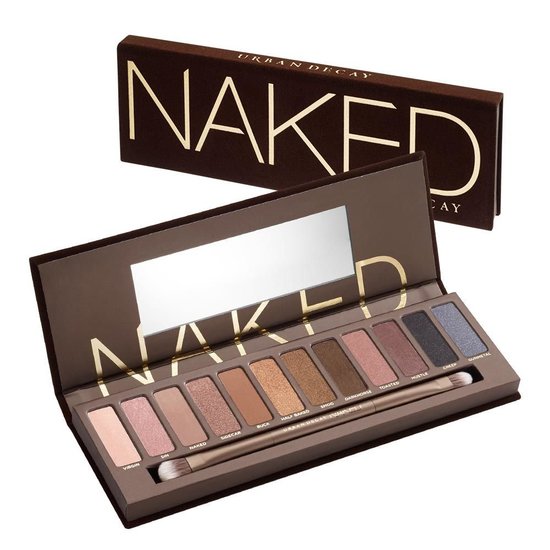 Rollover image to zoom
Reviews

Possibly the Only Neutral Palette You'll Ever Need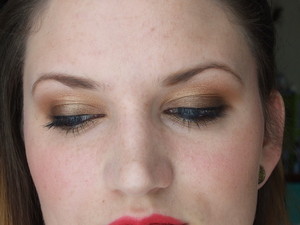 I was elated when I found out that Urban Decay was coming out with a neutral palette. I already love their eye shadows, and I definitely love their palettes because they give you a great selection for a good value. This palette did not disappoint. It offers 12 shadows ranging from light to dark and matte to glitter. Most of the shadows have a frost sheen, and if I remember, only one of them is glittery. There are two mattes. All of the shadows are very pigmented and smooth, and they blend very well together. My favorite color is Virgin, which is the lightest color. It is the ultimate highlight color.

Great Palette if you don't have many Neutrals
Hey Gorgeous people, i know everyone who is into makeup will love the Naked Palette and want to buy it because of al the good things they have heard about this palette.
But what i really think is that its just another palette really? there isnt anything special about it yeah there are some really nice colours in the palette finishes like Matte, Satin, Shimmery etc The colours are mainly neutral colours like Browns and Beige and Black with a range of different lighter shades that can be used for highlighting depending on your Skin Tone. The one colour i would have to say i really love would be the colour Half Baked its a really true Golden colour which looks really beautiful on the lids it reminds me a little like Woodwinked by MAC which i love also there is also another colour that is like a MAC e/s which is called Black Tied and in the Naked Palette the colour is called Creep.
I got my Naked Palette from Debenhams in Glasgow for £25 ((you get 12 shadows))
12 really amazingly pigmented Eyeshadows in an arrange of finishes depending on your palette you could get either an amazing brush((i love it!!) or a double sided UD 24-7 Glide on Pencil liner Travel Mini Sized UD Primer Potion in original Overall i would say yeah this is a great palette to have if you don't have many neutral shades but if you do, i would give it a miss just because its not that special really

Absolutely love this palette! This will always be my go to palette, and it works with every occasion. It's definitely worth the hype. The colors are neutrals, and most of them have mild shimmer. Regardless, all the colors are timeless, and appeals to all age ranges. You can create so many different looks, these colors are every girl's MUST HAVE. The formula - amazing. The pigmentation is incredible, and it's very creamy allowing for easy application. The color will stay on all day, with the help of a primer (which is included when you purchase the palette, great deal!). Overall, amazing. I cannot rave enough.

Best $50 I've spent on a beauty product!
When I first saw this palette I was not impressed at all. The colors are easily dupe-able (I have found perfect dupes for the colors in some Maybelline quads, and in the ELF 32 eyeshadow palette), but after swatching the shadows I instantly fell in love and had to order this palette. The color payoff/pigmentation of the shadows is absolutely amazing, and they blend perfectly.
I have a couple of disappointments that don't have anything to do with the palette, though. First, the palette comes with a travel size of the Eyeshadow Primer Potion. I was extremely disappointed in this product. It works great, don't get me wrong. My eyeshadows don't crease if I put this on before I apply any shadow, and they do appear more vibrant over this prodict... but it isn't anything special. I have a L'Oreal primer that works exactly the same as this does. Secondly, instead of the double ended eyeliner, my palette came with the Good Karma eyeshadow brush. This brush is also nothing special. I'm not that fond of it, and I never use it. I find myself using my Ecotools eyeshadow brush every time.
But, it's not like you're paying for those products, and I still think this palette is well worth the money!

I love being NAKED!!!
As you can tell I love COLOR so when I first learned of the Naked Palette I had my doubts. Could a nude palette really make me ohhh and ahhhh? I mean really how much more dull could you get? Then it arrived and it was like a revelation, who knew shades of brown could be so fun! Clearly Urban Decay did! My hat goes off to the Naked Palette for impressing this brightly colored girl!

how did i ever live without this?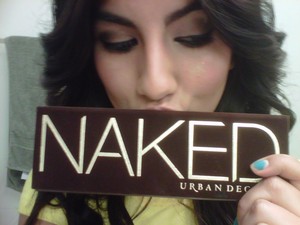 perfect for an everyday look and even a soft night look, this palette has every color that you could possibly think of for an everyday gorgeous wearable eye. it comes with an eyeshadow brush, primer potion, and is only $48, WHAT A BARGAIN!! if its sold out at your local sephora, tell them you want to place your name on the waitlist and they'll notify you and keep one on hold for you as soon as the product is in...

Good palette for those who want shimmery/frosty nude eyeshadows
I have mixed feelings about this palette. Before I got it, I was super excited about it. I thought it would be a holy grail product. But when I got it...I wasn't exactly disappointed, but I wasn't exactly thrilled either.
Basically. this palette is Urban Decay's take on neutral shades. Which means that the majority of the shades here have shimmer or sparkles. Now for someone who wants an nude palette with mostly shimmers and sparkles, this is perfect. But I suppose I was looking for things that were more of a true nude...mattes and shimmers only.
But on to the pros and cons:
Pros: this palette offers a pretty good variety of colors. There are two champagne/beiges, two taupes, two browns, one gold, one black, one grey. one light purple taupe, one dark purple brown, and one dark green brown. The quality of the shadows is pretty good, but there are some mishaps, which I will discuss in the cons. Along with the 12 different colors, the palette comes with a mirror and a full size eyeshadow brush. The eyeshadow brush is nice, if a little big for more detailed or small areas of your eye look. I really like that the palette is nice and slim. This makes it much more portable than alot of other palettes, especially the bigger urban decay palettes. The mirror is very handy too, and I find myself using it alot.
My personal favorite colors from the palette are: Virgin (a light champagne sheen that is perfect as either an all over color for a light natural look or as a highlight), Sidecar (a pretty frosty taupe), and Half-Baked (a warm, frosty gold)
Cons: My biggest gripe with the palette, which is perhaps due just to my personal preference, is the lack of variety in finishes and the lack of matte shades. There are only two mattes here; Naked (a mid-tone taupe-y brown) and Buck (a warm mid-tone brown).
And for your information, I'll describe the rest of the shades here and finishes here: There are three shimmers; Virgin (which I descri bed above) Creep (a soft black with sparse multi color glitter that doesn't show up really as glitter), and Hustle (dark purple brown). And the rest are frosts: Sin (pink champagne), Sidecar (described above), Half Baked (described above), Smog (warm golden brown), Darkhorse (dark green brown), Toasted (light purple taupe), and Gunmetal (mid, cool toned grey).
Actually with Darkhorse, I would say that it is kind of in between a frost and a shimmer.
Personally, I wish there were more matte shades. Or more shimmer shades at least.
Also, I find that some of the shades don't go on as well as they seem. Darkhorse (dark green brown shimmer/frost) was disappointing to me, because I saw it in the pan and was thrilled. A pretty dark green brown with lots of shimmer? I'm all over that! But when I put this on....the green part of the shade pretty much disappears. It turns into a murky brown on the eye. I don't know, I'm just not very pleased with how it looks when I wear it. I really wish I could see the green more.
Also, a couple of the other shades go on a little chalky, like Hustle and Creep. The matte shades as well can be a little difficult to deal with, especially when using them wet. But Urban Decay has never been very good at making matte shades that work wet in my opinion. And their matte shades often don't go on well dry either for me. But the matte shades in this palette do seem to be better than the single ones I had tried from UD before.
So in conclusion,...this isn't really a very "naked" palette to me. While all the shades featured are on the neutral side of the color spectrum, some of them are quite frosty and bright and really don't fit my definition of naked, like the grey Gunmetal and the other super frosty colors.
But it is a nice change from Urban Decay's regular palette offerings. There are no bright crazy colors here, and the variety of different colors means you can produce a lot of different looks. You can do everything from a light daytime look perfect for work to a super smokey eye for going out, and everything in between.
But I wouldn't buy this palette if you are looking for nude colors that are truly nude, and are either matte or only slightly shimmery. But for those who like shimmery and frosty nudes this is a good buy.

Good as a gift for beginners building up their neutrals collection...
I hunted this for two months before I was able to snag one for myself, and I have to say, I'm not as impressed as the rest of the reviewers are... =(
Being someone that already has a good amount of neutrals, I figured I would purchase this as my first ready-made high-end palette. I had the CS neutrals and both 88 shimmer palettes prior, but those were not worth the money for the little amount I paid. I figured I would get something fantastic based on all the hype, but I guess I'm more of a mix-and-match kinda' gal that likes things a little more personalized.
The shadows are nice if you really enjoy shimmery colors. This was also my first experience w/ UD shadows, and I imagined they would have fantastic staying power with their primer potion, but I was wrong. My MAC and MUFE shadows last much better w/ the UD primer potion than UD shadows itself.
If this palette had more matte colors in it, I would have adored this palette, but you can find shimmery colors in this palette easily from many other brands. The only upside to this palette is that they are all located in one palette, so it's great from on-the-go looks for work. You don't exactly need to think much about color combinations with this palette either - anywhere you dip your brush, odds are you can do your makeup with your eyes closed and come out looking presentable since it's ranged from light to dark in the palette.
I love the packaging and I hate it. I usually do my foundation first, and my hands aren't the cleanest, so I always have to take the time to wipe off my hands before I touch the palette to make sure the flocking doesn't get dirty. It is eye-catching though - I brought it to work with me, and all the guys were curious as to what would be in the little "NAKED" box... haha.
Great to have - I do use it from time to time, but I always have to use other colors to supplement my needs. I wish it were an "all-in-one" package for me, but I would have rather had a matte black or dark brown instead of the other dark shimmery colors inside.
---