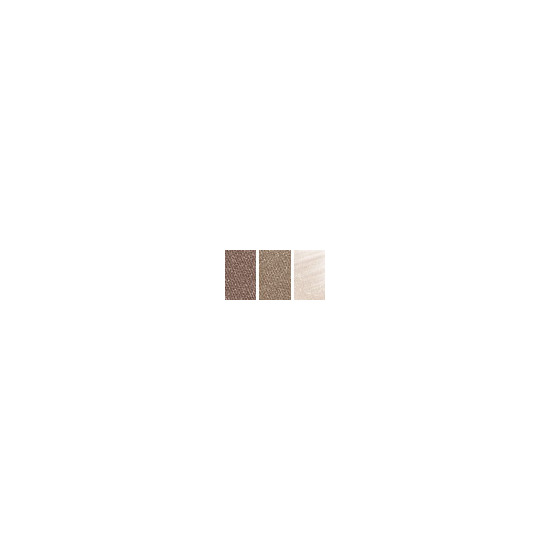 Rollover image to zoom
Reviews

the best brow kit there simply is
first off let me say that i love the fact that this has clear wax. makes everything so much easier. then it has not one but two powders to set the wax. it has little tweezers [way better/sharper than the ones that come with benefit's brow zings] and two little brushes... the packaging is terrific.. they hit the nail on the head with this one!

All you will ever need for your brows
This product is amazing. The 2 shades are perfect & greatly pigmented. The wax is one of the best out there, normally I don't even use waxes. But, my favorite part, THEE TWEEZERS, they get every single little tiny speck of hair <3

Love it
I love this it's so easy to use an it looks so great. Unless you have super light eyebrows I recommend using the light shade. I have dark eyebrows already I tried the dark one first it was way too harsh so I went with the lighter shade and it looked alot better more natural

Love it!
Lets start off with the clear wax, it makes the product last long. The color applies really nicely. I love how it comes with two colors so you can blend out your brows without them looking drawn on with a pen. It can fade into the lighter color the more it goes in towards your eyes. The brush is okay for use, but im sure you can get a nicer quality brush and it will apply even better. All around i love this product! It was in my June favorites!

Pretty Adorable
Let's start out with the pros of this product:
The packaging is nothing short of amazing. Urban Decay wowed me again with this adorably compact box. It's small, it's sturdy, and it's easy to carry around without worrying if it will open. The lace-like decoration on the top looks classy in my makeup bag without being too flashy or overwhelming.
The brow box comes with two colors, a small angled brush, small tweezers, and wax.
First of all, the brush is very nice. It's sharply angled, there were no extra fibers sticking out of the sides, and it's firm, which I like for an eyebrow brush. However, the handle is very small, which makes it difficult to maneuver sometimes. I keep it in the kit just in case, but usually just use a Sigma E65 instead.
The tweezers and amazingly sharp. They're small, so they're a little difficult to get used to, however they make up for it with their amazing precision.
The wax is fairly decent. I have somewhat unruly eyebrows, and the hairs tend to go every which way if I'm not careful. I find that the wax is not good for taming brows, but instead it's better for keeping them in check. I can't fix my brows with this wax, but I can keep them from getting any worse. I really think the wax would work really well for someone with thinner or shorter brow hairs than I.
Now on to the colors. I adore them. I think they're highly pigmented without creating fallout under the brow (because that's totally attractive, right?) and the two colors have similar undertones, so they can be used for different looks. I have very dark hair and very pale brows, so I tend to fill them in even when I'm not wearing makeup. I used to have to just barely dab my brush into my brow color and lightly sweep it on, which sometimes looked too heavy. The lighter of these two colors is perfect for going out without makeup because it doesn't look as though I just used a color for blondes. It's very warm so it goes with my hair without matching it dead on. My only concern is the lack of colors. It seems as though these are targeted towards darker brunettes and dirty blondes. What about the redheads and the light blondes of the world? So few companies cater to their brows, so I'm disappointed that Urban Decay, one of the more diverse companies, doesn't have a brow color for them.
Overall I find that this product is worth the money, unless you have oddly-colored brows.

Long Lasting Eyebrow Powder Box
RATE: I really like this product. This was my first ever eyebrow product. I first saw it from a youtuber. There are two shades: dark and light brown and wax at the bottom box. The wax keeps the powder eyebrow last long. I bought this product a few years ago (I know your not suppose to keep make-up products long) but I have still not finished it. It is easy to apply and blend to make my eyebrow look natural.
SLATE: The price is the problem. I guess I shouldn't complain since i have not finished yet and it is long lasting for what you get but there are other products which are as good but cost less to purchase. Price was around £17. I found a similar product (with no wax) and it is Skinfood.
Please go to http://kreamiblush.blogspot.co.uk/2012/06/urban-decay-vs-skinfood-eyebrow-powder.html for the difference between Skinfood and Urban Decay.
---