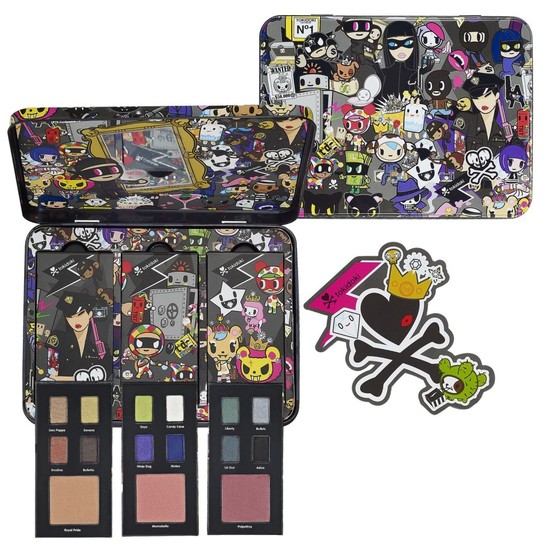 Rollover image to zoom
Reviews

Something I can't live without
I first purchased this from Sephora because I really loved the packaging and for the price of $39, getting 12 really gorgeous eyeshadows, 2 blushes, and 1 bronzer was a STEAL. And the little tin it comes in is perfect for me to store even more of my crazy makeup stash in. The pigmentation of the eyeshadows really is amazing. The Royal Pride palette is a gold/bronze palette that has some awesome earth toned eyeshadows that are perfect for neutral looks or to add a little spice to whatever look you're trying to achieve. It comes with a bronzer but it's just a regular ole' bronzer so it's nothing to scream about. The Arlecchino palette was disappointing in that the 4 eyeshadows in the palette are beautiful but the pigmentation stinks. They don't swatch well at all and applying them is very painstakingly long. The blush in this palette is alright, but again, nothing to scream about. Now my favorite palette out of this bunch is the Rapina palette. It is my go-to palette for my smokey eyes. It has the most pigmented colors of all the palettes and the lasting power is amazing. These are more silver-toned and dark colors that are perfect for dramatic looks and the blush that comes with the Rapina palette is this gorgeous bright pink with red undertones that makes your face have that rosy in the snow look. Really amazing.
This palette set is perfect for a beginning or someone who wants some basic eyeshadows and the price is really affordable for everything you're getting. Definitely something I recommend but beware of the Arlecchino. You're going to have to work some magic to make those colors pop.

cute & reusable packaging, most eyeshadows are pigmented along with 3 cheek products
One of my favorite things about these palettes is how they come in reusable (and cute!) tin box packaging. This one wins in terms of value over the Sodashop palette for having just a few more uses in my opinion. Since it comes with three individual palettes, they're convenient for traveling or being split amongst your friends. Also, there's one big magnet instead of a sheet of little ones that come with the Sodashop palette. A lot of the eyeshadows and cheek products have wonderful pigmentation. Most are shimmery but the mattes are decent too! I especially adore how each of the palettes have a matching color scheme to its overall pattern.
Royal Pride Palette Lion Pappa - bronze gold, very pigmented Savana - yellow gold, less pigmented than Lion Pappa, but swatches well in two layers Ercolino - rusty copper, pigmentation like Savana Bulleto - shimmery dark brown Royal Pride - light tan bronzer, suitable for pale skinned people like me
Arlecchino Palette Soya - one of the least pigmented, lime green sheen reminds me of Sugarpill's Absinthe Candy Cane - very shimmery white, some fallout Ninja Dog - shimmery dark blue with light blue sheen under light, like Soya in terms of pigmentation and is probably the most disappointing color for me Meteo - navy blue, one of the few mattes, some fallout Momobella - peach blush with fine gold glitter throughout, some fallout
Rapina Palette Liberty - dark green with a light green and golden sheen under light that is very pretty, like Savana in terms of pigmentation Bullets - dark silver, very pigmented LA Gun - similar to Lime Crime's Medusa (which is a black with dark blue sheen) but with the blue being much more apparent under light Adios - matte black with decent pigmentation in double layered swatch, and surprisingly does not have much fallout compared to what I was expecting with the particular color Polpettina - redder blush than Momobella but with silver sparkle instead of gold, definitely doesn't have as much fallout as the other blush
I think this palette is worth the money even at full price so you may be happy to know that it's on sale (for less than 40$) along with the Sodashop palette (at 35$) now. The colors are fun, go together well, and most have great pigmentation with tolerable fallout. Rapina is my favorite palette of the three mainly because of Liberty and LA Gun. I don't even normally like greens but I love the subtle golden sheen throughout Liberty.

Amazing colors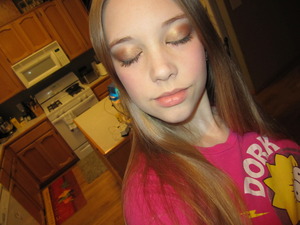 I absolutely LOVE Tokidoki. Their eye shadows are very vibrant and they blend together ever-so-nicely. The blushes can really make a statement or just give your cheeks a bit of color. And (at least at my Sephora) it is 50% off right now! A total steal if you ask me. Also the characters that are present in all of the Tokidoki products are adorable xD This picture shows all the colors (except the bush) in the Royal Pride Palette.
---