Nude 'Tude Eyeshadow Palette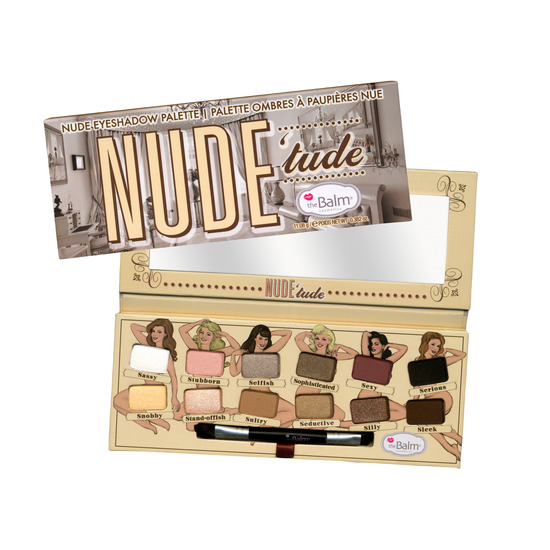 Rollover image to zoom
Reviews

like many of the other reviews, I have to say I liked this better than the UD naked palettes. quality is comparable and it offers a better range of shades in my opinion. the shadows are not too warm but in a good neutral area that would work for most anybody. and it's just a lot of fun to use!

I got this for 50% discount and worth the money . The eyeshadows are highly pigmented and really nice . The mattes and shimmers give nice color pay off . Does not irritate my sensitive eyelid and make sure to blend this well . The double ended brush which comes together are a bit stiff and short which is quite useless . I keep it to tame my eyebrows . I love the big mirror it comes with and the packaging is super cute ! The eyeshadows last long too

DEACTIVATED A.
Jun 24, 2014
All of these are really pigmented and the packaging is a design I've never seen. So vintage and so cute. The longevity is definitely there esp. with a primer. I even use the black or brown for eyebrows. The only reason I didn't give this five stars is because the flat bigger side of the brush is just okay. It's good for the lid, brows, and packing color into the corner crease, but I don't think it's the best for blending the rest of the work. The angled brush on the other end however, is great! It's good for lining the eyes and packs up a good amount of product, not too flimsy either.
I just wish that the white color was more matte because I wasnt expecting it to be such a sheeny white that was almost metallic when I take a picture with flash. It looks like I'm covering my brow bone with a silver and it looked weird.

Seriously on my top for nude palettes. TheBalm is so underrated, I haven't come across a product I haven't fallen in love with. This is no exception.
The formula: buttery, soft, not powdery or dry at all. Comparable formulas are Urban Decay, Wet n Wild and L'oreal Infallible.
The pigmentation: On point. You have to sometimes be careful to use a lighter hand w the dark shades to avoid muddiness.
The packaging: as with all of theBalm's products, super chic and cute. Diggin it :)

One of the best neutral palettes out there!
So I got this last XMAS and I'm still savoring my way through the palette. It is totally worth the hype and makes a great Nakeds substitute for cheaper! I love that you can make any eye look with this- you have lid/highlight/crease shades and some unexpected all over lid shades that are beautiful just on their own. The darker shades create the most, luxe, chocolately, luscious smokey eyes and one of my favorites uses for this palette is BROWS! I've used this more as a brow palette, its that great! I take the lighter brown for the base, the dark plum/red for the middle and the dark dark brown for the tail and it creates a sharp, defined brow, definitely perfect for a pin-up look! I like how you can create a pin-up look and endless other eye looks! I keep finding interesting nuances about the shadows- one has a bluish duochrome cast and the darker browns have glitter that actually sticks around on the lid! Plus, there are so many color combo ideas that you guys have just commented. I think this palette would be even better if it had a matte lid/h.l. shade, but that's what I have the Lorac Pro for! So, when I need a little luxe shimmer, this is my go-to. The pigmentation is amazing, the texture is silky smooth like butter and there is little fall out. My only regret is accidentally ordering the one without the little nudie shot bodies on the front! All in all this is a great palette and I need to use it more!

!!
Color variety wise, this is my favorite nude palette. However, I feel the pigment of the shadows could be better (maybe that is just because I am so use to Urban Decay?). Over all, I give this palette a win. The textures are nice, super cute packaging, comes with a little duel sided brush, and a good variety of colors.
---