Rollover image to zoom
Reviews

Fake that "celebrity glow"
When I want that "Celebrity Glow" for my clients this is my go to product! A few tricks I can offer reading some of the reviews below... Apply it before your foundation to avoid the sticky feeling...apply it a little heavier then you normaly would so it shines though your foundation and if you want a little more pop of color apply some after foundation with a fluffy brush on the apples of your cheek and set it with a translucent powder, you'll look like a million bucks! :D

My favourite blush to use!!
I really love the Tarte cheek stain, I've had Blushing Bride for a few years now. I think it's a lot easier to use than powder blush, I just pat it on my cheeks, rub it in for 1 second and it looks perfect. It looks a lot more natural than powder blush as well because it blends in with your skin more. It lasts all day for me, but the only downside to it is that it feels sticky on my face, and sometimes my hair has actually gotten stuck on it. I don't put on a lot either.

Great but can get sticky
I love this stuff. It is the perfect stain for me. I can use it very lightly or make it heavier depending on the look i want. It smells great. I always get complements on it. I even bought one for my 12 year old sister, because i don't think it makes you look trashy. :)

Amazing!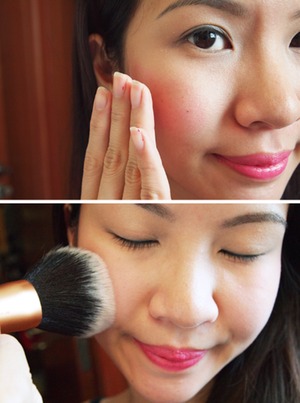 Absolutely amazing blush, and the colour is beautiful! I highly recommend it for - Drier skin types / Combi skin with dry cheeks - People who want long lasting blush colors - People who want that very natural flush - People who are fans of cream blushers in general
More details are up on our blog in our full review http://www.samantha-ashley.com/2013/11/review-tarte-cheek-stain-in-flush.html

Love this
I have one in blushing bride and one in true love and I love them both they give such a natural flush to your face and lasts all day you also don't need highliter with this because I feel it makes your cheeks look glowy too I recommend it if you whant a natural healthy look

Alli Rose G.
Mar 09, 2013
Great!
I have a mini size from a kit. This works great when I want to do a bold eye and lip, but don't want my skin to look dead. I dab it onto my cheeks, then blend it in with a small duet fiber face brush. This gives a glow and slight color to my cheeks without it being a very noticeable blush. I love this because I'm so pale and contour or bronzer looks like dirt on my skin. This gives my face some warmth when I don't want anything over the top. It has great staying power. It stays on the full 12 hours I wear my makeup.

Amazing!
I received this in a bloom box, prior to trying this out I was not a huge fan of cheek stains. I tended to be very old school about my blush and would use a lipstick. This says that you can use it on your lips if you want to, but you should not want to. It's the worst taste in the world, and it doesn't work like a lip stain. But, on your cheeks you can't go wrong with this. I got a deluxe sample and use it at least 5 times a week and have had it for about 6 months. So, I am going to assume that purchasing a full size would be well worth the cost of the product. You will probably tire of the color before you run out.

fresh, dewy, natural looking blush...i'm obsessed!
i bought this product in december 2007 for the first time, and immediately loved the way it looked and felt...i had never used anything except for a powder blush. now i prefer my blush in a stick form, especially this awesome gel stain! i love the colour (i want to get all the shades!), love the way it glides on and is easily blended, and i also love the way it looks...it's very natural and fresh looking...it doesn't LOOK like you're wearing blush, which is the point, right?! :) also, i was super excited when i found out that tarte uses vitamins and antioxidants in their products, so every time i put it on my face i feel that i am doing good for my skin. sometimes at the end of the day, you may need to reapply...but who cares? the product itself lasted for a very long time, i seriously used it for a couple years before it was finally gone. definitely worth the money...

Gabriella R.
Feb 23, 2012
Amazing
I always tried bush but it just seemed to make me break out. Then my mom gave me this cheek stain, and i fell in love. This is the best product I've used for blush. I love the color and how it lasts so long. I've had the same one for over a year now. I love this product and will continue to use it.
---