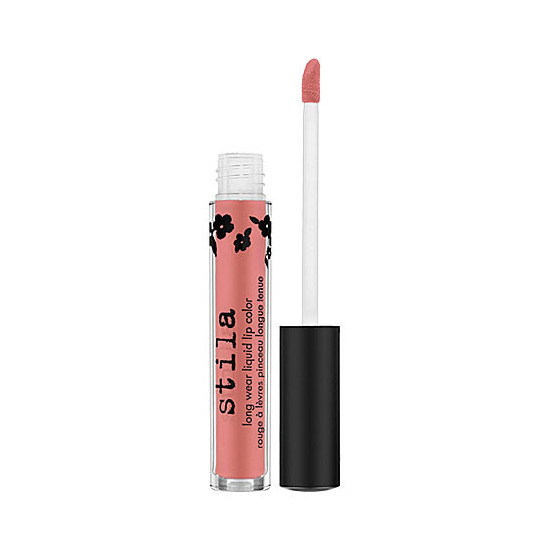 Rollover image to zoom
Reviews

Super long-lasting!
I have this in Patina-03 which I'm pretty sure is magical because it sometimes look like a bright pink, and other times looks like a darker brownish red (I promise I'm not crazy!). My most memorable night with this color was a night I spent volunteering at a fundraiser - applied at 4:30pm, ate, drank, talked, danced, was still on in full effect by midnight! I definitely will be repurchasing more colors.

Love this lip color (Muse)
I was at Sephora during Homecoming Weekend (which I will never do again) and noticed the gorgeous color one of the employees was wearing. A pink that is actually pink and not bubble gum or a flashback to the pinks I wore back in the 80's is actually a lot harder to come across than one would think. When you're young you can get away with a lot ... as you get older... some lipstick colors are the cosmetic version shopping at Buckle... just because you can doesn't mean that you should.
So back to the Stila Long Lasting Liquid Lip Color in Muse. It's pink, a highly pigmented pink that stays true. More importantly, it really is long lasting (let it dry) and doesn't actually dry out your lips. I still use a bit of balm over it just for shine.
Great product - great color.

Wonderful
I have this in Fiery 01, which is a gorgeous red. Usually reds end up being too orange or too pink on me, but this is a blueish-red and I LOVE it. The color is exactly what I was looking for. The product is like nothing I've ever used before. It's literally like someone melted down a tube of lipstick into a lipgloss tube. The doe foot applicator makes it super easy to get a precise line around your lips but it's wide enough to fill in lips easily. Its consistency is very creamy and a little bit goes a long way. The color I have is very opaque and I assume that the others are just as pigmented. I love the matte finish, because I don't like any glitter/shimmer in my lip products. On occasion I'll top it with a gloss just to change up the finish but that doesn't affect the integrity of the product. I do recommend the use of a lip liner if you plan on wearing it all day because I have experienced feathering with it when I wore it for a full 8-hour shift at work. The one thing about this that I really don't like is the way it dries out my lips. After a day of wearing this, I have to take extra care to moisturize my lips that night and I usually can't wear it more than 2 or 3 days in a row.
Pros: Perfect red! Long wearing (doesn't smear, smudge, or fade) Matte finish Easy application
Cons: Tends to feather after a while Very drying
---