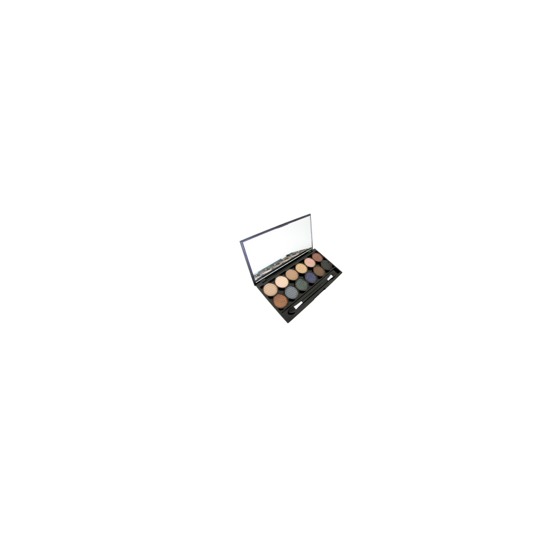 Rollover image to zoom
Reviews

Love!
I literally can't think of anything bad to say about this palette. Theres a great range of neutrals and darkened colors. It makes it easy to make a simple smokey eye, or play up a little bit of color without getting too intense and vibrant. The colors have great pigmentation to them, and apply like a dream. So velvety and smooth to apply and blend!

this palette is fantastic, the colours can be mixed in so many ways and styles, they are very well pigmented. i could go on for hours about how amazing it is, but i'm just gonna stop by simply stating that you shouldn't hesistate if you're thinking about getting this!

Cant live without it
The texture & the pigmentation are perfect. It has two very nice matte colors, a light brown (a little darker than my skin color) & a medium dark brown. I can easily use these to on my lid(the light one) & in the crease (the dark one) every morning. simple yet perfect :) It also has a matte black color. It has one navy blue eyeshadow with purple undertones, another blueish-greyish shade, & a lovely wicked green :D The light shades r nice too, it has the perfect brow highlighter :D

looove looove looooove
I really enjoy using this palette and I continually go back to it. A variety of twelve shades; mostly with a shimmery/satin finish and three mattes. The matte black and dark brown aren't really intense, but can be built up and be worn for an everyday kind of smokey look. I've hit pan on the nude brown. All the other colors are insanely pigmented and blend beautifully.

Love it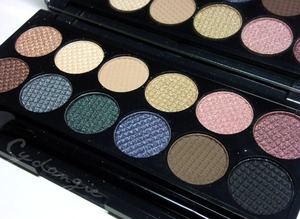 Sleek Makeup is a company based in the U.K, you may pick it up from Superdrug stores or the Sleek makeup website for £5.99, so it's about $10usd. One of my favorite go to palette. Super affordable drugstore cosmetic with such amazing quality. It has matte and shimmer shadows, very pigmented, easy to blend.

Wonderful colors !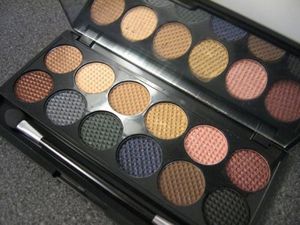 I am in Love with this pallet it has great nude colors, it comes in great packaging, with a nice big mirror to apply. i ordered it online and even though it took a pretty long time to get to me i was so excited when i got it ! i recommend this product to all!

Amazing Value
This is my go-to eyeshadow palette! It has loads of gorgeous neutrals with some darker, stormy (appropriately named) colours. Some of the lighter shades are a bit chalky and powdery but the pigmentation is great and it was around £6! Bargain! I have 2 other Sleek palettes and I love those too, Sleek never fails to impress!

This pallete is in my opinion totally awesome. The 12 shades range from shimmery white to dark blue and black. The eyeshadows are also really well pigmented, I'd say they blend rather soft and creamy, besides the black and matte dark brown. This pallette is amazing for a neutral look, but of course too for various dramatic and smokey looks.

Impressive.
I got is because I didn't want to use my expensive stuff for work, I use it and was blown away, the colors were easy to blend, pigmented and in some cases I didn't Use a primer and the colors stayed on 8+ hours. A great buy I'm very happy and pleased with this buy. This is my first purchase from sleek makeup def worth it.
a great pallette for a good price:)
I love this pallette, this and UD naked pallette are my most used eyeshadows!! my favorite everyday eyeshadows in this pallette are the first 2 in top row, and ofcourse the navy blue and the green one.. these are so pigmented,a little goes along way..and for the price i think you cant go wrong!
---