Mr. Bunny Black Essential Kit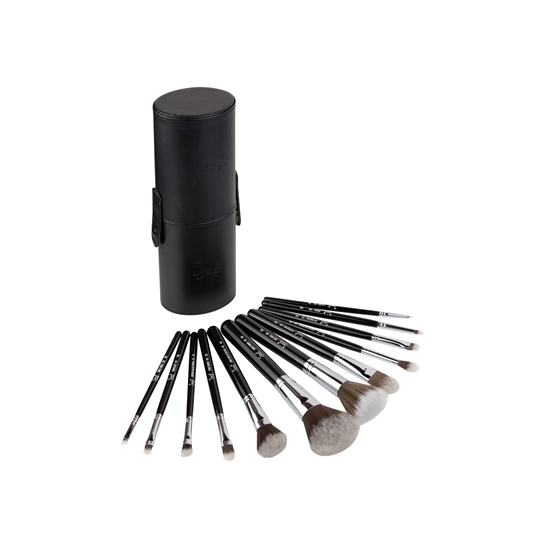 Rollover image to zoom
Reviews

My favorite brushes
I have the Mrs. Bunny kit. These are my favorite brushes to use. They apply makeup beautifully, and they are easy to clean. I especially love Sigma because when I got this kit, the little eyeliner brush was shedding really bad, bristles falling out, so I emailed Sigma about it and they immediately sent me a replacement, no questions whatsoever! I thought that was really special and I value companies that provide hassle-free customer service. Anyway, the cherry on top of these amazing brushes is the ADORABLE packaging and design. Pink and blue!

soft brushes - a very complete kit
I bought this kit about a month ago and this is one of the best things I ever did. The kit has all the brushes that I need to do my make-up. And the brushes are so soft. When I clean them, there aren't any hairs that come lose, so I'm loving this kit. The box is also very easy when I'm on a holiday. It's easy to package the brushes and I don't need any other boxes to put the brushes in.

Amazing Brush Set!
I absolutely love this brush set! The bristles are amazingly soft and very dense. The application you get is amazing!! I also love the handles on these brushes! They give you a very nice grip. They all fit inside the brush cup holder along with other brushes as well. If you're a beginner, then this will probably be the only brush set you'll ever need to purchase so invest in something good! I absolutely LOVE the powder brush!!! These are only about $100 or so dollars for 12 brushes AND a brush cup holder! I recommend these to everyone!

Best Essential Vegan Brush Kit I Have Tried...Has All You Need
I love that this kit has everything a person needs. This kit is in full...and may be more geered towards pros because the kit may be overwhelming to some ppl who only need a couple staple brushes. Nonetheless, if you are an avid makeup collector, junkie, or are makeup savvy, this may be what you need. Reasonable in terms of asking price you consider what you are getting. I think this kit is great bc not only is it vegan, but the brushes dry so fast...which is atypical of vegan brushes to do so. There is no shedding with the brushes. I got this in Mrs. Bunny bc I couldn't resist the pink ferrules. If you want something more standard go with Mr. Bunny. My fave brush is the F30, bc it buffs out face powder like a dream. The only thing I don't like is the scent of the brush cup when its new. Smells like plastic a bit, but it will air out...just leave it open for a few days.

SmashinBeauty c.
Feb 14, 2012
Best Set from Sigma Yet!
I have many brush sets from Sigma Makeup but I must admit that this is the best brush set yet! My favorite Sigma Brushes. I have the pink & blue version.
---