Eye Shadow Palette - Bare
Rollover image to zoom
Reviews

Stephanie H.
Jan 03, 2012
A great Neutral Palette!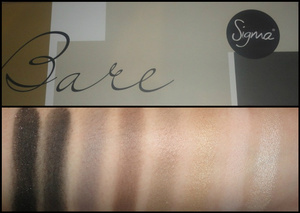 Out of the three Sigma Palettes that I own this is my favorite. I love that this palette includes 4 matte shades as many palettes today put out a lot of shimmery eye shadows. I love mattes for definition in my crease. This palette also has 3 shimmer colors and a glittery black. So balance wise this palette has it all. The packaging is very sturdy and solid feeling. I love the double ended brush it comes with, one end is the every popular E25 Blending brush and the opposite end is the famous E30 Pencil brush. With all that packaged up in one palette is what makes this a great palette not for just every day but to take with you on the go!

Love!
Ok so....some of the lighter colors don't show up on me that well but it shows up on top of the nxy jumbo pencil in milk...I have a few different palettes and lots of individual eyeshadows but since ive gotten my hands on this baby..which has been a lil over a month I love it! It is my everyday go to palette for neutral looks...smokey eyes..the light shades are perfect for highlighting...I don't think they are chalky and what I love is the black glitter shadow because.....there's no fall out!! I have a hard time finding black eyeshadow with glitter that doest fall all over my face..this has no fallout and I love that!! ...the colors are easy to blend esp. With the brush it comes with...of course a good eyeshadow primer will help the colors stick...I don't use any of my other eyeshadows anymore unless I want to use non neutral colors....love this palette and the love the brush that comes with it! Definetly a great everyday palette to have!

Stacey MakeUp D.
Dec 10, 2011
Nice neutral palette
I own this palette :) It's pretty nice, I would love some of the colors to be more pigmented and less chalky :) And of course the price, I find it a bit overpriced :) Maybe that's because of the brush that omes with these e/s... :) I have a review on this palette: http://www.staceymakeup.com/2011/10/review-sigma-bare-eyeshadow-palette.html
---