Big Sexy Hair Spray & Stay All Nighter Hair Spray Intense Hold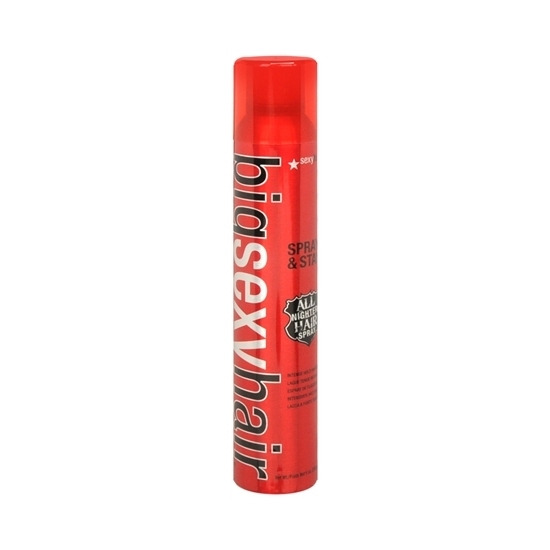 Rollover image to zoom
Reviews

Your hair won't move!
If you were to spray this in your hair and walked out into a tornado or a hurricane I'm pretty sure it wouldn't move. Lol. OK I'm not really sure. But big sexy hair products are amazing Their pricey but they last. The name says it all ladies, BIG SEXY HAIR. Lol.

Hardly Your Everyday Hairspray
I am a big hair personality with a fine/limp hair curse. But some quick, all-over sprays of this stuff give me instant undeniable height, texture, and fullness. For me, this is not a hairspray. It's a hair type transformer. I use it on my hair when I don't even style it to get some nice body and a little edge.

Favourite hairspary...EVER.
Im in love with this hair spray. It's the only hair spray i buy. as a hair dresser we're also looking for the long hold, non sticky non messy hair srapy..well this is it. Its a little on the pricey side, but its worth it. This hairsrapy holds FOREVER. Its smell is okay, its not amazing, buts its not repulsive either.
It's worth it!
All nighter! Definitely true. My hair is naturally straight and thin. That means when I curl my hair I really need a good hair spray. The big sexy hair spray is the only one that holds my hair in place, ALL NIGHT! It's also good for teasing your hair because it makes it really big and gives you volume. It's a little bit sticky but i guess if you really want your hair to hold in place you have to live with that. And when you brush it a little bit out it's not that bad anymore.
So if you have straight thin hair you should really go for it but if your hair is already a little bit curly and thicker I would recommend a lighter hair spray.

I've used this for the past couple of weeks and it definitely holds hair in place! I do a lot of crazy things with my hair and it never fails me when I have my hair in a tall fauxhawk. It does tend to dry out hair though so make sure you condition your hair very well when you wash it!

Amazing Hold and Inexpensive!
I love this hairspray, in fact, I like every Big Sexy Hair products! It has crazy hold and it smells really good too! My mom and I use it up so fast, it's scary! My hairdresser recommended it and I fell in love the moment I tried, I also really love their Mousse too!
---