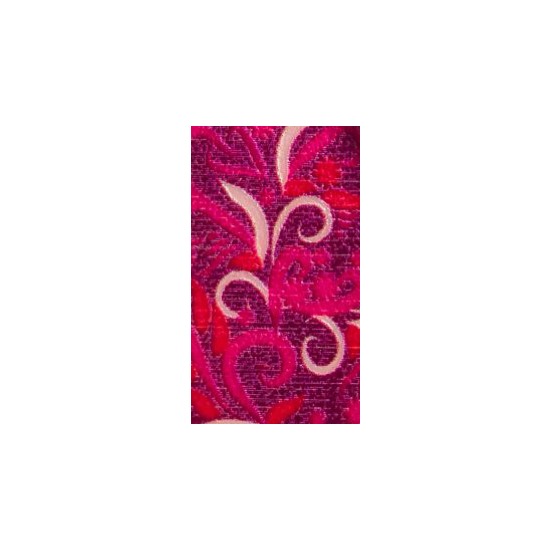 Rollover image to zoom
Reviews

Cute!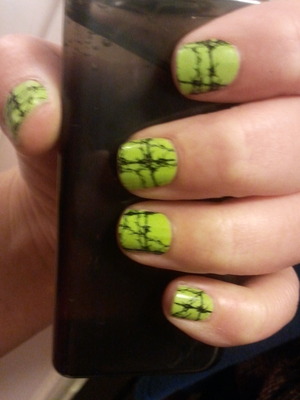 As someone who tends to ding my polish job on at least one nail every time I do an at home mani, these seemed like a fantastic idea, which is why I'd been wanting to try a pack of these bad boys. I finally broke down and picked up one of the Halloween packs in "Hot Wired." I followed the instructions precisely and was not disappointed with the results. It's been a week since I've applied them, and they're still going strong.
A recommendation: If you're like me and prefer short nails, try cutting the strips in half (after peeling off the top clear sheet but before peeling off the bottom sticky strip) and doubling the use you get out of these.

Love the designs but hard to take off.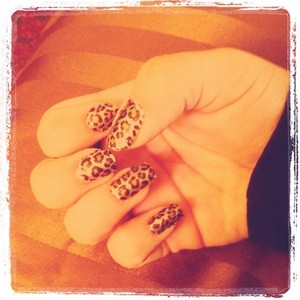 I love Sally Hansen Salon Effects! I was a bit skeptical at first because I thought that they were going to look like obvious sticker press on nails. I was actually surprised on how natural they looked. A lot of people asked me how long it took me to do my nail designs and were shocked to find out they were just polish strips.
I was nervous when I was applying them at first because the edges were sticking out all over the place and after the third finger I kind of got the hang of filing them down and trimming along the edges. They lasted me a long time and I think they only started to wear down because of my own negligence. The only downside that I could think of was how hard they were to take off. I tried soaking a cotton ball with nail polish remover and that was getting really tiring. I remembered that I had Deborah Lippmann The Stripper to Go nail lacquer removing mitts and those did the trick! I will definitely purchase these salon effects again and can't wait to see what new designs they come up with!

I bought "Crowd Surfer" which was a super gorgeous glitter silver that faded into blue. I got a lot of compliments on them. Plus, I love that there's no drying time, which is what usually keeps me from doing my nails to begin with.
BUT they chipped rather quickly, even with a top coat. It constantly felt like it was getting caught in my hair and my clothes. A PAIN IN THE ASS TO TAKE OFF. Screwed up my natural nail. Costs too much for how long they lasted. It also took longer than I wanted to apply. Not to mention that once you open them, you have to use them ASAP. Anything left over (which I would've used for replacing/touching up) just turns into a piece of hard, unusable plastic. I think that's what will keep me from buying them again any time soon.

What the heck?
This was like Special Olympics of nail application. Total fail. I consider myself pretty product-savvy... yet I was so awkward with this product... it barely resembled nail polish when I was done!
I ended up throwing half of them away and donating the other box I bought to Goodwill!

BEWARE!
I bought these thinking they'd save me a lot of time and be a nice change from a regular mani! Applying them was really easy and as suspected, saved me a ton of time. The next day I took a shower... Well, showering was an ordeal… the edges kept getting caught in my hair and I thought for sure the strips were going to peel right off but they actually stayed put! As soon as I got out of the shower I put some clear polish under the lifted edges and added another top coat to the strips. I kept applying a layer of top coat daily until the night before removing them. I think after a while I just got used to the strips being on my nails and altered the way I touched things so as not to snag the strips. The strips held up really well and I kept getting lots of compliments on my fancy manicure which is always a bonus! I purchased the #360- LacedUp. The results ended up lasting me 8 days.
Then came time to remove the strips … what a horrible experience that was!
Now it clearly states, in a pretty orange stripe across the front of the package "Remove With Polish Remover"… REALLY?!? I began rubbing with remover as I normally would in order to remove polish and nothing happened … so I scrubbed and scrubbed trying to remove the strips and still nothing ~ HUH ?!? I don't know if it was due to the fact that I had applied several layers of top coat or if it was just the strips themselves but they just wouldn't budge! I ended up having to peel off as much of the strips as I could in an attempt to remove them which in turn stripped a layer off of my nails! NOT IMPRESSED! Even after vigorously scrubbing with remover once the strips were removed and buffing my nails I still wasn't able to get all of the strips off and then I was left with weakened nails! EEK! In all my years of doing my nails and the countless products I have used, I have NEVER used a product that left my nails in ruins! Removing the strips took longer than the manicure was worth!
Needless to say I won't be using SallyHansen's Salon Effects again!! Hopefully my review saves one person from ruining their nails!!

Waste of money.
I thought I liked these but they don't really last that long and they retail for about $10 here....Wellll.... I get a freaking manicure for that price + $5 which I think is worth it unlike these stickers. It's true they had cute designs (I got the flowery one) but after a couple of months -the sticker itself wouldn't stick to my nail. So I was only able to use it once....this is now considered the biggest waste of money.

Love them!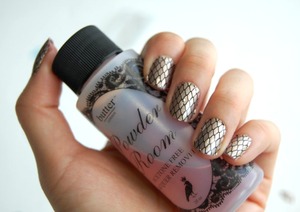 I personally love these. While some people may be able to go to the salon for just around the same price or a little more, the way I see it - I never fully finish a bottle of nail polish, and over time, the money that's spent on those bottles adds up. Especially when it's recommended that you throw them away after a certain amount of time. With these Sally Hansen nail strips, there's no leftover nail polish to use up or later discard. In that sense, it's totally worth the price. I last bought these in Misbehaved (my favorite) and will definitely be buying more soon.

Get a little creative with them!!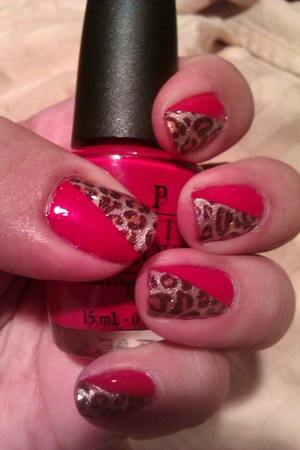 I was a little iffy about using these but really liked the out come of them. They are easy to use and fun. I would say though that they need to come out with a larger selection of designs and colors. I tried a little something different with mine this last time and made me like them even more.

Elizabeth M.
Nov 23, 2011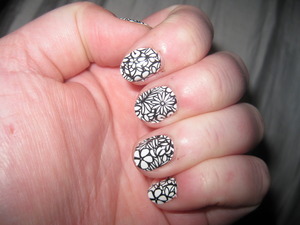 I agree with other reviewers that these are a bit pricey, but I like to look at it like this: It is cheaper than a professional manicure and looks good enough to pass as one! I hear a lot of things about this product, either you love it or you hate it. I hated it the first time I tried it and gave up, deciding that it wouldn't work for me. However, I did some research after getting a second set -- I'm not a quitter! -- and found out some tips!
First tip is to make sure your hands and nails are completely clean and devoid of polish, treatments, dirt, oil, etc. The best way to do this is to wash them with antibacterial soap and also to clean them with some polish remover. I tend to have oily skin and that affected how the nail strips adhered. The oil on my hands and nails kept the strips from sticking and frustrated me. The second tip is to not, not, not skip the cuticle pushing step! I heard two people that said they skipped this step! Such a no, no for ANY manicure, but for this one especially! By pushing your cuticles back, you make a clean edge for the end of the strip to go on and won't have tearing or other problems later on.
Also, one thing you might want to do is put a good top coat on if only so there is not any discoloration. Some chemicals will turn the white parts of the strips yellow, I've found. This lead to a mismatched manicure and made me look a little odd!
Overall, I really, really love these. I'd use them again (and have! The picture attached is my fifth manicure with these!) and do recommend them to anyone that asks about them.

Great concept!
I really like these. The nail polish strips are easy to apply, and if they don't fit exactly, you can stretch them out slightly so they cover your entire nail. However, I don't like that it comes with 16 strips (should come with 20). Although the strips are long and can be cut in half, you can't really save the extras as they will dry out.
I tried using dried nail polish strips and dipping them in nail polish remover to soften them and it seemed to work, but you have to be really careful.
They will last a long time if you apply a top coat and they don't chip! Just make sure that when you put the top coat on that you let it dry completely.
http://thedailyswatch.blogspot.com/
---