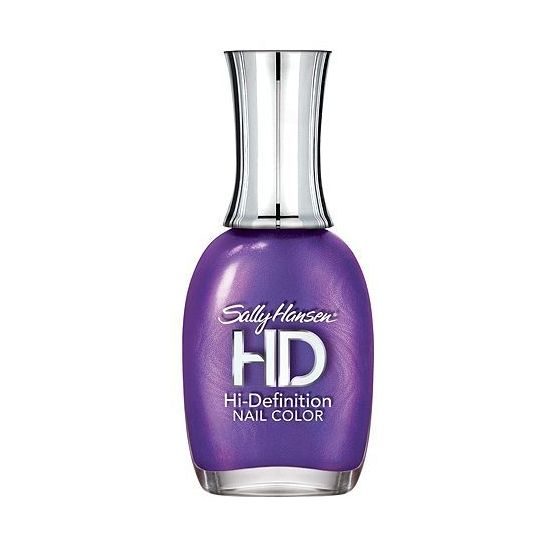 Rollover image to zoom
Reviews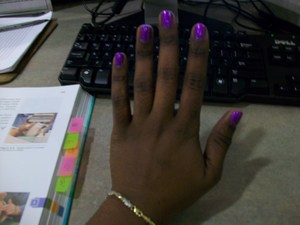 I feel so in luve with the way this polish appers to be glowing that, I just had to go back and get every color. The only shade that gave me some problems with color was the yellow. Look how my nails appear to glow in this photo. It does take 2-3 coats similiar to most other polish. When I purchased my bottles, each one came with a free bottle of Salley Hansen Heavy Duty Clear Top Coat which was also a plus.

Amazingly beautiful!
I love these nail polishes! I have byte, a shimmery magenta color, spectrum, a shimmery teal color, and DVD, a shimmery purple color. They are all amazing and I can not wait to get the others. They are quite translucent so I layer them over a similar base color to make the shimmery of the HD nail polishes really pop! There are lots of colors you could layer them with to get the cool shimmery, slightly holographic effect. I could already tell I would have to do this when I purchased them, so if you are thinking that these will look just like the color in the bottle, they won't without a similarly colored base coat. They can still look great without the base coat though; they just appear like a lighter version of what's in the bottle.

I really like them!
So, I have only one of these and would like to buy the rest of them over time. I have the one called Laser. The colours are beautiful and they go on very nicely. I understand the frustration people are having about the fact that they are too sheer. However, I fount that if you put black underneath (with the dark colours) and probably white or a lighter shade that the colour is (for the light colours) they come out perfectly opaque! Since I don't have any of the brighter/lighter colours I'm not saying that the white will work under them but I'm pretty sure if you used a colour that was the same except a lighter shade it will look fantastic!

good but has it's bad points
I was extremely excited about these because some of them look close and could compare to the polishes in Orly's Cosmix FX collection that they released in Fall of 2010 that I haven' t been able to find anywhere! I like how the glitter in it adds that extra bit of holographic-ness and they go on very smoothly, dry quickly, and last a long time with a top coat. However, I find that alot of these need 3+ coats because they are very translucent but I imagine that putting these over a base of opaque nail polish could fix that problem, but I haven't got the chance to try it yet.

Gorgeous
I have quite a few of these (they recently went on sale around here, so I picked up what was left that I didn't have!) And the colors are absolutely gorgeous. To die for! However, for me, they go on sort of unevenly and streaky. You need no less than two coats, and more for some of the other colors. I'd really love them if they weren't so streaky!

great
I love these... They are very nice. But I don't understand why it's "HD" or what about it would be "HD" There was a huge selection of beautiful colors and I love every one I have. But on this really pretty yellow one though.... it needs like 4 coats to get the nail painted without...being able to see through it But it's very beautiful :)
---