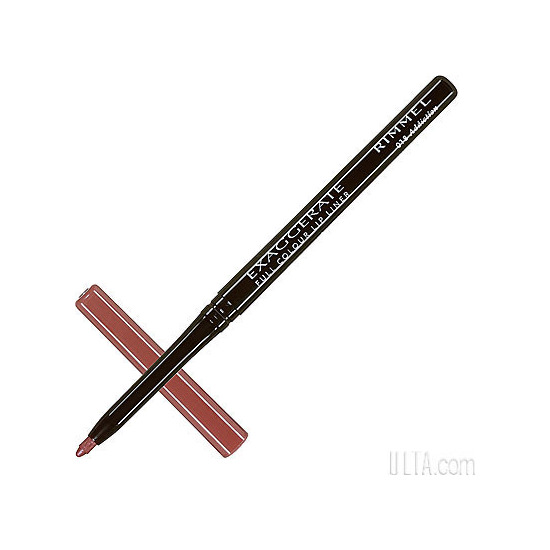 Rollover image to zoom
Reviews

Love this
I have a ton of nude lipsticks, so I'm always in search of a nude lip liner that goes well with most of them. This Rimmel one is close to perfect. It's a pinkish nude color, but after I line my lips and fill it in a bit, it creates the ultimate base for my lipsticks to go on top.
It's smooth, creamy and glides on easily. No tugging, which is a huge plus point. I've worn it on its own too (filling my lips), and it gives a nice matte shade that lasts longer than most lipsticks do.
Price is great as well. And all you have to do is twist and use, with no sharpening needed! My only gripe is that my local drugstore only sells a select few shades. I wish they had the entire line.

Love these!
Vivian, you took the words right out of my mouth! I needed a lip liner that would go with any thing in my lippie wardrobe, and would go with all my nude lip products. This dark pinkish/reddish/brownish color is not light, but works with my skin tone, and it blends seamlessly with a ton of other lip products- making it extra versatile. It blends in with nudes, purples, pinks and the like. I love lining my lips with this- they stand out beautifully, but it looks so natural, not harsh. I love experimenting with different lip shapes, and this is the perfect l.l to do so! Addiction is also great as a lipstick and can be made lighter depending on what you throw on top. I love the twist up feature, and these are soo silky smooth- you barely need to use pressure to apply, it just glides right on, and its easy to remove mistakes. I'm a l.l. noob, so these were the best to start out with- and now are a favorite no matter what l.l. I use in the future! The pink shade Eastend Snob 063, is also gorgeous and It looked amazing with the pinks from Revlon's matte l.s. line. That one though was fragile and broke apart, even with the lightest hand. It also was a little more crumbly than Addiction. Its fine, as long as Addiction still stands. Yet another one of Rimmel's hits- they just keep coming! Plus, the reviews for these liners were uniformly positive- so I lucked out! Thank you, ladies! <3

No need for lip stick!
Oh Gosh. These liners are one of the main reasons why I love Rimmel. Like Rosie said (below), they are beautiful matte lip colors and glide on very smooth. They are very creamy and intense enough to wear with no lip stick needed. I wear this on my lips and add some chapstick and I'm out the door with a sexy nude lip.

i like it
This is the only lip liner I have ever used, and I am actually still on my first stick of it. From the other reviews it seems I made a good first choice. The color goes on very easy (I was expecting to have to go over it a couple times for it to show well but once is enough). It's easy to find a good color match. Didn't dry my lips out.
I really have no cons against this product. Atleast until i experiment with other lip liners, but for now this is will be a re-purchase.

This creates a beautiful matte red lip, and is a perfect colour for my skin tone! It glides on and doesn't drag on the skin which is pleasant. The colour is intense enough to wear as an all over colour without lipstick on top. My only issue is that it runs out really fast, but the price is reasonable, so I can overlook this! :-)
---