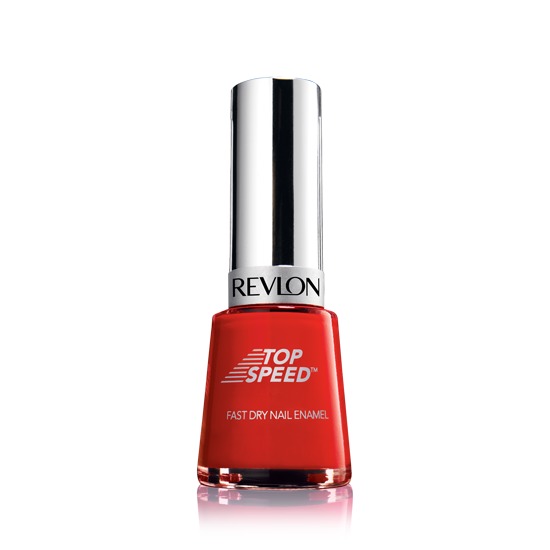 Rollover image to zoom
Reviews

I purchased this polish in 'Jaded'(a gorgeous mint green color) & 'Hazy'(grey) & was very disappointed. Even trying to apply a thin layer it went on my nails very streaky & clumpy. Leaving me to need to apply several coats to achieve an opaque color. It is just not worth the trouble, in my opinion. I may try it out again in the future, but my first impression was not a good one.

Absolutely the best
I wish more shades were available, but the ones on the market are simply fabulous. I use Candy, Pink Lingerie, Spirit, Sterling, Lily, Crystal Glow and Jaded. The white of this line (Spirit) is absolutely perfect for nail art, full cover in one sweep, no streaks, bright snow white and does not look like white out. All in all, absolutely gorgeous turn out.

Because nail polish should dry fast!
Because nail polish should dry fast! I have a love affair with Revlon Top Speed, Not only because its been a trusted brand of mine for years but because of its performance! Like i have said before my nails carry just as much oil in them as my face does, cause i peel off nail polish within the first 30 hours of wear. I purchase almost all my Revlon Top Speed polishes at my local target or Walgreens for around 5.99 sometimes with coupons!
-FAST drying nailpolish -Easily buildable & glides on like butter. -Highly pigmented and no harsh smells -Long Lasting with or without top coat -Great variety & new colors out each season.
Drugstore brands such as Revlon have really stepped up there game in the last few years, including nail polish durability! If your on the go and need to touch up Revlon Top Speed is your way to go! Stop wasting precious time!

Loved it! Going back for more!
I bought the colour 'Vintage' from this range and am very impressed! It goes on smoothly and I only really needed to apply two coats to get the full colour. I found that the polish didn't chip easily and didn't peel, and it truly does dry in just one minute! I would highly recommend it. I think the REVLON colourstay range would have to be my favourite range of nail polishes. When I wore makeup a few years back (I don't anymore), I found REVLON to be a very high-quality brand that is better than many more expensive brands, so I wasn't surprised that this was so good. This range has very nice colours and I will definitely e purchasing more.

Great colour range
This line of Revlon nail polishs have a range of colours that are more fun. This formula is quite thick and it does dry out in the bottle faster. I have a good collection of this as well, but I think that sometimes the colours are too opaque and harder to work with. With flat shades and the thickness of this formula I find that two coats will make it more smooth. In th description it says that these are quick dry, but I find that these dry at the same time that normal polish dry. These are long lasting if you use a base and top coat to seal it. I have recommend this line to a lot of friends and they have all liked the range colour.
Favourite shades: Pink Lingerie, Vintage and Hazy

I like it but...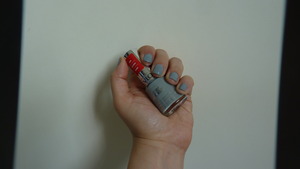 i bought the hazy color (grey) and loved the color! I mean it looks great on my skin and the color was very strong. I did two coats but with just one the result was full coverage. The not so good part is the smell, it is too strong for my taste, and it lingered in my fingers for hours. And also it has a sticky consistency and didnt dry as fast as i would have wanted. I wear a base and top coat with it from Sally Hansen, the one that is two in one, so maybe it is that.

No Longer Available D.
Oct 20, 2011
Peachy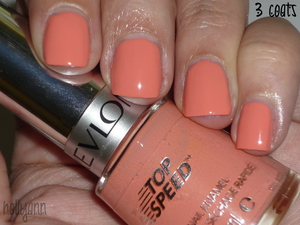 This polish was on clearance at my Target so I decided to get it. The color itself is just gorgeous! The formula is thicker than their regular line. This polish is supposed to be fast drying but didn't find them to be fast drying. If you have a fast drying top coat then that should solve the issue, but if you are in a hurry and needing to be out the door then skip this line. I didn't have any issues with applying the polish. The brush was nice. It went on pretty smoothly! This color was opaque with just 2 coats. I love one coat polishes but this one wasn't one. I did a 3rd coat just to be safe and fix any uneveness. Even though, it didn't dry fast, I would still consider on picking up some other shades from this line. They are inexpensive so why not!

Jaded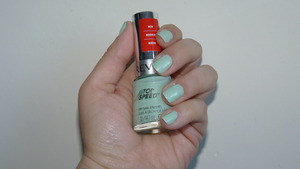 Looove this color!! I already posted a review (scroll down) and I gotta tell you I do love this nail enamel. Maybe this one needed 2 coats and was a little streaky but overall the final result is gorgeous. Every time I wear any color from Revlon Top Speed all of my friends tell me what a nice color, or that that color is amazing, what is it?
---