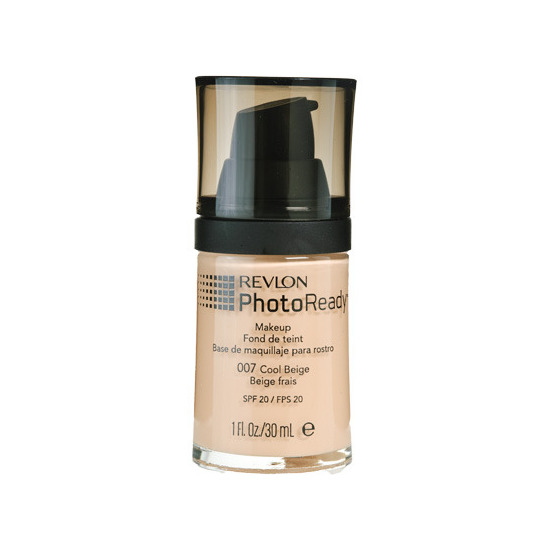 Rollover image to zoom
Reviews

Not For Me
I really didnt like this foundation on me. The lightest shade wasnt light enough it looked really pink on my skin. Coverage was okay i would say buildable. What i hated about this product was how it pretty much melted off my face. My skin is combination slightly oily t-zone but this melted off my cheeks and all. It felt like a mask to wear it and that was applying it lightly. Have not repurchased as it wasnt for me.

Cappucino..Can't live without!
Revlon may be discontinuing my color (Cappucino) I haven't been able to find it anywhere except online and i have about a 6 month supply..I wear this foundation EVERYDAY..shimmer and all i think its beautifull. My skin glows and feels very healthy which has been tough to find since i have eczema.

Good Product
They don't have my shade listed but I am Cappuccino. I love this foundation, I have been reaching for it every time on the days I decide to wear makeup. It doesn't have a strong or overwhelming smell like a lot of foundations (especially drugstore brands), and goes on smoothly especially w/ a stippling (duo fiber brush), it blends well, and to me it is buildable. I don't really think this is a good foundation for photographic purposes...I think its just called photoready b/c it does give u that flawless photoready finish as in picture perfect...Also I have an oily t-zone and this foundation (with a good primer of course) is very forgiving to the oily zones.

My HG foundation
I bought this foundation last year to wear on my wedding day. I looked great it all my pictures Thanks to this Foundation. Every other foundation makes me look washed out in pictures so I was surprised at how wonderful this one is. I ran out and ended up trying other foundations but none has compared to this one, not even colorstay. Will be repurchasing soon.

I like a dewey look so so I really like this foundation the only thing I dont like about the one I got is that its way too light for me :( so thats more of MY fault LOL. the "shimmer" is not even noticeable to me at all. great coverage & leaves skin looking healthy

Dupe for MUFE HD Foundation?
I've been using this for a year now and it's my holy grail. It's one of the few foundations that match me perfectly. Recently I purchased Make Up For Ever's HD foundation and regretted doing so. It's basically the exact same finish. Not downgrading MUFE at all I love that foundation, but i'f rather spend ten dollars on Revlon than forty on MUFE!

I love this product~!!! Actually . . . I must admit I love the whole photoready line. It is a sheer coverage but its good enough for me. . . there is some sparkle when you apply it but it doesn't show on your face. I love how its thin and not cakey and just all around amazing~!!

Love it!
I honestly LOVE this stuff. I'm a stage performer and right before a show, my bottle of Stilla just broke on me, so I literally had to run to the nearest Wallgreens and get some new foundation. I had tried Loreal TrueMatch and it was a little too much goop for me, so I didn't even know what to grab. My friend wanted some Revlon liquid liner and they were buy one get one half off, so I looked through Revlon's foundations and saw this one. In the beginning of it's run, I'd heard bad things about it, but decided it'd be good, at least for stage makeup. Well, I used it and absolutely LOVED it. I have really oily skin, but contrary to other reviews, this actually worked for me. I occasionally have to use Urban Decay's oil minimizing spray, but either way, this foundation ends up looking pretty good! I'm pretty impressed and I will, for sure, keep buying this product!

I like it, but I don't LOVE it.
I really like that this foundation has a pump. I use this as an alternative to my MUFE HD Foundation. I think the only thing I don't like in this is the shimmer, it's not as intense as some people make it sound, such as referring it to Edward Cullen's sparkle, because from what I've experienced it is nowhere near that overwhelming. I think I would love this product a lot more without the shimmer, though. I don't think it works as well as the MUFE Foundation, but it definitely is a good alternative since it's not something you want to waste for everyday wear. Also, with some powder the shimmer is less noticeable. Another problem though is that when I wash my face, I can still see some shimmer left on it, which kind of bugs me but it hasn't made me break out so I'm just doing my best to get it all off and keep my face as clean as possible.

001 Ivory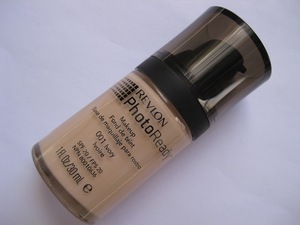 Revlon PhotoReady is a sheer-to-medium coverage foundation that blends effortlessly into the skin and provides hours of wear. I love the pump-style packaging and glass feel. It really provides a high-end feel (even the price tag is close at around $11).
There IS shimmer in this product, which is what creates the "photo ready" quality Revlon claims it provides. Light is supposed to reflect off the shimmer, though I didn't notice any change in my appearance in photographs.
Since that is the purpose of its being, it lowers its rating for me. Aside from that, it's a great quality foundation with a pretty good shade range. I suppose the nice packaging is what raised the price, as for only a few dollars more, you could have a MAC foundation.
Oh, by the way, this foundation has SPF and is oil and fragrance-free. Yay!
---