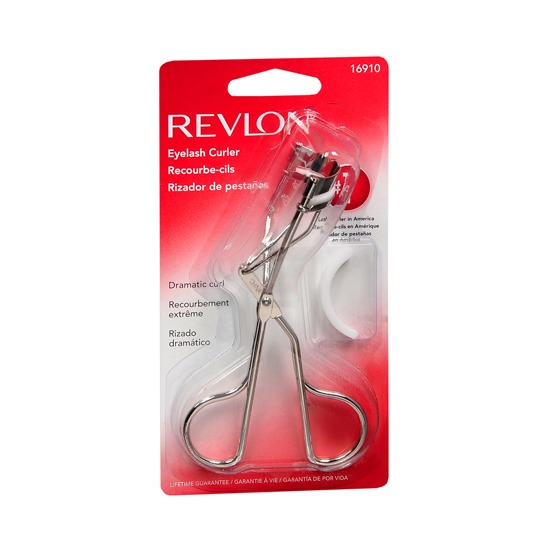 Rollover image to zoom
Reviews

Good
This is my home eyelash curler. I think it works fine. It gives a good curl. The main issue I have that I find annoying is that the top piece (the one that touches the top side of your lashes) is so big that I cant get the curler up close enough to the base of my lashes. I find this VERY annoying and when it presses up onto my brow bone, it hurts. This was disappointing. Besides that, I like this eyelash curler.

I love this curler! I'm surprised a lot of people disliked it. This is my favorite curler, I always repurchase whenever I need to replace one. I don't have thick lashes, so the few I do have get a great curl/lift when I use this eyelash curler. It doesn't pinch my eyelid like other curlers have done. I recommend it :3

To pricey
This is a good eyelash curler, just as good as any other. I remember buying it and not being impressed. It was quite pricey for me considering there's nothing spectacular about it. The replacements are hard or almost impossible to get. So once your finished with the pad it's useless.

Gives a curl!
This eyelash curler gives me some curl, definitely, but it is a little bit painful to use because I have to pinch pretty hard to get the curl! Also, I don't really like the shape because it only gets the lashes in the middle of my eyes and not the outer ones! I recommend it because it's cheap, but don't expect anything AMAZING from it.

Like it, not Love it.
I do like this eyelash curler. It isn't expensive and it gets the job done. It doesn't pinch but it isn't the best. However, I think it gives a great result for the price you have to pay. If you are just starting off with eyelash curlers, I think this would be a great starter and a cheap alternative.

My opinion probably isn't very good but. . .
I bought this because every one curls their eye lashes. Mine are curled enough though that I don't really need an eye lash curler. When I did use this though it seemed to look exactly the same. Maybe my eye lashes don't curl very well. Didn't like it and never use it. I should sanitize and give to someone else.

eh...:/
I have only used revlon lipglosses and lipsticks, so when I saw found out they had an eyelash curler, and some makeup gurus used them, I had to try it! I have to say though...It's average. I dont really get the curl I want, but it does the job, after a couple more times of using it. It does pinch my lashes once in a while, but with beauty comes pain right?:P I have to say though, that the pads used for this curler is way softer and "sticky" like than my NYC curler. For this being 6 dollars, I would have expected more, but my NYC was only $1 and it did the job faster and painless, even though the pads on them wear out faster....
---