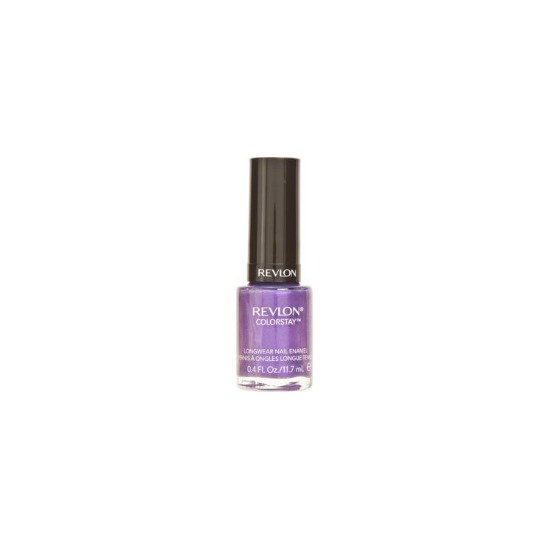 Rollover image to zoom
Reviews

Nude for brown skin!
Although I'd prefered it to be just a smidge darker; it's the best nude shade I've found thus far. I used it with the revlon base coat and top coat. I'm pretty sure didn't let it dry long enough (5 minutes) between coats because it smudged :( I'll wait ten min next time before reviewing those two items.

Great, bold color
I purchased the shade sunburst. It's basically a really vibrant tangerine orange. It's great for summer and looks nice with my skin tone, and I'm sure it would look great on tan skin as well. The color is more vibrant depending on how many coats you add. I personally do about 2 coats, just to get the entire nail. Even without a topcoat, the color lasts for awhile. It's very shiny and bold.The only downside is that it's a pain to remove because it's 'color stay'. But, I can get over that.

Really amazing nail polish! I'm an OPI girl, but this one is definitely comparable. It is fully opaque in ONE COAT and give a beautiful finish. I also really like the wide, flat brush--it gives really even coverage. I have Red Carpet on right now and this is the second week and its just starting to chip (I use a base and a top coat). Very awesome and a great price. I also have Cafe pink and Vintage Rose which are gorgeous! Spanish Moss is a really weird color...it feels like I have, well, moss on my fingertips. Yuck.

Love it
Picked these up on sale, not expecting anything wonderful, but I actually fell in love with these. So far in my collection, this is the ONLY polish I have that I'm happy with with just ONE coat. Perfectly opaque color, even coverage, and with just one coat! (I do always used a base and top coat) Overall I am extremely happy with this polish, and impressed by revlon!

Bought this in the color "Midnight." Color looked must've not suited me, because it looked awful. It chipped after TWO HOURS of wear. It then continue to chip horribly for the two days I had it on (with a top coat!) before I removed it. The formula is a tad weird. Chunky. Not my favorite, so I just returned it.

Thick but so pretty...
The formula is a bit thick and goopy but I can honestly say I don't mind for this one. I've been looking everywhere for a nice pale yellow for a low price and I couldn't find anything until I stumbled upon this one. Then again, if you can find nail polish thinner, any thick formulas really aren't a problem. I'll just have to go look for some.

I bought this because I saw a really good review on YouTube about this nail polish. I'm always trying to find a polish that give me a nice finish without two additional steps. I tried this in Bonsai and noticed it has a lot of bubbles in it. I know polishes are bound to have bubbles but not like this. I tried reapplying it a few times but got the same result. I also think the brush is too dense. It didn't even spread out the color. I hope they go back and reformulate this product because I love the color.

Amazing, Long-wearing
I was browsing through the revlon section at my drugstore and decided to try this nail polish out, and BOY am I glad I did. It is the only nail polish that withstands everything I put my hands through. I work at a shelter and clean dog kennels and never have had a nail polish look absolutely PERFECT after a day of cleaning with my hands. Love it and just went out and bought another!

I love these polishes!
At first I wasn't a fan of their original polishes. I've bought a couple and the color payoff wasn't good at all. When this came out, I decided to try it out since I like the ColorStay makeup line. Needless to say, I'm a happy camper. :) I have Cafe Pink, Passionate Pink, but Indigo Night is my absolute favorite. I've been wearing it on my toes for the past month and it's a bright, fun medium blue, that reminds me of the ocean, and perfect for summertime!

Terrible.
This was my first experience with a revlon polish and my last. I purchased it because of the great reviews id been hearing! I applied it using a base coat and top coat and it started chipping and peeling off the next day. It's advertised as long wear but absolutely is the opposite. It purchased mine for $8 which was a rip off. I completely feel jipped. with that money I could have bought an Essie polish instead and would have gotten my money's worth. Would not buy ANY of Revlon's polishes. If their longwear ones last a day I can only imagine how sucky the regular formula polishes are.
---