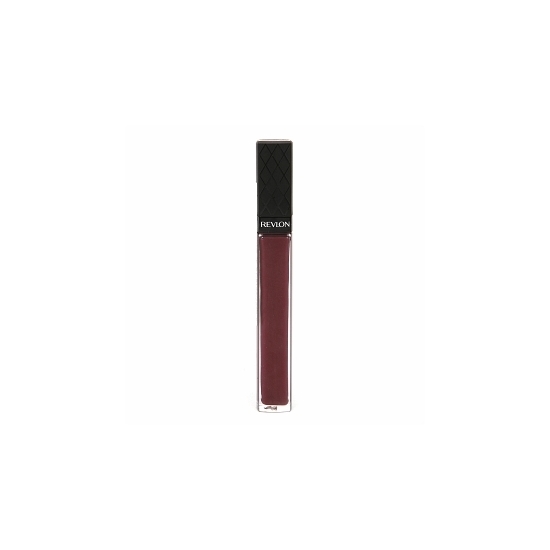 Rollover image to zoom
Reviews

I love love these lip glosses! They're pigmented well and make my lips feel smooth. The color pay off is great, and they're inexpensive as well. The packaging is simple but I really like it. Favorite drug stores lip glosses.

Could pass as a liquid lipstick, Amazing!
The Revlon Colorburst lipgloss is in a plastic packaging, with a quilted-effect on two sides of the four sided cap, Which twists off to reveal a doefoot applicator. I have two of the sixteen shades, which is a large variety for lipgloss shades from the drugstore, Fire and Sunset Peach. Fire is the gloss I'll be focusing the review on, but really briefly I'll explain what Sunset Peach is. Sunset Peach is a sheer coral gloss with a subtle shimmer, and has decent lasting time, about 2 hours before having to reapply on it's own, 4 hours with a lipstick and lip liner underneath. Fire is an amazing pigmented gloss, An opaque bold red color. On the lips it seems like a lipstick on it's own, or a liquid lipstick as I would categorize it. It is not sticky at all, and the texture is great on my lips. It does wear off within 2 hours, with or without lipstick or lip liner underneath, But it is still a great product. A 5 star worthy product.
DISCLAIMER: I bought both products with my own money, and was not given the products for free for purpose of reviewing, nor were they a gift of any sort.

Great quality
Revlon makes great lip and nail products. This lipgloss has a very good texture, and it lasts about 2 hours on my lips. it has micro-shimmer in it with a semi opaque and a glossy finish. The packaging reminds me a little bit to the Chanel Lévres Scintillantes Glossimer.

This is a really good gloss. It's kind of thick but they have beautiful colors and the color payoff is excellent. It also lasts a really long time after application and the applicator is convenient. Love this gloss!

Miss Manny S.
Oct 29, 2012
Can't believe this is a drugstore product
I don't even know where to begin with this product. The packaging is really sleek and skinny, perfect for on the go (whether you have a giant Mary Poppins bag like me or a super flat clutch). The applicator is probably my favorite feature of this (and the reason why I'll be buying every color). The applicator is sort of shaped like an hour glass with a rounded tip. I love this so much more than traditional doe-foot applicators because you have so much more control over how much product you apply. Doe-feet don't tend to pick up very much gloss so you end up wiping a lot of your lipstick off as you apply your gloss. This applicator is awesome because it absorbs a good amount of product and you can adjust how much goes onto your lips by pressing a bit harder. This is reminds me a lot of the applicator on Sephora's Ultra Shine Lip Gloss, which I also love. Then when it comes down to the product itself, I'm in love too. It's not so shiny that it looks gross and gooey, the color has such an impact, so vibrant, but not quite completely opaque. You'll definitely be able to tell the glosses apart when they're on your lips. The only mini gripe I have is that it doesn't feel like it lasts terribly long. Maybe it's because the product isn't very thick and sticky, but overall I really love this lip gloss and I'll definitely be hoarding all of them.

They're ok
These are ok in my opinion. They're super pigmented which is great. They can be sheered out too if you apply to the center of your lips and then blend out. I don't like the taste at all. They taste a little like chemicals to me. They also smell very bad to me too. I'm very sensitive to scents when it comes to lip products so it may not be an issue for some people. The texture of these I'm not a huge fan of. They are very smooth if the color doesn't contain glitter but if they do they're a little gritty. After wearing these for a while they feel kind of greasy to me. I continue to use these because I love the colors of them.
---