Rollover image to zoom
Reviews

Much more than I expected!
I love these. I picked up one of these at the drug store on a whim having never heard anything about the product. When I tried it out I instantly fell in love! They are so velvety smooth and have a lovely gloss to them. I just had to go out and get another one not long after my first try. The shades I have are 'Tutti Frutti' & 'Candy Apple'. Both are very opaque and comfortable to wear. They also are pretty long lasting on me. I'm definitely going to get some back ups of these! I absolutely recommend giving them a try!

great lip butters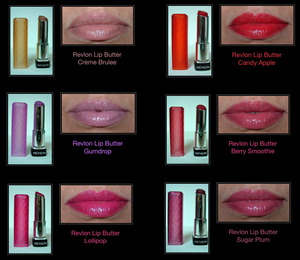 i love them, i first bought the creme brulee... is a beautiful nude color then i went back and bought candy apple and gumdrop and eventually i got the rest. They are very moisturizing which is perfect for the winter season and they stay on for a few hours unless u drink or eat. I think they are the perfect combo between a lipstick and a lip balm, they are very smooth and pigmented..

Very nice!
This stuff is hard to find! I finallly tracked down 2 colors (fig and lolipop) at CVS and I must say this is a great lipstick. It applies very smoothly and you can build up the color. If you want just a tint of color, just apply one or two swipes and you're all set. If you are looking for something more intense, just apply more layers.
It feels great on the lips....it's not goopy or shiny. My complexion is a NW45 in MAC and the lolipop surprised me by being a beautiful color with my skintone. The fig is a perfect color for a neutral lip for me also.
The manager says he'll order more since I talked up the product (score!). I'm very pleased with the quality of the product.
One tiny complaint is that the packaging is kind of flimsy. Sometimes it feels like the lipstick will bend or fall out if you wind it too much.

Toneylynn P.
Feb 08, 2013
AMAZING!
I have heard so many people praise this product and I was so curious to see how it would work for me. I'm a bit addicted to lip balm so clearly this product is meant for me. The first day I wore it, I got so many compliments on how good it looked on. I love that raspberry pie, is a bold color yet can be applied sheer. The thing that has me hooked is how this manages to keep my lips hydrated as well as providing one of my favorite lip colors of all time. I just can't say enough good things about this product. I love it

LOVE!!
Revlon lip butters are by far my favorite lip product ever!! I will never stop using them! I don't really like the thickness of normal lipsticks which is why i LOVE these products. They are so soft on your lips. and the shades are great also. They have such a great range of color. I would recommend these to all of my friends! I even got my mom to try them!! yay! :)

Super Moisturizing and Great Color
I really love this specific shade because it's one of the most flattering shades in the collection. The color is a peachy pink with gold flecks and looks gorgeous on. It's also very moisturizing which is great for the winter because the cold weather and wind can be very harsh on the lips. The color payoff is somewhat sheer but the color is buildable and it lasts for about 2-3 hours.
**I believe the shade name is Peach Parfait and not Peach Sorbet

Lips Like Butter
After such a successful go with the L'Oreal Colour Riche Caresse line, I wanted to try another brand. I had seen so many people rave about the Revlon Lip Butters, and everything Holly Ann-Aeree has ever suggested has always been amazing, so I took her word for it and got this one. It is a very bright pink, the brightest pink they have on display, and most people probably would've avoided it, but I love pink glosses, so I took a risk. I'm so glad I did. This formula is also really moisturizing and has great staying power as well. The color is not as bright as you would think. I have very pigmented lips naturally, and this adds a nice pop of color, without being too pink. This color may not be for everyone, but over my lips, it looks fabulous. I love both of these lipsticks so much!!!

Smooth
I have several other shades from the lip butter family and by far this one last longer than all of them. Much more moisturizing and creamy. As far as the shade working with my skintone it gives me a nice brown nude look with a slight touch of shimmer. Its perfect...I need to run out the door quickly kind of shade because it will definitely work with whatever eye/cheek look you're wearing since its a neutral. I'm very happy with this lip butter shade.

I'm not a lipstick user, EVER. But this stuff is perfection. I bought this and I was anxious it was going to be too bright (even though I came on here first and read the reviews and people said it was the perfect shade of red), but it really is the perfect shade of red. I was nervous about it being too bold but it really is perfect. It's moisturizing and not too heavy. And now my sister uses it too! I recommend this to everyone!

Violet likes DM S.
Mar 03, 2012
Can't get enough of these...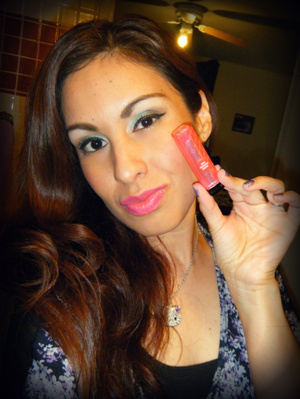 I have a few of these but today got two more, Sweet Tart and Berry Smoothie. I have not been disappointed with any of the shades so far. Here I am wearing Sweet Tart which again, I Love lol.
---