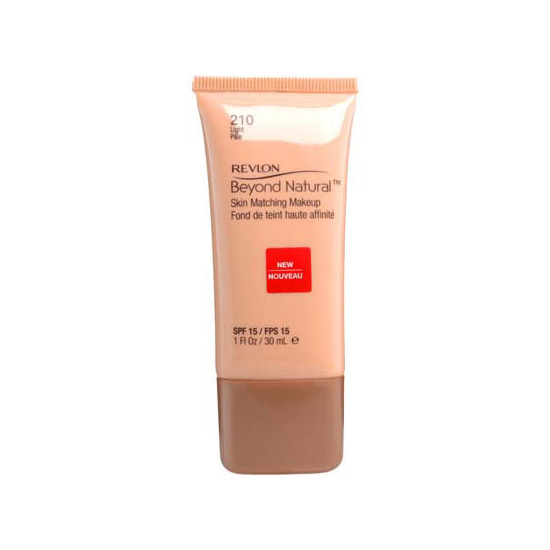 Rollover image to zoom
Reviews

It Does What it Says
I have this in the `Deep` no.250 and I like it! For days when I want to have light coverage, this does the trick. When I first tried it, I was a little terrified at the look and texture of the cream, but it warms up and really blends in with my skin for a natural look. I took a chance..if Halle can be the spokesperson for Revlon, I figured there`s a good chance their colours will match on me lol

very nice, blendable
it may not be the best coverage but it only a light coverage foundation! i love it for summer as it doesn't cake up, it leaves my skin with a light glowing feel to it, but still lets blemishes show through. very good, i'll be repurchasing it when i run out!

Would Buy Again!
This product was an impulse buy during a recent trip to Ulta. I saw the tester and said no way is this going to match me, but I was wrong! I bought it and still thinking it was a fluke used it in my makeup routine the next day and was still pleasantly surprised. Full Coverage no, but I appreciate the natural look it gave me and just covered my problem spots with a bit of concealer. Nice Product IMO.

I basically bought this product to test if it really does what it says, that is the foundation changes from a white-ish looking liquid to a colour that would match your skin. And i must say, it really does work. i bought this product like sometime back and my skin tone has actually darkened abit under the sun...but the product works really well and i dont really need to get a different shade coz of its changing to match effect!! since i has spf 15 in it as well its really good to wear out esp in singapore:D

I actually don't understand why this product has been criticised so much? I bought it in light-medium and was very happy. It lasted long, matched my skin colour and had good coverage. I loved the dewy finish and playing about with it. The only flaw (i would say), is that the tube leaks because the cap comes off quite easily, but apart from that. This is a good foundation.

This is my very first kind of foundation and I thought that it was okay. It matches the skin perfectly for me, but once you put too much, your face ends up being discolored in a way. I also feel that once you don't use it for a long period of time and start to use it again, it doesn't work properly.

Beware, Acne Prone Beauties.
I got this about 3 years ago when I was having an undertone crisis and figured since it adjusted to your skin tone that it would be fool proof. I remember this being marketed as a light coverage foundation, which is what it provided so I wasn't disappointed with it's lack of coverage. I also thought that the color matched pretty spot-on to my skin tone and never felt like it looked too orange/yellow/pink/dark etc. My main problem came when about a week of use, I started breaking out horribly around my chin and cheek area. They were sore, they couldn't be covered with even my fullest coverage foundation, and there were a ton of them. So with that said, I threw this away and never used it again after that first week. To this day I refuse to purchase any foundation or TM that claims to "self-adjust" to your skin color because I am so scared of breaking out like that again. If you aren't acne prone, and are looking for a "no-makeup makeup" foundation/TM then this may be good for you, if you are acne or blemish prone I would stay far away.

Mary Anne M.
Dec 10, 2012
Moisturizing, Sheer Foundation Should Be Labeled Tinted Moisturizer
I received this in a swap in the 210 Light shade. It's a little similar to the L'Oreal Magic BB in color and oxidation time; it changes to match your skintone within 5 seconds of blending it in. Unlike the L'Oreal BB, however, this doesn't have a grainy texture to it; in fact it's very fluid and lightweight, much like a facial moisturizer or tinted moisturizer. I tried wearing this during the fall and winter, and it's worked out well for my combo-oily skin, which teeters on the drier side during the winter. During the fall where I live, however, the months are still a little warm and given that this foundation seems to work like a moisturizer, it does have a noticeably dewy finish. Again, this is probably best for dry skin.
Also unlike the L'Oreal BB, however, this will only give you sheer coverage; medium coverage is possible, but I've noticed that the more gets layered on itself, the more warm/orange the color, so I caution against packing on so much foundation and opting for a concealer to hide blemishes and just to use this foundation to even out the skintone. Staying power is decent for a liquid, moisturizing foundation, at about 5 to 6 hours. I have to blot once during wear.
The packaging is standard; it comes in a plastic, screw-top, 30ml tube. I personally don't like the screw-top cap because the product is on the runny side, and when it leaks out of the tube and into the cap and dries onto the inside of the cap or the applicator, it's a mess to clean up and just looks gross when it's dry and caked.
Also, this runs for about $10 for 30ml of product, which is a tad bit steep for how little coverage you'll get out of this, and the sunscreen protection is hardly there at SPF15. You might as well invest in another sunscreen with a higher SPF. I love the texture and lightweight feel of this foundation and how it keeps my skin moisturized during its dry months, but I've used products with more impressive results at more affordable prices, so I will not be repurchasing.
---