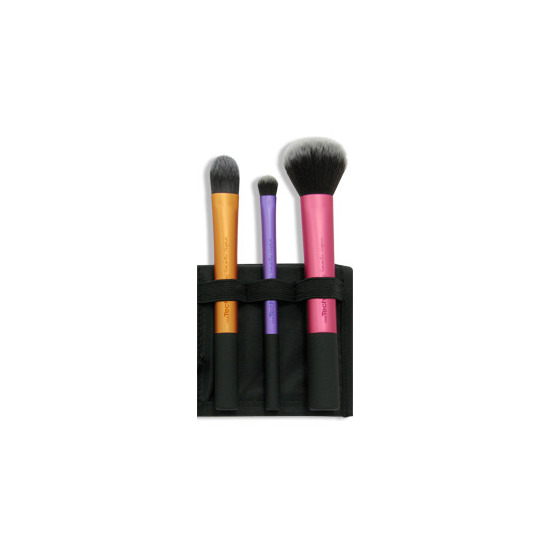 Rollover image to zoom
Reviews

Great multi-tasking brushes in this set!
The Panoramic case makes it easy to store all my eye brushes and it is excellent for hanging my brushes upside down to dry after I've deep-cleaned them.
As the name implies, the Multi Task Brush will work for a variety of jobs- dusting finishing or setting powder all over, bronzing the perimeter of the face- but I use this for applying and blending blush. It is slightly pinched at the ferrule making it more of an oval shape instead of completely round, which helps it to fit the contours of your face better. The bristles are also slightly cut at a taper so you can put product on the very end of the brush and the shorter bristles will blend it for you.
Leesha (AKA xSparkage) calls the MAC 227 brush the 'Magic Brush' because when you use it to put a highlight color on your brow bone, it will simultaneously blend down any crease color that may have gotten too high for your liking. It just easily and quickly fixes any problems you had with your makeup application. The Real Techniques Domed Shadow Brush is very close in size and shape to the 227, does the same magical things as the 227 (maybe does them a bit better), but is infinitely softer, easier to clean, and is less expensive. Now THAT's magical!
I do not use flat foundation brushes so I gave the Essential Foundation Brush to my friend.
All Real Techniques brushes are very easy to clean and dry quickly. None of the Real Techniques brushes I have have ever shed on me, nor are any of them stained from continued use of colored products.
I have 3 downsides to Real Techniques brushes:
1) If you use alcohol or an alcohol-based cleaner to spot-clean clean your synthetic brushes, be sure to keep it away from the rubbery/soft coating on the black handle- it will melt the coating off. It doesn't ruin the brush, but you will be left with a black, shiny plastic handle with sharpish edges (this happened to my Expert Face Brush).
2) The aluminum ferrule will dent relatively easily compared to steel ferrules of other brushes. Do NOT knock the brush on the side of your sink to shake the excess water out after you've washed any of your Real Techniques brushes- it will dent the crap out of it. Don't ask me how I know. ~sigh~
3). The brushes that come in sets are NOT also sold separately. So for example if you want the Domed Shadow Brush, you have to buy the Travel Essentials Set to get it. This is the only reason the set gets 4 stars instead of 5.
Overall Real Techniques brushes are high quality, ultra-soft brushes at a great price point. I would recommend them to anyone.
http://thedragonsvanity.blogspot.com/2013/07/my-makeup-brush-collection.html

Incredible quality at a great price!
I have been hearing people rant and rave about this brand for months, and then I finally took the plunge, and picked up this set. As soon as I used it, I ordered the rest of the sets and a few singles. The quality is amazing. I use so many of these daily, and the little stands they come with are so handy for a compact brush stand that you need to travel with! Definitly a great buy!

PixiWoo does it again!
After watching them on YouTube and meeting them at IMATS in London I had to get these. I went to Ulta soooo many times and they were ALWAYS sold out! I finally got my hands on them and they are some of the best brushes ever. Silky, soft, blends in everything beautifully! I hope she comes out with more! Maybe their own makeup line eventually would be awesome! :D
Best Investment Ever!!!
I have purchased every brush set from Samantha Chapman since they debuted. These are the best brushes ever!!!! I was skeptical at first because the rubber on the end did not look sturdy and I was unsure how they would deal with the frequent washing and sanitizing over time. Lets just say....they have stood up to the challenges of a pro artist. I could not live without them.

Great set
The multi purpose brush is great for setting powder on foundation, but could be used as a blush brush. Very soft and blends nicely
I used the eye brush as a lid brush and really like it.
The foundation brush is a little small but I love the way it applies foundation so that con is overlooked for me. Really love this set

Amazing
I reach for these brushes all the time, and each and every one of them do something amazing! They are soooo soft, don't shed and can easily be cleaned. I really love the multi tasking brush, it's literally good for everything! I would buy multiples of each and every brush :)

I go for this foundation brush first when applying cream foundation. The eye brush I use for blending out concealer which I love this brush for. And the large powder brush is great for applying a nice coverage of powder. These are used and abused in my kit.
---