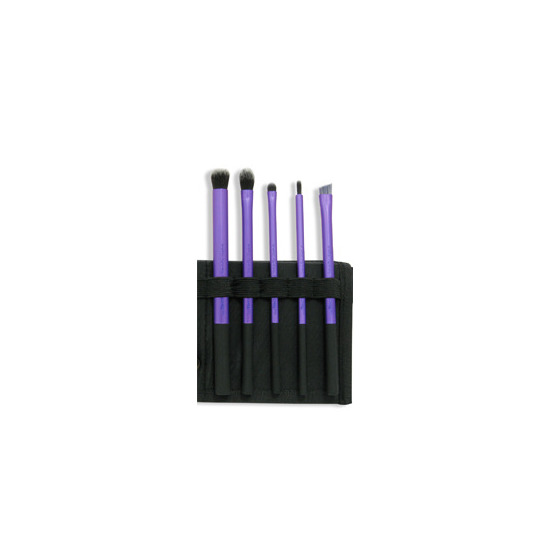 Rollover image to zoom
Reviews

Amazing.
There's really nothing I can say that Gabriele E. hasn't about how to use the brushes, so I'll focus on everything else.
#1. These brushes feel amazing on the skin. My eyelids can be really sensitive and a slightly scratchy brush can leave them in pain all day. These brushes, though they are dense and firm, have yet to irritate my skin.
#2. Variety. This line isn't duplicating MAC brush styles, but instead creating a range of brushes that are incredibly useful and a bit unusual. The 'Deluxe crease brush' in particular (far left in product photo) is one that I have nothing else like.
#3. Material. Tekklon fibers. Vegan. I love synthetics, but hate washing and drying them. These dry every bit as quickly as natural fiber brushes.
#4. Design. The handles are a great thickness and weight, they feel natural in my hand. The case converts to a stand, which makes it a great set for travel.
#5. Finally, price. These are less expensive per brush than many drugstore brands, which I really can't believe, since these are so well designed.
I have every brush in the range, and reach for them every day. The only brush I desperately would like to see is a duo-fiber stippling brush that is very very small... about the size of the deluxe crease brush. I am convinced that it would make applying MUFE aqua creams effortless. Dreams...

LOVE AT FIRST SIGHT!
Base shadow brush: applies a eyeshadow or cream shadows flawlessly. I like to use this brush to apply my all over lid color and also to highlight the inner part of my eye because it adds the color to the eye evenly and makes it looks natural.
Deluxe crease brush: This brush is perfect for blending and defining your crease. It's a very soft brush and the design of the brush makes it great for applying shadow, defining your crease, blending and highlighting.
Accent brush: This brush is AMAZING for detailing and smudging your eye makeup. I absolutely love this brush because it allows you to be precise in your makeup application and it also is tiny enough to smudge your lash line.
Pixel-point eyeliner brush: The hairs on this brush are firm enough to give you a precise line. I love this brush when using my gel liners and also adding shadow over my liner.
Brow brush: I have not used this brush for my brows because I don't use shadows. I have used this brush to smoke out my eyeliner on my top lash line and it did a great job at fading my shadow up.
Once again, this set also comes with a brush case that can be used as a base or a full size brush case to store your brushes.

Great Brushes!!!
I purchased these brushes last week and I was contemplating returning them because I figured I already owned a few brushes and new brushes would not make much of a difference in my makeup application. I WAS WRONG!!! These brushes are simply amazing!!! If you are a beginner like I am, then these brushes are definitely for you!!!
Would have given 5 stars if it weren't for the liner and brow brushes.
I bought this set solely for the Deluxe Crease Brush and little detailer brush. The Deluxe Crease Brush is the BEST brush I've used to apply my under eye concealer. I could do without the liner and brow brushes. The liner brush is not thin enough to create a precise or sharp line and the brow brush is just too thick for me. I've used it to apply a light wash of a lighter brow powder when I'm done filling in my brows but aside from that, I've yet to find a use for this brush. Overall...I'd purchase this set again because the other three brushes are outstanding.

ONLY ONE TRUE EYEBRUSH, OTHERS TOO LARGE, GREAT QUALITY, SOFT, EASY TO WASH, VERY LARGE BRUSHES.
I think we are all familiar with the Pixiwoo sisters by now. As someone who has watched their videos for year, I was super excited when Sam was going to come out with her brush line. After watching her in action with the eye starter set, I went to pick it up at Ulta; however, I soon discovered that these brush heads are HUGE! The base shadow brush is only good for applying cream bases and maybe blending out the crease. The deluxe brush is HUGE! Like, wayyyy to big for anyone's eye. I only use it for concealer under the eyes now. The small detailer brush can be used anywhere on the eye- no complaints here. But they pixel perfect liner brush....is this a joke. Nooooobody can use that as an eyeliner, again, it's HUGE! The angled brush is quite thick as well, so don't expect any perfect brow line or even to use it as a eyeliner (that's out of the question.) All in all, three out of the five brushes are actually usable, not all for the eyes, which is why I purchased the kit, but for $17 it's not a bad kit to just play around with. Great quality, soft bristles, good weight to them, and they're super easy to clean and fast drying. These are the only brushes that I've ever been disappointed with from Sam's collection. Xx

love love totally worth it
I have love this the day I bought it it's amazing I still love my mac brushes but for the price and quality of these brushes they are truly amazing

just got this set for Christmas, very happy with it. Makes applying eye makeup so much faster. At first I thought the crease brush was too large but once I tried it it was perfect. The brushes are soft and each one has printed on the handle what it is used for. It comes in a nice case the can be folded to stay in a standing position. Definitely worth purchasing.
---