Evening Soothe Towelettes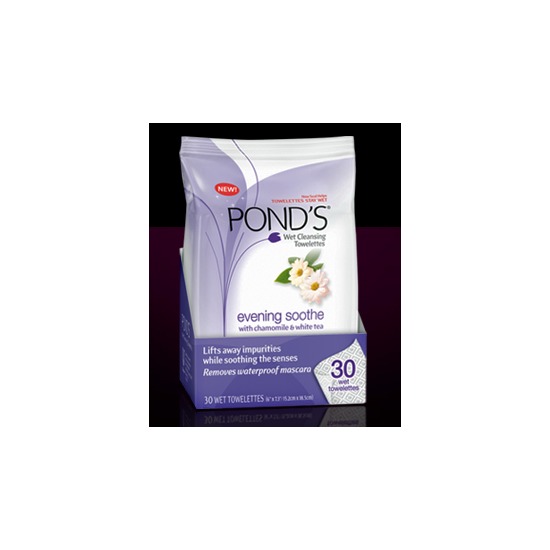 Rollover image to zoom
Reviews

Gets the job done, sensible price, but may need to be followed with a damp cloth to wipe small amount of residue off of skin.
I've been shopping around for wipes to use, since I'm going to be traveling this summer/travel throughout the year and don't want to have to bother with the hassles of liquid makeup remover and cotton balls. I tested these out with a basic makeup look, and one towelette was enough to remove it all, mascara, liner, and all. I didn't feel a lot of residue, or stickiness, but I definitely felt the need to wipe my face with a damp cloth after the fact. I will be using these in the future, but I'm going to continue testing other products.

Works great for my super oily skin!
I received these as a sample from Target and was a little put off by the soapy look at first, but tried it and fell in LOVE! I have super oily skin, like blot your face 10 times a day oily, and these definitely help clear that up. I will wake up with a lot less oil in the morning. I haven't noticed a reaction of any kind. The scent is nice and I liked them enough to buy them. I also bought the morning ones to buy, and will review those later. :)

Burned my face!
so I got this cute bag full of samples and coupons from target. I usually wash my face with baby shampoo to remove makeup before using my cleanser. I decided to try the ponds evening soothe wipes instead last night that I had received a sample of. What a mistake! I know everyone's sensitivities are different, but wow. First of all, last night after using, I noticed I could smell that scent forever... My face kind of tingled but I summed it up to that clean "working" feeling. This morning I woke up to a red, raised rough texture face. Not pretty. This is how my face reacted to proactive. And that happened after several days of using proactive, not just 1 use. I'm extremely upset, I literally almost had to call into work today. I'm embarrassed and I hope this clears up soon. :( beware before using this product! Try it on a small part of your neck first

Lovely scent
While I usually use Neutrogena wipes, I decided to give these a try when I received a sample of them from Target. They removed all my makeup (including mascara), so I guess I don't share the same experience with them as the previous reviewers. My makeup does tend to be on the light side, though. They also have a very calming scent, which I love. They are very soapy, but as far as I can tell I haven't broken out from them (and I didn't rinse afterward). These are okay, but I probably wouldn't purchase the full size of these as I think my Neutrogena wipes are better.

Mehh! I heard amazing things about PONDS facial wipes so I decided to give it a try. It leaves a residue, is heavily scented, and broke me out slightly! It did not take my makeup off nor did it cleanse my face. I would not purchase this product again.
blog: http://dreamingofbeautyx.blogspot.com/

Elizabeth B.
Jul 11, 2011
Like others have said, these are very bubbley and soapy! You definitely have to rinse after using them or else you will be left with residue on your face. Kind of defeats the purpose of a towelette like this. To use up the package, I have just been usin them to take my makeup off at night and then I wash my face as normal. Pretty pointless, really!

I thought these were going to be fantastic! The brand Ponds is a brand that is raved about like crazy in my family. I figured such a wonderful brand would produce a wonderful make up wipe. I was so wrong. These wipes hurt my face. :( When I first opened the package, I thought I bought the wrong product because the wipe had bubbles on it like soap. And the cloth was really rough against my skin. I felt like I was scrubbing off my entire face when I used this. It was so irritating to use. The scent was also something I didn't like that much. It was really strong and floral and it lasts for a long time. I don't mind it for a few minutes, but if I can still smell it an hour later even when I wash my hands and take a shower, there is definitely something wrong.

THE worst wipes I've ever tired. I bought these a couple months ago to try them out and after the first time using then I hate them. I usually use make up wipes to clean away my eyeliner/mascara that my cleaner left over and when I used these to clean my eyes it stings so bad. I don't know what it is maybe it's the smell or something in the wipes that just stings my eyes and they will instantly tear up. The smell is also very strong. It lingers on my skin and fingers all day. I must admit it is a pleasant smell but I wouldn't want it on my face all day. Also the cloth is very rough and it seems that every piece that I pull out if soaking wet. Theres like bubbles on the wipes (bubbles that you get when you rub soap into a towel). I've been using the Neutrogena wipes for years now and have never experienced anything like this. Would not repurchase.
---