Happy Booster Glow & Mood Boosting Blush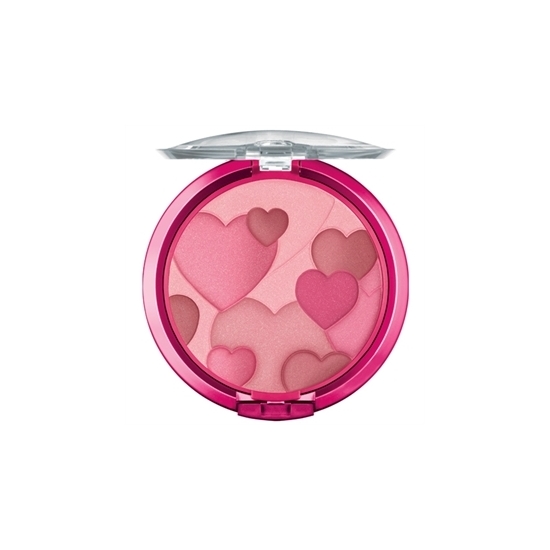 Rollover image to zoom
Reviews

small amount needed at most i have fair skin.can be built up can't really tell on face that glitter is in it which i like and def does change colors which makes this even more awesome! be careful with how much you apply I learned that the hard way.and def affordable so worth a try

CASE BREAKS
I LOVE this blush on my cheeks - however, even though I am never rough with how I handle and package my makeup - the case broke! Now I can't carry it with me for fear that it will break up and spread its powder all over my things! But, other than that, it is a good product.

Great colour and adorable packaging
I bought this mostly because of how cute and pink it was, but it's actually quite a good blush. The different tones help it look a little more natural I think, rather than having one obvious colour on your face, it blends better.

It's just right for how white I am!
I'm so fair skinned many blushes look over pigmented on me. But the warm shade of this product was lovely pairing with my fair skin. It has a bit of shimmer so it isn't an everyday blush, bug for those days that need a lil pick me up its my go to! I don't know if its the product that picks me up, or the nice glow it puts on my face, but it sure dies make me happy! It's worth a reperches.

Only blush I've ever liked.
I'm not a person who normally wears blush. But I saw this and thought it was so pretty I had to buy it. Very pleased with the way it looks. Wear it everyday now. I do feel like it does boost my mood a bit. I have the shade "pink." Which I think is the lightest one. Little bit goes a long way. Doesn't have the harsh too dark that a lot give. Love the cute hearts and compact with brush and mirror it comes in.

This product caught my eye one day while I was Target. It came with the Physician's Formula Bronzer. I was too scared to use it because I didnt think it would look right on my skin. I hate that I waited so long to try it. I love this product. It adds the extra Umph to any make up look and the applicator is very easy to use. I like how it has different shades of pink which can be blended to create your perfect shade! It's not harsh at all and I think it looks right on any skin tone. I purchased a duo set for about $13.00 and it was worth EVERY cent :-)

It caught my eyes because the cute packaging! then, it says it could release the endorphin?! i am not sure about that, but i like the color on my skin. This blends perfectly, but don't use it too much, because it would give a cakey finished. The shimmer on it is okay, still naturally looking glow after all. I found by end of the day it oxidized a bit into darker shade. So far, so good!

Beautiful Results
I am always very weary of blushes I pick, I have to be sure that I dont get too red or too pink since I have red undershade in my skin tone already, so I generally try to pick something more on the broze/tan side with pink hints. This color blends perfect as it does give me bronze look with a light shimmer of pink. The claim of making you feel happier as well, well, that could be whats happening, or it could just be a coincidence that I was just thrilled at how I looked with it that made me happy and feel great. Either way, im sold !
---